DC Launches Weekly Futures End Series
Feb 26, 2014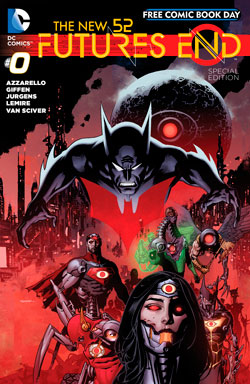 You got the text, right? No? You didn't know that five years from now, the DC Universe will be recovering from a war with another Earth? You didn't know that this will leave our planet unprepared for an approaching evil that threatens to destroy our future? Put down the iPhone and pay attention! There's a New 52 weekly series coming to a comic shop near you, and in the story Batman Beyond gets five years older, Grifter turns against humanity, and a Justice League member dies--though not necessarily in that order as...well...it's the future. So who knows what wormhole in space could suck that scenario up and spit it into a new dimension we haven't even named yet.
The point is that writers Jeff Lemire, Keith Giffen, Brian Azzarello and Dan Jurgens will be examining how heroes in the New 52 universe will be changing with the passing of time, and evolution of technology. Quite a tall order. So if you'd like to get in on the conference call, we suggest you check out the weekly title The New 52: Futures End, which debuts on Free Comic Book Day in May with a free zero issue. Then make another trip back to your shop for the first issue of the series that will be hitting shelves and digital storefronts later in the month. You'll be happy you made that trip.
In a previous interview, Jeff Lemire called the new weekly series an exploration of DC's past, present and its future, and also went to say that what he and the other writers we're trying to do with the project "is to explore the nature of what a hero is, and we're doing that, obviously by playing with the future of the New 52 timeline. Past present and future all collide."
The cast is large, the scope is big, and you don't want to be on the receiving end of "Sorry, kid. All sold out!"
Check out The New 52—Futures End in the DC Comics section of the March PREVIEWS catalog!