Victor Vents On Angel and Faith Season 10 #1
Feb 13, 2014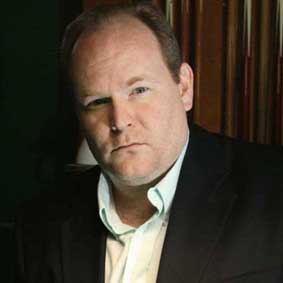 by Vince Brusio
Victor Gischler has his wife to thank for one of his latest blessings. Since his better half is a huge Buffyverse fan, he was biased towards characters in the Whedonverse. He's climb mountains to have some fun with them. Then came a knock at the door of opportunity. And now Victor Gischler is directing a season of a TV show…in a comic book. Get ready for Angel & Faith Season 10 #1 (FEB140068) due in stores April 2nd!
**********
PREVIEWSworld: Victor, it's quite a commitment to take on a new series labeled as "Season 10." No pressure, right? You're just in the Producer's chair, that's all. Who cares what the network thinks. But in all seriousness, what happened in the life of Victor Gischler that made you think, "Gee, I think I'll sit down and bang out a season of a TV show that's going to be in a comic series." How did you get to that point? Had you already wrapped up Clown Fatale?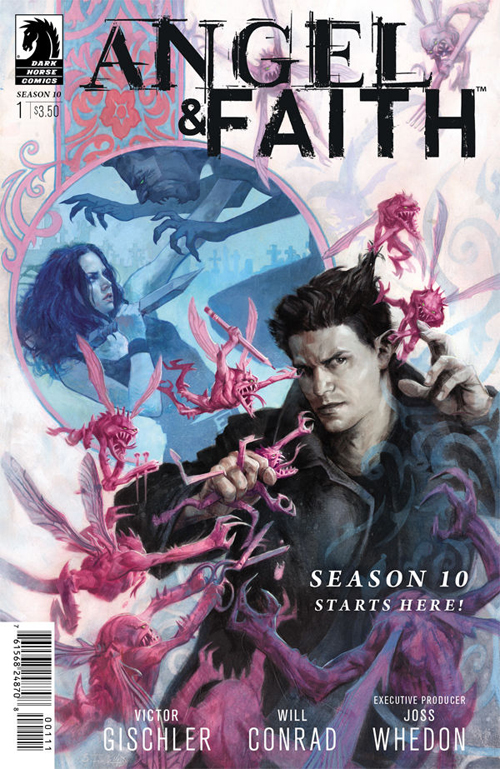 Victor Gischler: There was some overlap with Clown Fatale time-wise, although not mentally. I mean they are way different books. There was a bit of schedule conflict at first but we're cool now. As you point out — whoa! I'm signed up for a whole season! I've got other projects going on the side, but A&F is definitely the priority. The fact is, I didn't have to think twice when they offered me 5 issues of Spike. I'm a huge Buffyverse fan (thanks to my wife) and when the idea was floated I could spend an entire season with more Whedon characters ... well ... was I gonna say no? No! So, yeah, a bit intimidating, but I am so so so so so fortunate.
PREVIEWSworld: So let me get this straight: Angel's in London, and Faith is helping Buffy kill zombies. Correct? So how do they stay in touch? Do they just casually text one another to say, like, "Hey, what r u doing?" "Unravelling magic. What r u doing?" "Killing zombies." "Cool." Without giving us spoilers, can you give us a clue as to how things break down? In the PREVIEWS catalog description it sounds like the two are on opposite ends of the earth.
Victor Gischler: Well, the thing is they DON'T really stay in touch. I mean, sometimes people need a little room to grow and just get to know themselves, right? Faith especially has matured and needs a little room to breathe. She has to get out there and rediscover what it means to be Faith, and that means a bit of distance from Angel. At least for now.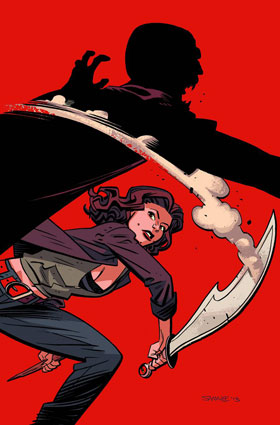 But hey, it's a big world and there's plenty going on to keep them both occupied.
PREVIEWSworld: Joss Whedon is on board as Executive Producer for this series. Can you tell us what it's like to work with Joss? Is it the first time you two have worked together before? How did the back-and-forth go between you both when it came to hammering out plotting? Who wanted to kill who first? Or am I completely off the mark, because the two of you are Facebook friends?
Victor Gischler: Well, Joss is a busy guy and his time is valuable, so I'm not going to try to convince people we're on the phone twice a day picking out Faith's wardrobe. But I attended an amazing creative summit with Scott Allie and Joss and the other writers, and I'm still blown away when I think about it. Just such a valuable creative time. Scott is the one who is mostly in contact with Joss and that filters down to me in the best possible way. The bottom line is that we have a dedicated team of people who genuinely care about these characters and stories, and that's something special.
PREVIEWSworld: Since I mentioned Facebook friends earlier, are you more of a Facebook guy or a Twitter guy? Has social media helped you as a writer in that you're able to be exposed to new input you would never have discovered before? Does social media help you on the job, or distract you from it?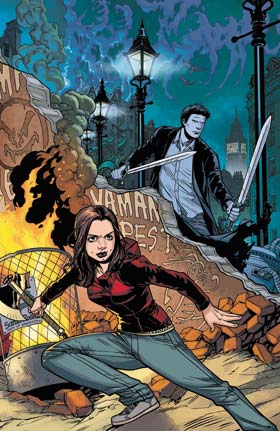 Victor Gischler: Some days A ... some days B. I suppose I'd say Twitter (@VictorGischler) because I tend to say goofy, useless things that fit within the 140 characters parameters. Social Media is an enormous distraction. At the same time, it allows me to connect with readers and like-minded creative types, and since writing can be kind of a lonely profession this is pretty cool. I guess on the whole I'd say it's a positive ... but it's a close call some days.
PREVIEWSworld: So if you analyzed the long history of Angel/Faith moments on TV and had to come up with a quick list of "Best Moments," what would that list look like, and how do you justify it? What stands out for you as history worth noting if you had to point out what makes these characters so appealing?
Victor Gischler: I think some of the best moments have happened in the comics for the simple reason that the characters have had a chance to progress. On the other hand, we'd be nowhere fast without the TV episodes, right? I remember a knock-down drag-out totally kick ass fight between Faith and Buffy that will live in my memory forever. Just so much RAW stuff to pull from during those seasons. And to turn the question around a bit ... what is the moment I WISH I'd seen ... ? Well, since one of my fave episodes is "Once More With Feeling" I always wonder what Angel's musical number would have been like if he were still around. Or if Faith could have been in that episode. Well ... a guy can dream.
**********
Check out these past Angel & Faith comics and trade paperbacks that are available to order from your local comic shop!
| | | |
| --- | --- | --- |
| ITEM CODE | TITLE | PRICE |
| AUG120070 | ANGEL & FAITH #15 REBEKAH ISAACS VAR CVR | $2.99 |
| SEP120032 | ANGEL & FAITH #16 REBEKAH ISAACS VAR CVR | $2.99 |
| SEP120031 | ANGEL & FAITH #16 STEVE MORRIS CVR | $2.99 |
| OCT120019 | ANGEL & FAITH #17 STEVE MORRIS CVR | $2.99 |
| NOV120051 | ANGEL & FAITH #18 REBEKAH ISAACS VAR CVR | $2.99 |
| NOV120050 | ANGEL & FAITH #18 STEVE MORRIS CVR | $2.99 |
| DEC120067 | ANGEL & FAITH #19 REBEKAH ISAACS VAR CVR | $2.99 |
| DEC120066 | ANGEL & FAITH #19 STEVE MORRIS CVR | $2.99 |
| JAN130087 | ANGEL & FAITH #20 REBEKAH ISAACS VAR CVR | $2.99 |
| JAN130086 | ANGEL & FAITH #20 STEVE MORRIS CVR | $2.99 |
| FEB130018 | ANGEL & FAITH #21 REBEKAH ISAACS VAR CVR | $2.99 |
| FEB130017 | ANGEL & FAITH #21 STEVE MORRIS CVR | $2.99 |
| MAR130045 | ANGEL & FAITH #22 REBEKAH ISAACS VAR CVR | $2.99 |
| MAR130044 | ANGEL & FAITH #22 STEVE MORRIS CVR | $2.99 |
| APR130057 | ANGEL & FAITH #23 REBEKAH ISAACS VAR CVR | $2.99 |
| APR130056 | ANGEL & FAITH #23 STEVE MORRIS CVR | $2.99 |
| MAY130048 | ANGEL & FAITH #24 REBEKAH ISAACS VAR CVR | $2.99 |
| MAY130047 | ANGEL & FAITH #24 STEVE MORRIS CVR | $2.99 |
| JUN130026 | ANGEL & FAITH #25 REBEKAH ISAACS VAR CVR | $2.99 |
| JUN130025 | ANGEL & FAITH #25 STEVE MORRIS CVR | $2.99 |
| FEB120032 | ANGEL & FAITH TP VOL 01 LIVE THROUGH THIS | $17.99 |
| JUL120045 | ANGEL & FAITH TP VOL 02 DADDY ISSUES | $17.99 |
| DEC120068 | ANGEL & FAITH TP VOL 03 FAMILY REUNION | $17.99 |
| MAY130049 | ANGEL & FAITH TP VOL 04 DEATH & CONSEQUENCES | $17.99 |