Batman Eternal Weekly Epic Coming In April
Feb 16, 2014
The new weekly epic Batman Eternal begins in April from DC Comics!
Written by Scott Snyder, James Tynion IV, John Layman, Ray Fawkes and Tim Seeley, with art by Jason Fabok, Dustin Nguyen and others.

You can now enjoy a new Batman comic every week!

Batman Eternal will "set the stage for a new Gotham and new characters and a new set of stories that will take Batman into 2015," Scott Snyder told USA Today. "We want this to be a place where you get to tell a story about anything you want in Gotham, so long as we're also moving this big story forward in the background. You'll see bombastic arcs as well but there'll be plenty of room for Ray to explore some of the darker, more mystical aspects of Gotham that he loves or Tim to explore some of the crime we haven't seen before."

"It is 52 issues fully defining Gotham City," said Ray Fawkes in an interview with PREVIEWSworld. "We're going to see every member of the Bat Family, every villain you can think of. This is going to be the book that shows readers where it's at in every nook and cranny of Gotham City. It's my role, as you might expect, to take people on a supernatural ride through the underpart of the city."

PREVIEWSworld asked artist Jason Fabok what it's like to draw a weekly comic series with such a massive cast of Gotham City characters?

"Personally, it's really been no different from working on a monthly title artistically. I've been working far enough in advance in order to have three issues done for the first month, but each book is done in a month," explained Fabok. "The difference is that I'm able to work with such a great cast of writers, all pitching cool details for character design, plot and world building."

"As far as drawing a massive cast of characters, fans should know that we are going to be focusing on all your favorites. New characters, classic ones, and old ones returning, we have a little bit for everyone. I'm really excited to see the reaction to all of the twists and turns that will take place during the course of the series and the fan reaction as well. This book is going to be an awesome, fun, epic ride, and readers have no clue what's in store for Batman and the rest of the cast."
A Batman Eternal teaser drawn by Jason Fabok was released right before Thanksgiving 2013. Click on the image below to see a larger version and see if you can get any clues or hints of what might happen in Batman Eternal.
You can pre-order the first four issues of Batman Eternal now through the February PREVIEWS at your local comic shop! See the item codes and solicitations below.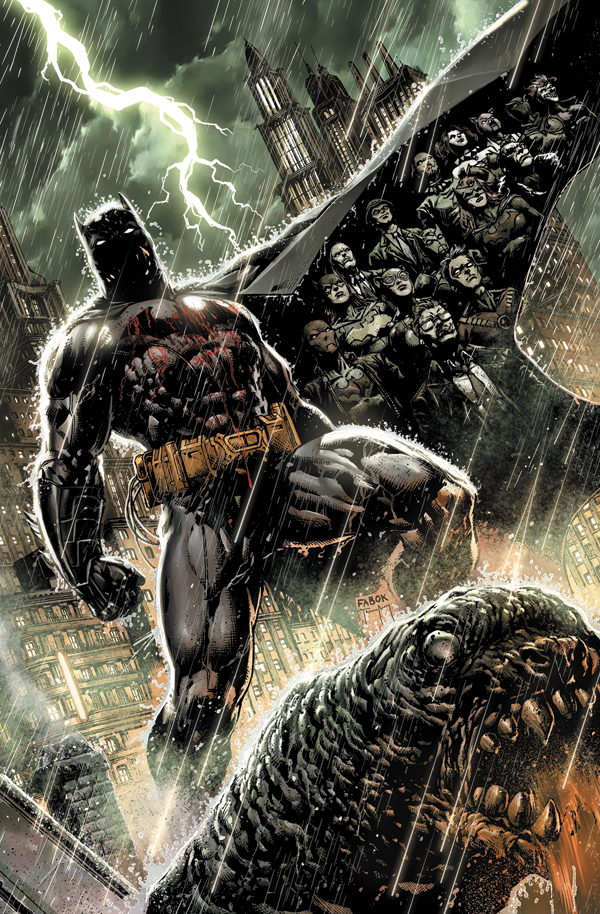 BATMAN ETERNAL #1
Item Code: FEB140140
In Shops: 4/9/2014
SRP: $2.99

Don't dare miss the start of the Bat-story so big it's going to take every week of the month to tell! A massive cast of Gotham City's best (and worst) examines the relationship between Batman, his allies and his city. In this debut issue, Commissioner James Gordon is caught on the wrong side of the law!

BATMAN ETERNAL #2
Item Code: FEB140142
In Shops: 4/16/2014
SRP: $2.99

A notorious Batman adversary appears for the first time in The New 52 continuity!

BATMAN ETERNAL #3
Item Code: FEB140143
In Shops: 4/23/2014
SRP: $2.99

A gang war erupts in Gotham City, but the G.C.P.D. doesn't plan to help Batman stop it. Plus: The return of a fan-favorite Batman supporting character: Stephanie Brown!
BATMAN ETERNAL #4
Item Code: FEB140144
In Shops: 4/30/2014
SRP: $2.99

Batman battles Batgirl as Jim Gordon's troubles take a turn for the worse!
To get another sneak peek into Batman Eternal, make sure to pick up Batman #28 which is available now at your local comic shop. Check out some preview pages from Batman #28 below.
Click on the preview images to view larger size