PREVIEWSworld Exclusive: Liberator Takes A Bite Out of Animal Cruelty
Jan 22, 2014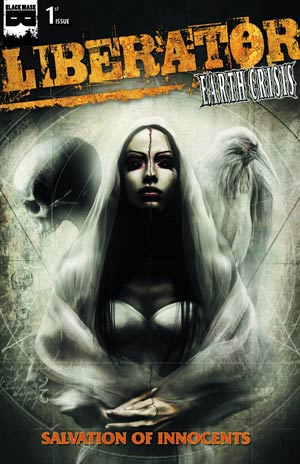 by Vince Brusio
In early March, Earth Crisis' new CD Salvation of Innocents will be released everywhere, including on digital platforms such as iTunes. The lyrics on the CD, however, are not relegated to the band's songs. They'll take on another life in the form of the Liberator/Earth Crisis #1 (JAN140974) from Black Mask Studios. As some of us headbangers here were curious about this project, we got to talk to writers Matt Miner and Karl Buechner to get the final word on what we could expect from this comic which didn't look to pull punches.
**********
PREVIEWSworld: Matt, fans who may not be familiar with Liberator from Black Mask can now hear for themselves what makes you tick. The floor is now yours, gentlemen. What's inside you that you needed to get out in this project? What life experiences planted the seed that made you two grow an idea into this new comic book? Tell us how this whole thing plays out in the story.
Matt Miner: Well, I've always been a big comic nerd and about ten years ago I started doing work for animals.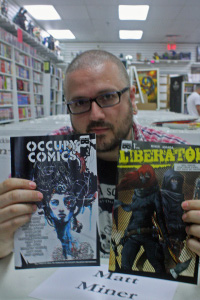 Now I'm a dog rescuer and my wife and I handle some pretty tough cases, with dog fighting and major unthinkable abuse like that. Combining my passion for comics and my passion for animals is how we got to where we are, putting out this series of books with vigilantes taking drastic action for abused animals.
This new series, collaborating with Earth Crisis, has been so much fun to work on. To say I'm a fan of Earth Crisis' music would be putting it lightly, so when they reached out to me for this collaboration because THEY were fans of MY work? Just amazing.
Considering how much Black Mask kicked ass with 12 Reasons to Die, the Ghostface Killah collaboration comic series, I was beyond excited to bring this to the publisher because I knew they'd have the best ideas for promotion and spreading the book to a wide audience.
Karl Buechner: One thing Earth Crisis has always done is tell stories and a lot of them are things that you don't hear too much about in any detail in things like the mainstream news media or the kind of history that is taught in school. And one of the things that we've always documented because we are all vegans and animal rights activists is what's been going on with animals in laboratories or how they are mistreated or abused by the circus and factory farms or what have you. And because we're involved in this struggle and we want to see animals treated with respect we're very drawn to the stories about the Earth First Activists or the Animal Liberation Front or the Sea Shepherds, you know because those are people who speak on the front lines of trying to save animals.
PREVIEWSworld: So, Karl, you saw the comic book medium as a way of putting a face onto something that may not be familiar with people?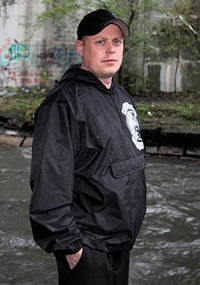 Karl Buechner: Right, we're just trying to expose more people to the concept of animal rights. We've been telling these stories for twenty years now, and that is what's going on with our new record, Salvation of Innocence, that's out the beginning of this March. It's an imaginary composite of things that have actually happened.
PREVIEWSworld: Karl, as you're more known as a musician than as a writer of comics, what you could roll off your tongue as those comic books that were your favorite were when you were growing up? What kind of books caught your interest?
Karl Buechner: Well, I remember where I was when my mother bought me my first comic book. I was seven years old and I was in a building downtown called Imperial Gardens, and I remember we went into to the little candy store in there and I got an issue of Iron Man. That's where things started for me, and I also grew up with the Superman movies in the 70s, and over time all the stuff that was done with the X-Men films or the animated Batman from the 90s, and the animated Justice League . I thought it was great!
PREVIEWSworld: Having a vision is one thing, but having it published is another. So what's your connection to the principals at Black Mask that enabled this comic to get the green light for publishing? What meeting/phone call/Skype session got the both of you and the publisher on the same page?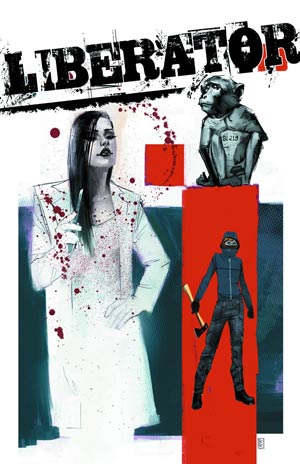 Karl Buechner: Well, [band member] Scott Crouse has been familiar with Liberator, and he kind of got the other guys in the band into it. And we actually did another concept album that had kind of had an imaginative aspect to it as far as characters and a specific story called Slither: A Wild Pack, but we never got around to doing the comic. But we had enough time to plan ahead and get the right people to work with to make this happen this time, and so I'm glad to see it's finally about to come out.
Matt Miner: Well I was working on the pitch for the first Liberator series when someone pointed out the Occupy Comics Kickstarter, and asked if I'd heard of the project. Somehow I hadn't, so when I did a little reading up on it I saw I was already sort-of Twitter pals with one of the principals of Black Mask, Steve Niles. I managed to get him on the phone for about 5 minutes (no easy task) and told him about the project – he got excited about it, so I got excited and nervous and awkward – I think at one point he asked me to stop rambling and to just submit a formal pitch to the company.
With this new series with Earth Crisis, it all kinda fell together like it was meant to be. Earth Crisis have been wanting to do a comic book for a long time and their label was psyched to partner with Black Mask because of how successfully Black Mask marketed and cross promoted 12 Reasons to Die. Like, I guess Ghostface even brought a copy of 12 Reasons on stage with him when he played Jimmy Kimmell. Earth Crisis is totally wanting to do stuff in this same vein, to bring comics to a broader audience and get new readers into their local comic shops.
Earth Crisis is ALL IN on this venture – they're talking about doing exclusives for shops, in-store signings and performances, all this kind of stuff that makes me really excited to see because bringing new people to comics is something I've always said I wanted to do with Liberator in the first place.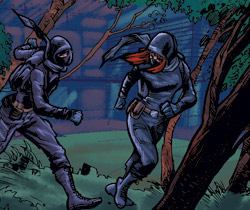 PREVIEWSworld: Would you label this project as an "activist" comic book? Do you see it as something that could be used on a campus to spread a message among students so that they become more engaged in politics? Is this your intention? Or are you just telling an entertaining story that you hope will make people think for themselves?
Matt Miner: I don't label it that way at all. This is a straight up vigilante justice comic where the vigilantes just have a different focus. Instead of busting up a crack house, they're busting up a house full of fighting dogs. Instead of torching a drug den they're torching a fur farm. I'm not trying to radicalize anyone or go at this with some ulterior agenda – my primary mission with this comic series is to tell good stories with strong characters that are within this world that I know a little something about.
When I learned about the real people who do this kind of stuff — put on masks in the middle of the night and wreck a shop for animals — I thought to myself this was the stuff of good comic books. I think it's crazy that I waited ten years to see a comic operate in this world and it never happened. In hindsight I'm glad it didn't hap­­­pen sooner because that means I get to be the one to tell these new badass stories.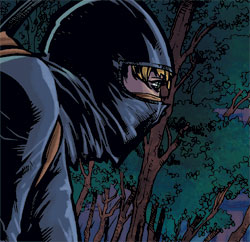 Karl Buechner: Well I think that all Liberation Front activists, or Sea Shepherd, or Earth First are real life superheroes. They are people who risk their own freedom, safety, reputation, and financial security in order to save animals, and all in order to stop individuals and companies who care more about money than the sanctity of a creature's life.
PREVIEWSworld: Matt, are there specific organizations that were helpful in you doing research for this book? Would you encourage readers to reach out to these organizations/clubs via the Internet so that they can become more informed and/or vocal?
Matt Miner: If readers want to learn more about animal issues they can always reach out to me and I can point them in the right direction. For someone wanting to get involved with companion animals (dogs, cats, etc) it's a real easy thing to google your local rescue shelter and see how you can help. If they're wanting to go further and take a look behind the curtain to see what really goes on then I'd point them to the film at Earthlings.com. It's free to stream, beautifully done, narrated by Joaquin Phoenix and if you have the courage to watch the whole thing it will change your life for the better.
Let me just say, also, if people want to contact me personally about this book, the best way to find me is on Twitter.
| | | | |
| --- | --- | --- | --- |
| ITEM CODE | TITLE | PRICE | SHIP DATE |
| JAN140974 | LIBERATOR EARTH CRISIS #1 (MR) | $3.99 | 03/05/14 |
| FEB141028 | LIBERATOR EARTH CRISIS #2 (MR) | $3.99 | 04/02/14 |