Indie Edge February 2014: Raven Gregory
Jan 22, 2014
This month's featured creator is…
Raven Gregory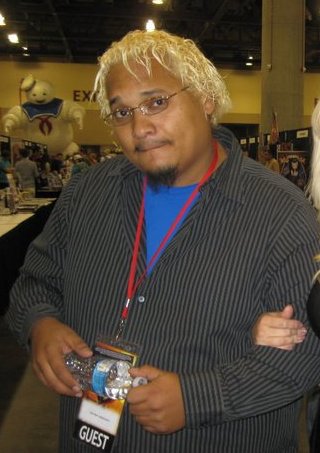 Raven Gregory began his writing career in 2003 after being discovered by then current Top Cow Vice President of Publishing Renae Geerlings, who would serve as editor on his independent, critically-acclaimed debut series, The Gift (later published by Image Comics: SEP041534 Vol. 1, SEP051677 Vol. 2).
Years later, the young writer came to attention of Zenescope Editor-in-Chief and co-founder, Ralph Tedesco, who recruited him to the newly created position of Executive Editor and Staff Writer. Gregory would go on to co-create and write Zenescope's best-selling "Wonderland Trilogy" and ongoing series with fellow co-creators Joe Brusha (President/CCO), and Ralph Tedesco, as well as numerous other Grimm Fairy Tales spin-offs, crossover events and creator-owned titles.
Known for his incredibly dark-yet-realistic stories of supernatural horror, personal tragedy, and powerful themes, Gregory has found many fans across the nation. Raven lives in Arizona with his four children, and has written over 200 comics in his ten year career.
Raven Gregory, what are your favorite projects you've contributed to over the past decade?
I wouldn't have the career I have today if not for Wonderland (OCT121298 Vol. 1). After seven years, it's still going strong and is constantly evolving into something that defies belief. It's by far the biggest project I have worked on and I couldn't be more pleased with how it's all turned out.
Next to Wonderland, I have a warm spot in my heart for The Theater (APR121344). I grew up on The Twilight Zone and Tales from the Crypt, so the idea of serial killers running a movie theater, where every issue is a different horror "movie" — what's not to love?! Last, but not least, would be Fly (SEP111308 Vol. 1), one of my most personal projects to date. It's quickly become a favorite of many fans across the board.
Raven Gregory, what are you currently working on?
Wonderland ongoing, Grimm Fairy Tales ongoing and right now, it's all about The Age of Darkness, our big event of the year that's running throughout the Grimm Universe. This is the event that changes everything and, by the end of the series, there may not be a Grimm Universe for our heroes to come home to!
At the moment I'm currently writing both of our ongoing flagship titles, Grimm Fairy Tales and Wonderland, as we ramp up to the big upcoming Grimm Fairy Tales #100 (written by series creators Joe Brusha and Ralph Tedesco) and the eight year Anniversary of Wonderland with issue #25. I'm also working on our new series, Wonderland: Clash of the Queens, as the Wonderland universe continues to get more and more insane!
Raven Gregory, what fun titles are you reading?
By far, my favorite series of all time is Locke and Key (JUL084052 Vol. 1)! Joe Hill writes some of the best, most fully fleshed-out human characters in comics today. Seeing the series come to a close this year is bittersweet indeed! Ten Grand (SEP130560 Vol. 1) is J. Michael Straczynski writing at his very best — heart-wrenching, inspiring, humorous and absolutely horrific. He just hits every note perfectly.
But the one I would lose sleep for not mentioning is Terry Moore's Rachel Rising (JAN120780 Vol. 1), one of the best horror comics I've had the pleasure of reading! No matter what issue you read it always has you on the edge of your seat and, for the life of me, I haven't the slightest clue what's coming next… and that makes me love it all that much more!
Are you following PREVIEWSWorld on Twitter yet? Follow @PREVIEWSworld