Better, Stronger, Faster: Celebrate the 40th Anniversary of The Six Million Dollar Man
Jan 16, 2014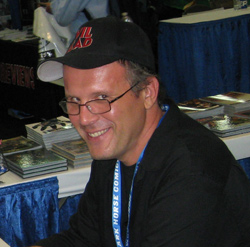 by Vince Brusio
For The Six Million Dollar Man's 40th anniversary comes the direct continuation of the classic television series with Season 6! PREVIEWSWorld interviews writer James Kuhoric to get the goods on this exciting new series for Dynamite Entertainment!
**********
PREVIEWSworld: You've written comics from Battlestar Galactica to Army of Darkness. Now you're writing about Steve Austin in The Six Million Dollar Man: Season 6 (JAN141084). The primary target for many of your stories seem rooted in 70s and early 80s TV/film properties. Why such a focus? Is it as simple as fulfilling a childhood/teenage dream? You were sitting on a couch in Mom and Dad's living room, watching TV, saying "Someday, I'm gonna write a story for this show!"
James Kuhoric: I don't know that as a kid I ever really grasped the possibility that I'd be telling official stories from my favorite television and theatrical properties. Back then, we told stories and acted out play scenarios at recess with reckless abandon. Jumping off playground equipment and slow motion fighting the imaginary bad guys with a "da-na-na-na-na" sound effect was the order of the day. But as a lifelong fan of these programs, the opportunity to be at the helm of Steve Austin's adventures is a true dream come true. Add to that the incredible artistic talent of Juanan Ramirez and Alex Ross and you have something that is truly special. I'm so grateful to Nick Barrucci of Dynamite Entertainment for giving me this opportunity and for bringing together such incredibly talented artists to breathe life back into The Six Million Dollar Man.
I identify with these programs because they call me back to my youth. Some of my best memories are of watching The Six Million Dollar Man and Battlestar Galactica as a kid. These programs jumpstarted my imagination and really influenced my early tastes in comics and television. It's no secret that as a child I wanted to be Steve Austin. I still kinda do, in that odd abstract way that you never really lose your childhood passions. And I hope to introduce new readers to that same passion with The Six Million Dollar Man Season Six comic series.
As a fan I can't wait to get copies of the new series in my hands. I ran out to the local comic shop and subscribed to the series so that I could be sure I got the subscription photo cover editions. I have all of the existing SMDM comics, magazines, UK annuals, and books from the 70s in my collection, but seeing new comics based on the classic property coming out is the culmination of a lifetime of passion for the property. I may even break out my red track suit when I read them.
PREVIEWSworld: The Six Million Dollar Man may be unknown to many new comics fans these days. For that generation that may have missed the boat on enjoying the adventures of Colonel Steve Austin, what would you offer as a primer for enjoying this new series from Dynamite?
James Kuhoric: The great thing about The Six Million Dollar Man is that you really don't need a lot of background knowledge to enjoy the series. If you can understand the premise – a test pilot in a nearly fatal crash is rebuilt using bionic technology and becomes a secret agent – you can jump right in. The old television series used to run a primer at the beginning of some episodes that recapped the adventures "Previously on The Six Million Dollar Man." We're doing that too in the comic. At the beginning of each issue you will have a quick recap of all that has come before. This series is extremely accessible to new fans and will have enough call backs and nods to the original series to also satisfy longtime fans.
PREVIEWSworld: Unlike writing horror comics where the audience is waiting to see who's next to get the axe in the face, writing a drama/action comic is different, yes? There's no "rim shot" to expect. No body count to watch. There's more of a focus on plot, tension, character development, right?
James Kuhoric: The original Six Million Dollar Man series was a science fiction drama. We up the ante in all facets of those genres so that the stakes are higher, the villains are deadlier, and the technology is crazier. There isn't a body count to look for as you would in say a Friday the 13th comic, but you will be surprised at the level of things we are going to throw at Steve Austin. He'll face danger from unexpected places and be betrayed by those he trusts. I can guarantee you that Steve will be torn down like never before in the pages of this new series. He faces a season of turmoil as we bring back the original age of bionics. But as Steve has shown time and time again, what doesn't kill you makes you better, stronger, faster.
PREVIEWSworld: Have you been given carte blanche in playing with continuity as the show is no longer being aired? Or have you avoided that altogether by taking Steve Austin into new territories, creating scenarios independent of Seasons 1-5?
James Kuhoric: You never fully have carte blanche with licensed characters; there are rules you have to play by. But we have taken Steve into new territory by increasing the scope of the dangers he will face. 1970s television was very episodic – very "villain of the week" if you will. We decided to focus on multiple and bigger threads to an overall story in our new series. Steve will have original villains, deadly threats, and staggering consequences to deal with. And most importantly, it is all being done with an eye toward keeping the tone and look of the original series. This has to feel like the original television program so that existing fans can really enjoy it and new fans can get a taste of television's first super spy.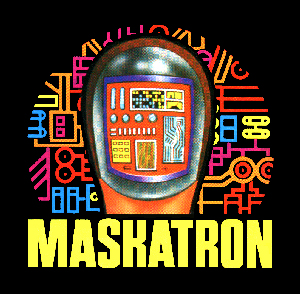 PREVIEWSworld: Using Maskatron as a villain when you start this series shows that you're also a fan of the toy line. So you really have come full circle in using the culture of The Six Million Dollar Man as you're writing new adventures. What else helps you to recapture that sense of nostalgia for this property so that you can work it into your own craft?
James Kuhoric: Honestly The Six Million Dollar Man is part of my everyday life still. I have the box set of all the episodes and watched it regularly long before the writing opportunity came along (yep – I'm that guy). Everyone has something from their childhood that still has that magic for them. The Six Million Dollar Man is that for me. I have my original Steve Austin action figure with the bionic eye and engine lifting action still to this day. And the inclusion of Maskatron is one of the coolest aspects of the first story arc. Originally Maskatron didn't have a real origin, he was sort of an amalgamation of the robotic threats that Steve faced and created specifically to embody a villain worthy of imagination sparked play battles. We took several threads from the original television series and created this intricate background story for Maskatron that will surprise some readers. Maskatron will become the deadliest artificial intelligence on the planet as he evolves. He is going to be a major obstacle in Steve Austin's life and one that isn't black and white like you'd think.