PREVIEWSworld Exclusive: Kevin J. Anderson & Neil Peart Make Time For Clockwork Angels
Jan 16, 2014
by Vince Brusio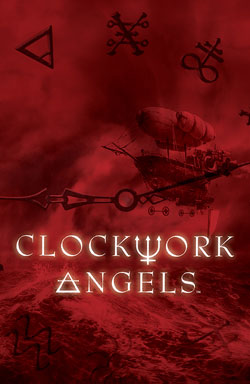 Aside from being a science fiction author, Kevin J. Anderson has written several comic books that include titles from Dark Horse's Predator and Star Wars line, as well as The X-Files comics for Topps. But in the January issue of PREVIEWS, Kevin has returned with Clockwork Angels (JAN140981), a new series co-authored by none other than Rush drummer Neal Peart. Both Neal and Kevin weighed in on their new series from BOOM! Studios, and explained that this title was a long time coming, and a dream come true.
**********
PREVIEWSworld: No dystopian Logan's Run game of death. No whistle blower screaming Soylent Green is people. We're getting wind-up toys and steampunk vessels cruising to music from Rush's concept album Clockwork Angels, the same title as this new mini-series. It's basically an adaptation of your same-titled novel, correct? For one to describe such a story, Brian Truitt of USA Today used the phrase "Norman Rockwell crossed with The Hobbit." If you wanted to do your own sky-writing, what words or phrases would be spitting out of your plane against the cold blue sky? What tags would you use to help people know what to expect from this comic?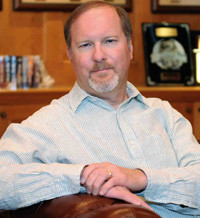 Kevin J. Anderson: Awesome story world characters adventure (since I don't expect skywriters do punctuation well!). The music and lyrics of Rush have inspired countless stories I've written (and I've done rather well with my writing, with 51 bestsellers and 23 million copies in print). Clockwork Angels is the most direct inspiration, and I was able to bring to life the stories that I was humming along. The world of Clockwork Angels is colorful and chock full of wonders, innocence, terror, and an epic journey.
PREVIEWSworld: So the story basically follows the life journey of a teenager, Owen Hardy, who is an assistant apple-orchard manager. His conservative lifestyle that has him as a regular at the Tick Tock Tavern is now something to leave behind, as he yearns for …. what? Adventure? The answer to the eternal question of why do we live? What drives Owen? And is it this longing for something else that he feels inside him something you can relate to from one of your own life experiences? The yearning to break on through to the other side?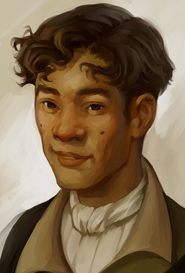 Kevin J. Anderson: Of the 125 books I've written, Owen Hardy is probably the character who is closest to my heart. I grew up in a small rural town, dreaming of wondrous places and adventures…and I finally got to experience them. In Clockwork Angels, he is caught up in grand adventures, turned into a pawn by both the rigid and immortal Big Brother-style Watchmaker, and the ruthless and destructive Anarchist who wants to destroy civilization. Owen wants to see the big city — a marvelous place filled with steampunk wonders, and the famed, ethereal Clockwork Angels — but he gets swept up in an ordeal with airships, pirates, lost cities, carnivals, and plenty of other things that just demand portrayal in a graphic novel (and our artist Nick Robles has done that in spades!).
Neil and I developed the novel based on the Rush concept album Clockwork Angels — the album became the #1 best-selling album in North America upon its release, and the novel itself hit The New York Times bestseller list, on Neil's 60th birthday. Now we're adapting that extremely popular story to a graphic novel.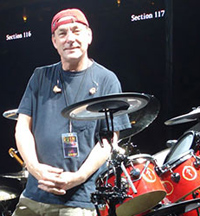 Neil Peart: Honestly, the Clockwork Angels project has grown bigger than anything I ever imagined or aspired toward.
PREVIEWSworld: At the heart of Clockwork Angels is the age-old concept that the road to hell is paved with good intentions. We see that the Watchmaker and his Clockwork Angels are obsessed with order. They offer grand pronouncements to the common masses in order to be the benevolent anchor that keeps everyone grounded and "safe." But the adherence to strict "order" sacrifices individual liberty, yes? The option to live "free" of outside norms is gone. And ultimately the benefactor's foot goes on the throat of creativity. Were there historical references you and Neil bounced off one another when playing with this conundrum?
Neil Peart: I like how the apparent "villains" in the story, the Watchmaker and the Anarchist, are not drawn in black and white, so to speak.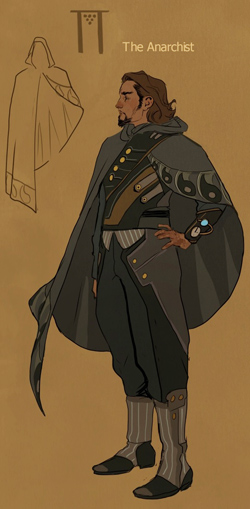 Kevin J. Anderson: We didn't want to be that simplistic. The Watchmaker has recreated the world in a perfect order, "Everything has its place, and every place has its thing." For MOST people, this is wonderful and reassuring (that's where we diverged from typical dystopias, which are all gloomy, hard-edged, and repressing). For the oddball dreamer, though, it's tough. Neil and I viewed order and chaos as a big pendulum, with extreme order (the Watchmaker) being at one end, and a "freedom extremist" (the Anarchist) at the other end. As Neil was writing the lyrics for the songs, we were developing the characters and the background story. It was all so visual, it simply demanded to be turned into a graphic novel.
PREVIEWSworld: Epic albums like The Who's Tommy, Pink Floyd's The Wall, and The Beatles' Sgt. Pepper's Lonely Hearts Club Band were turned into major motion pictures. If you could see Clockwork Angels given a film treatment, and you were brought on as an Executive Producer, who would be brought on board to share your cinematic vision? Terry Gilliam because of his work on Time Bandits or Brazil? Would you want the artist of the comic Nick Robles by your side as he helped conceptualize the characters? What does your dream team look like?
Kevin J. Anderson: Wow, I try not to think in specifics like that. Visually, I love the work of Zack Snyder, how he pumps his visuals way out of the envelope. Clockwork Angels is a very personal story on a gigantic canvas. I would love to see it on the big screen.
PREVIEWSworld: Neil, does that mean Nick Robles is on the dream team for the movie or not? Kevin's playing his cards close to the chest. What do you say? Or is it just too early to make that leap?
Neil Peart: Nick has some big challenges ahead of him — while for Kevin and me, this graphic series is a huge and exciting step toward a fully-realized world of our own invention. Also, having been highly impressed by Nick's early sketches of characters and settings, I will be looking forward to seeing his visions of the grander backgrounds, like Crown City, the Carnival, and the Wreckers.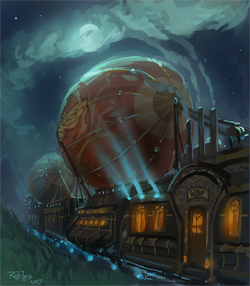 PREVIEWSworld: This story has lyrics from Rush's Clockwork Angels album interwoven into the story's prose. But it also has visuals that hearken back to imagery used in past Rush releases. What particular albums do you reference from the band's discography?
Kevin J. Anderson: Neil's lyrics are in my DNA, ever since I listened to 2112 in high school. When we were at a Rush concert, my wife Rebecca (bestselling author Rebecca Moesta) listened to the songs, recognized all the connections, and turned to me: "How many stories is that music going to inspire?"
The story in the Clockwork Angels album is of course the backbone of the novel and the comic, but I threaded as many other lyrical references as possible, like Easter eggs.
For Rush fans this is a feast, but even for non-fans this is a wonderful standalone story.
PREVIEWSworld: Last question. This one's for Kevin. If fans are to be directed to any website to get updates on this book, or learn where you might be attending conventions this summer, where should they go?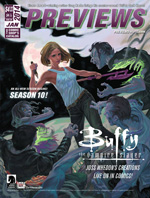 Kevin J. Anderson: I'll be at a lot of conventions this year, especially regional comic cons.
Everything is on my calendar at www.wordfirepress.com.
Plus, I talk a lot about my basic projects at http://kjablog.com.
**********
Clockwork Angels (order code JAN140981) will be shipping to a local comic shop March 19, 2014.
It can be ordered from the January 2014 issue of the PREVIEWS comic shop catalog.
For more information on Clockwork Angels, you can check out BOOM! Studios online and on Twitter.
See Kevin talking about Clockwork Angels when it was first released as his novel!