Larry Hama's Lessons On Writing G.I. Joe
Jan 03, 2014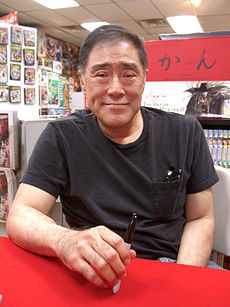 Larry Hama is a very talented individual. To use the expression that he "wears many hats" is an understatement, as he is an actor, artist, and musician as well as a comic book writer. But it is his work in comics that came to our attention this month as he is the writer for G.I. Joe #200 (JAN140404) from IDW Publishing, and we wanted to know if Larry would be up for a quick Q&A to celebrate the special issue. To our delight, Larry was happy to oblige us.
**********
PREVIEWSworld: It's issue #200, so you must have major explosions ready to detonate, correct? How does it feel to be writing about characters since way back in the 80s when G.I. Joe was first being published by Marvel? How does it feel to come out on the other end of that?
Larry Hama: Issue #200 ties up most of the threads I've been developing for the last six issues or so, and features a reorganization of the Pit, and some revelations about the secret chambers discovered behind the elevator shaft. I've come out on the other end as a survivor or a relic, which I guess is totally superior to not coming out on the other end at all. Yes, I am grateful for small things.
PREVIEWSworld: If you had to speculate where G.I. Joe was in its place in comics history, how would you say the title has stood up over the test of time? Everyone gets a picture in their head when they hear Uncanny X-Men or Detective Comics. What mental pictures would you want people to conjure when they hear G.I. Joe? How you would want them to remember this book?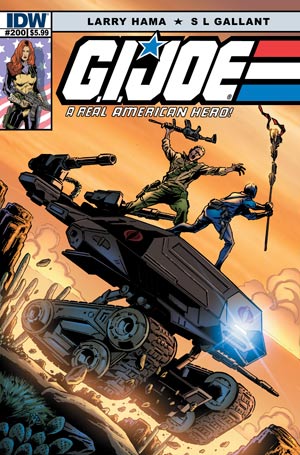 Larry Hama: I have no idea, nor do I care to speculate. It's not my place to do that. I am pretty self-critical about my own work, and I take pains to try to improve it. The more you look back on your own work and are satisfied with it, the more you are likely to slack off and not push to make it better. I don't like falling into that trap.
PREVIEWSworld: IDW is releasing G.I. Joe #1 (the original Marvel Comic) you wrote backin 1982 as a Hundred Penny Press Edition (JAN140408). A classic nod to your first work 31 years ago. How has your approach towards writing this book changed since that debut? Do you favor more dialogue? Foreshadowing? How has your writing style evolved, or are you proud to say that you've stayed consistent in your approach to the book because some wheels don't need to be reinvented?
Larry Hama: If I didn't think my writing got better all the time, I'd quit. I learn something with every story. Especially the bad ones. I learn what NOT to do again, like a baby touching a hot stove. I'm always trying to have LESS dialogue. That's not always possible if the artist is not telling the story completely in the pictures. All change is good, anything that doesn't change is dead. I like more subtext: even if the audience doesn't get it. I like that it's there. All wheels need to be reinvented. Look at what they put on the Mars Rover. My own peculiar methodology for comics writing hasn't changed in 45 years. I start on page one, and I don't know what's on page two until I get to it. I don't care much about the plot because I am more interested in the characters.