Five Hot Comic Books From 2013
Dec 29, 2013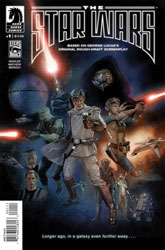 We see a lot of comics here at PREVIEWSworld. And from that huge stack of books we've selected five titles that stood out among the others. These were comics we agreed had shined the brightest in 2013. See what made the cut!
The Star Wars #1
Dark Horse Comics
This year we couldn't help being excited over Dark Horse releasing The Star Wars #1. Many of us at the office had seen Star Wars when it first hit theaters in 1976, so to hear that Dark Horse was taking us back to the beginning of something that we remember since grade school, we were more than just curious. We were eager. And when we first laid eyes on The Star Wars #1, we were satiated to say the least. Later in the year we interviewed the creative team of the book, J. W. Rinzler and Mike Mayhew. Both writer and artist explained the careful planning that went into the project, as the book was based on George Lucas' original draft for Star Wars. Annikin Starkiller is a hero ... Luke Skywalker is a wizened Jedi general ... Han Solo is a big green lizard ... and, well, the Sith were still evil. Some things couldn't change. The book received critical acclaim within a day of hitting the shelves, so we salute the folks at Dark Horse for releasing such a top-notch book.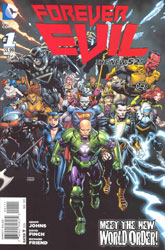 Forever Evil #1
DC Comics

The first issue of Forever Evil was a kick-off to a 2013–2014 crossover event from DC Comics, with #1 launching in September. The mini-series is written by Geoff Johns with artwork from David Finch. That in itself should have been enough of a teaser to let folks know this was going to be something big. We had been eagerly awaiting the first big meteor shower since DC Comics had rolled out the New 52. The Richter Scale was fairly quiet as we mostly got up to speed on new character makeovers.
When it hit, Forever Evil marked the first wide crossover for the new DC universe, and spun out of events as a result of the Trinity War.
Villains took the center stage of the storyline, but not with the Secret Society at the front. Instead, Geoff Johns explained, the Crime Syndicate was driving the train. A number of books have since been released stemming from the repercussions of this series, so it is with great pleasure that we say hats off to Forever Evil #1 for giving us what we've been waiting for: earthquake tremors that raise the sea level.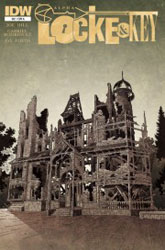 Locke & Key Alpha #2
IDW Publishing
A horror story of epic proportions, Locke and Key: Alpha evenly layered compassion with justice in its final goodbye to series villain, Dodge. A great ending to a title that closed the door on 5 years of work from Joe Hill and Gabriel Rodriguez. Who would have forseen an ending that makes everyone happy? Life typically throws people overboard in horror stories.
Who can predict closure when we're waiting for the unexptected knife in the face? But no, there wasn't a sharp blade piercing through a wet shower curtain. Instead, all loose ends were tied. The guest book closed. It was a final farewell to what we thought was a great creator-owned series from IDW Publishing. And yet, the ripple effects from this book are far from spreading thin.
There's now a flurry of activity in bringing Locke & Key to TV and movie theaters. Plenty of articles can be read on the Internet about how things are far from over for Locke & Key, with pilots being made to see how best to bring the series to a wider film audience.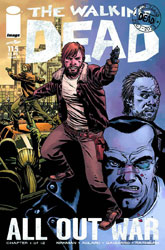 The Walking Dead #115
Image Comics
While fans of the TV show were treated to the resurrection of the Governor on A&E's The Walking Dead, fans of Robert Kirkman's comic focused on the perfect storm that was brewing this year as Rick Grimes and Negan headed towards a crossroads.
There was only going to be room left for one man standing, and when TheWalking Dead #115 arrived in stores this year it signaled the beginning of the end with the appropriatelly titled story arc "All Out War."
This story arc proves how the living can be just as much a danger to your health as shuffling zombies who want you on their menu.
Three cheers to Robert Kirkman and his band of merry flesheaters for making this storyline perfectly timed to mark the 10 year anniversary for the book at Image Comics. And with things underway now for a massive battle of egos, complete with bullets and blood, we salute issue #115 as being the ultimate death knell in Walking Dead history. There's no doubt the body count won't disappoint us.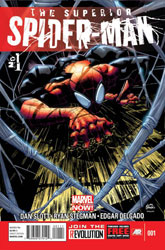 The Superior Spider-Man #1
Marvel Comics
We thought we had seen it all. We were wrong. The end of "Dying Wish" in Amazing Spider-Man #700 gave us the death of Peter Parker. That should have been the end of things. It wasn't. What we get as the next chapter in Webhead history is Doctor Octopus implanting his mind into Peter Parker's body. The goal: the good Doctor wishes to prove himself a "Superior" Spider-Man by being both a superhero and a fine upstanding individual that was the opposite of Peter Parker. That's a tall order. And yet, with The Superior Spider-Man #1 from writer Dan Slott, the game was afoot. Possible schizo fallout from this witches brew? Yeah. After all, we don't know if we're cheering for a hero or a menace. But that's what makes this series so fun: it's a head trip of epic magnitude! How creepy is it to see MJ throwing herself at a dude that isn't her "tiger"? How sweet is that?
**********
Thanks to all the people involved in giving us these awesome reads in 2013. We can't wait to see what you have in store for us in 2014!
Cheers!
~Your Pals at PREVIEWSworld