Noah Graphic Novel Based on Russel Crowe Movie
Dec 20, 2013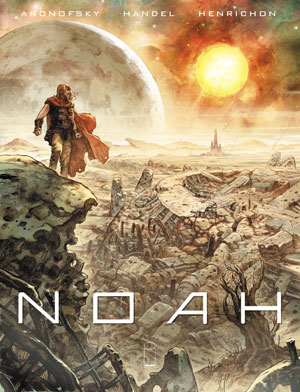 Press Release
From Academy-Award-and-Golden-Globe-nominated director Darren Aronofsky (Black Swan, The Wrestler), Ari Handel, and Niko Henrichon (Pride of Baghdad) comes a fresh retelling of Noah's Ark. Set in a fantastical world, Noah tells the epic story of one man's quest to preserve life for a new world. The graphic novel is based on the first draft of the screenplay for the feature film, Noah —directed by Aronofsky, and starring Russell Crowe, Jennifer Connelly, Emma Watson, and Anthony Hopkins — which hits theaters in March 2014.
"It has been a great thrill to see an artist of Niko's caliber interpret the Noah screenplay through his own vision," said Aronofsky. "The results are lavish. This take on the story is from the original screenplay Ari and I wrote, before we began the long process of shaping the story for the big screen. So it is a slightly different take on the material. This book, not merely a movie companion piece, will hopefully give readers a rare insight into the creative process."
This is Henrichon's first major work since he teamed up with Brian K. Vaughan to create the critically acclaimed Pride of Baghdad. His signature style of sweeping, majestic panoramas lend an otherworldly quality to the pre-Flood world's environment.
Noah retells the story of the Sisyphian task that Noah is charged with of building an Ark large and safe enough to save a select group of humans and animals. Noah must evade the wicked forces that would see him fail and leave the world to ruin.
Item Code: JAN140537
Price: $29.99
PREVIEWS Page #218
In Shops 03/19/14
Use the PREVIEWS catalog's order form to reserve your copy at your local comic shop!