"Buffy The Vampire Slayer Season 10 #1" From Dark Horse Comics
Dec 20, 2013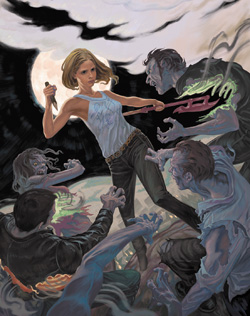 Buffy The Vampire Slayer Season 10 #1
Publisher: Dark Horse Comics
(W) Christos Gage
(A/Variant cover/Ultravariant cover) Rebekah Isaacs
(C) Dan Jackson
(Cover) Steve Morris
New season. New rules. The age-old battle of Slayer vs. vampire is the focus of Buffy's life once again—it's downright nostalgic!
But with all the toying with magic she's done lately, this girl should know it's time for another game change . . . Shouldn't she?

Item Code: JAN140136
Price: $3.50
PREVIEWS Page #58
In Shops 03/19/14
Use the PREVIEWS catalog to order this book from your local comic shop!