Mike Costa Takes Over "God Is Dead" From Jonathan Hickman
Dec 18, 2013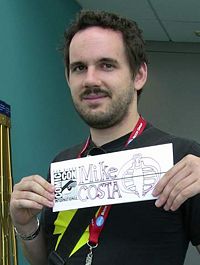 With issue #7, Mike Costa will replace the departing Jonathan Hickman on Avatar Press' God Is Dead. While Costa will take a "deeper" approach to the story, the book will still be rooted in earth-cracking chaos, as no story about "gods" can be complete without people atomized, or snapped like toothpicks. Costa sees God Is Dead as one of the biggest challenges to his writing career. He'd be the first to tell you that its pushing him to the limit. But this is a good thing. Really. Because greatness does not come from complacency.
**********
PREVIEWSworld: Mike you take over full writing duties for God Is Dead with issue #7 (listed in the December PREVIEWS). It's a natural for you to come on board for this project, as you co-wrote issues #1-6, and wrote original stories for the God Is Dead #1 & #2 Enhanced Editions. But as you'll now be flying solo on the series, how does that make you feel? What new liberties (or constraints?) comes with the new gig?
Mike Costa: Well, I came in to the original book after Hickman had done most of the heavy lifting – assembling the cast, cracking the story, beating out the plot, etc. So I definitely have more "liberty" now that I'm on my own. Liberty to fill the cast out with new characters of my own creation, and in designing a story that's a little deeper and more complex than the kind of high-concept blow-em-up comic that Hickman wanted to do. That said... I'd have to say my biggest "constraint" would be making sure that my solo work is as good or better than those first six issues, and still delivers the crazy, sacrilegious fun that's made God is Dead such a popular book. That's no small task, but I have to make Hickman proud. It's his baby, and I have to make sure it grows up just as weird as he'd hope for.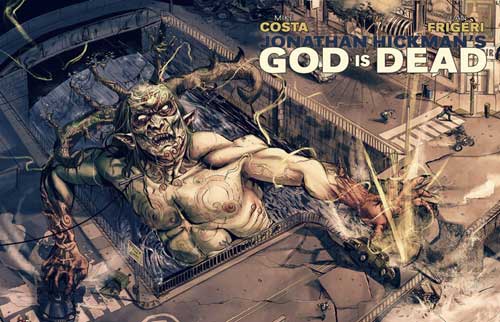 PREVIEWSworld: How do you discipline yourself as a writer for this book? The scope of the book, the fact that you're writing about gods, is no small feat. How do you manage your time when trying to decide which mental file folder should be pulled to write God Is Dead? After all, the book goes bi-weekly in February with issues 6 & 7. How does this affect your commitment to a monthly work load? What communication do you maintain with Avatar/artists so that you stay on the same page?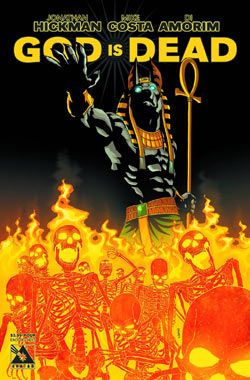 Mike Costa: These past few months have definitely been the busiest of my life. Luckily my other commitments are for projects that will be launching later in '14 so I had some time carved out to really focus on this book, but this book is as big as three of my normal books. Not just the double-shipping, but plotting out multiple storylines, plus back-up stories that fold into the narrative down the line, it was a big puzzle that I had to put together. Luckily, there is a lot of communication with Avatar – specifically with William. The guy is so available to talk story, so on top of the scheduling, and literally never seems to sleep. I honestly don't know how he could be like this for every book without keeling over dead, so I suspect I'm getting special treatment. Whether it's because he really likes me, or just really likes this book and wants to make sure it stays a hit in spite of me, I'm not sure.
PREVIEWSworld: What is it about this book that makes it so fun for you? Given the title of the book, is it because you're playing God with gods? Is it because you think it's a gas to take classic texts like Ovid and Gylfaginnig and spin them on their heads to see how they land in 21st century shop talk?
Mike Costa: Oh it's the freedom to take the story anywhere. That's definitely the most fun. I got to write Spider-Man and the X-Men earlier this year, and I'm not going to lie, that was definitely a dream come true. But at the same time, there's a tremendous amount of constraint with characters like that, and rightly so. They exist in a huge continuity overseen by dozens of other creators, and they're also huge corporate commodities that need to be protected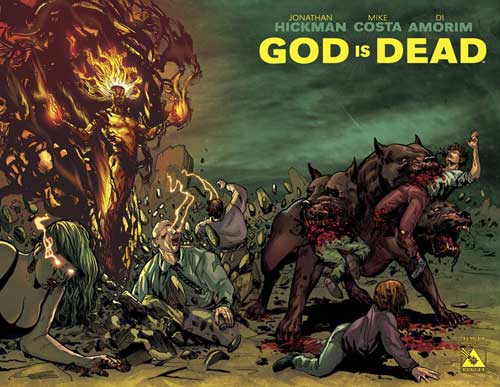 The great thing about writing God is Dead is that I get to deal with characters just as familiar as Spidey or the Hulk, but I can take the story wherever it needs to go. Nobody's going to tell me I can't use Baldr because he's appearing in a movie next year and they're giving him his own series written by Mark Millar to launch concurrent to the premier. And as a bonus: so many of these Gods rose up out of brutal, warrior cultures, and ancient myths are so horrifyingly blood-soaked that I can tell really outrageous, action-packed, shocking stories with them and I'm staying as true to the characters as Peter Parker on a chaste date with Gwen Stacey. And, honestly, staying true to the original interpretation of these archetypes is really important to me. Luckily they're all pretty much bloodthirsty and insane.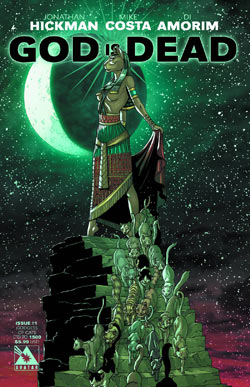 PREVIEWSworld: You had a chance to sit on a panel with Max Brooks at New York Comic Con, and you've said that now you understand why writers like him, Garth Ennis, and Alan Moore like to put up their feet at Avatar Press. Could you elaborate on that sentiment? What is it about Avatar that makes you happy?
Mike Costa: As I mentioned earlier, it's the freedom, and it's also the hands-on attitude that William takes with his books. And I don't mean hands-on in a bad way. William does what a great editor is supposed to do: he's there for support and guidance, not to issue executive edicts or impose his own vision. He knows books succeed on the talent of their creators and since it's his company, he has the luxury of not answering to anybody, so he doesn't have to second-guess and micro-manage. The man just wants to put out good comics. He doesn't want to sell lunchboxes and movie tickets. I don't think there's any other publisher out there like that.
PREVIEWSworld: If Saga is, in your words, "consistently the most beautiful book being published, both in art and story," do you look to books like that as something to study? Not to say you would copy anyone's work, or latch on to a trend for the sake of being re-tweeted, but when you process what you read from your contemporaries do you ever ask yourself why those writers/artists do what they do? And do you ever ask yourself this same question?
Mike Costa: Oh I do that all the time. I don't think you can be a writer without being a reader. If only because, I can't imagine how anyone could work in comics without loving them first and spending huge amounts of time thinking about how they work. It's not some job you can get accidentally. There are many writers I look up to and admire. Brian Vaughn, Ed Brubaker, Jonathan Hickman, Kurt Busiek, Bill Willingham, Max Brooks, Grant Morrison, Jack Kirby and, of course, Alan Moore.
There are tons of others, but those guys are really the ones who I go back to and really study. The way that a story is shaped, the way dialogue is used, transitions from scene to scene, a certain clever reveal of plot or character... I look at these things and return to them the way that sports fans instant-replay an incredible play. Writing has rules and limitations and physics just like anything, and when the top guys can bring them all together into something spectacular it's really a stunning, beautiful thing. It can seem super-human. And if I can find ways to reverse-engineer that and try to execute my work more like that, well, that's what I'm here for. I'm here to play to win.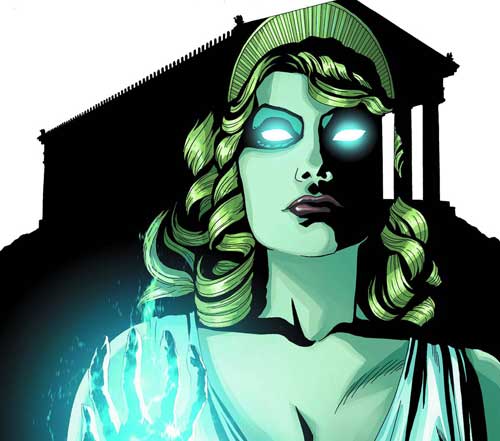 I'm trying things in God is Dead I've never done before. I'm building a bigger world than any I've ever designed. I'm working for a company that gives me an unlimited canvas and with artists that can won't balk at drawing literally anything. I'm staying up late and getting up early. I'm trying to think the thoughts of Gods. I have the weirdest job in the world, and I'd be stupid not to make this the craziest, most fun project I've ever worked on.
To see a sample of God Is Dead #3, click here.
**********