Press Start: The Adventure Continues in Tomb Raider #1
Dec 08, 2013
Fresh off the heels of 2013's Tomb Raider reboot, Dark Horse Comics is continuing the story of Lara Croft with writer Gail Simone in Tomb Raider #1. Picking up where the game left off, this new on-going series is the official continuation of Lara Croft's formative adventures in the dark and sophisticated universe previously introduced in the game. It's sure to deliver the same exciting dread and excitement as the action packed game from Crystal Dynamics. Available in comic shops on February 26th, 2014.
Dark Horse is also bringing out new entries in their Halo and Mass Effect comic series with Halo: Escalation #3 and Mass Effect: Foundation #8. Also if you missed out on the first issue of the Mass Effect: Foundation, Dark Horse is offering a new 1 for $1 Mass Effect: Foundation #1 reprint. "I'd buy that for a dollar!"
And finally Dark Horse is adding two new Mass Effect ship replicas to their line of scale representations of iconic Mass Effect ships, with the both the Mass Effect Alliance Cruiser and the Mass Effect Alliance Cruiser Silver LTD.
Dynamite Entertainment is rebooting another classic character with Turok: Dinosaur Hunter #1. Despite Turok's previous tenure as a classic pulp comic character from the 50s, his name still resonates with gamers thanks to the classic N64 game from Acclaim and it's many sequels and reboots. This new on-going series written by Greg Pak is set to introduce the famous dinosaur hunter to new audiences while still paying homage to the classic incarnations of the titular character. Hopefully there won't be any fog obscuring the visceral artwork of Mirko Colak.
Finally, there's a new addition to the Assassin's Creed cannon with Assassin's Creed: Brahman. This new graphic novel entry into the Assassin's Creed cannon from Ubiworkshop explores the story of Jot Soora and the mystery behind his Assassin ancestry as he uncovers the age old battle between The Templar Order and The Assassin Brotherhood. It's an exciting adventure no Assassin's Creed fan can miss out on.
Catch All The Pokémon And Mario Collectibles This Month
With the release of the new Pokémon X and Y games earlier this fall, Pokémon fans have a reason to "catch 'em all" again. And PREVIEWS has you covered when is comes to cool Pokémon items for fans of all ages, including a new volume of the graphic novel with Pokémon Adventures Platinum Vol. 10.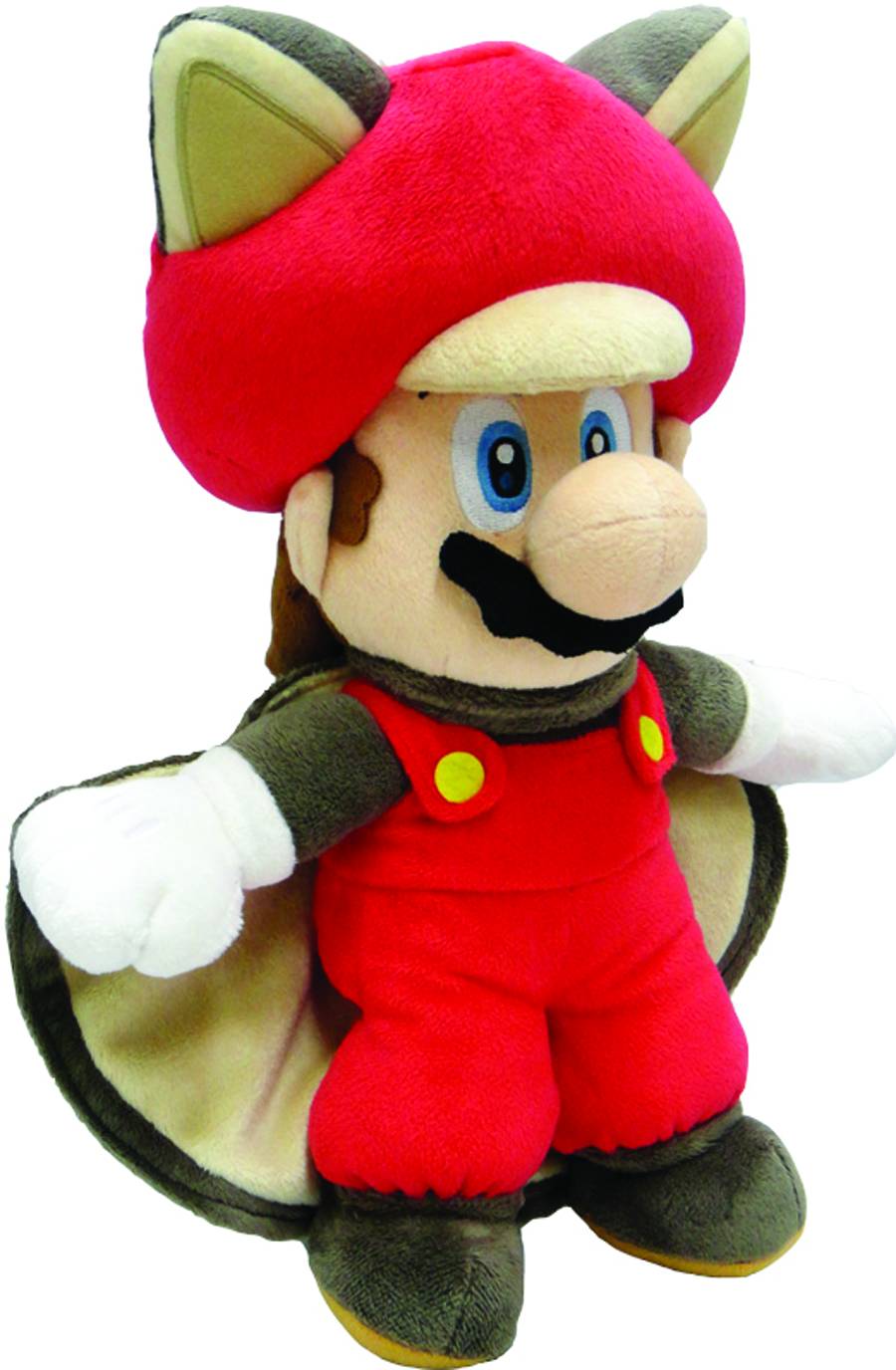 Plus, PREVIEWS is offering a variety of Pokémon figurine packs that feature the Pokémon Battling two packs, Pokémon Evolution three packs, Pokémon four character gift packs, and the Pokémon X and Y two mini-figure collection packs. All feature detailed mini-figures of your favorite Pokémon, be sure to "catch 'em all!" and pre-order any of these at your local comic shop.

And if you're into Nintendo collectibles that aren't Pokémon, there are also new additions to the Mario plush line of characters from the Wii U game New Super Mario Bros. U. With the 15" Flying Squirrel Luigi plush, 14" Flying Squirrel Mario plush, 8" Blue Squirrel Toad plush, 8" Yellow Squirrel Toad plush, 5" Koopa Troopa plush, and the 6" Koopa Paratroopa plush.

Also, if you consider yourself a big Mario fan, then you need to check out the 15" Super Mario 3d Land Tanooki Suit Mario Statue. From the grass block stand to the look on Mario's face, this delightful statue captures the essence of Mario and should be found on the shelf of any Mario fan.
Cute Street Fighter Plushes And Other Gaming Collectibles
The next series of the popular Sanrio x Street Fighter is here! This new series features Hello Kitty as Guile, Ken and Cammy. Each Sanrio x Street Fighter Deluxe Plush stands approximately 10" tall, and is dressed in specially designed Street Fighter costumes. Collect them all!

Square Enix is bringing the terrifying Aliens featured in the SEGA video game Aliens: Colonial Marines to their Play Arts Kai line. Choose from both the Lurker Alien and the Spitter Alien, each are exquisitely designed with many points of articulation and would be a great addition to any collection of Alien figures.
And finally, fans of Valve's online shooter Team Fortress 2 should be sure to collect the new Team Fortress 2 3-inch vinyl figures based on some of the classes in the game. Available in both red and blue versions, these cute renditions of the Spy, Pyro, and Soldier are sold in blind mystery box packaging and will make collecting them as fun as a round of the game.
That does it for this month's roundup of all the gaming goodies featured in the December PREVIEWS. All of the products featured here are available to pre-order now at your local comic shop, and be sure to check back each month see what other gaming comics and collectibles await on PREVIEWSworld.com.