Sneak Peek: "The Bunker" From Oni Press
Nov 25, 2013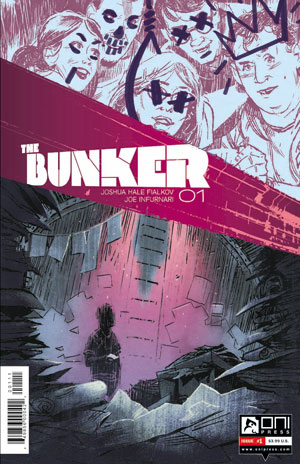 The Bunker #1
Publisher: Oni Press
(W) Joshua Fialkov
(A/Cover) Joe Infurnari
The smash hit digital comic comes to print with a double-sized debut issue! When five friends go to bury a time capsule before going their separate ways, they find a mysterious bunker stamped with their names and containing artifacts from a time that has yet to come. Will their discovery save the world or doom it? From Joshua Hale Fialkov (I, Vampire; Ultimates) and Joe Infurnari (Marathon) comes a new ongoing series that proves outrunning your future is no easier than escaping your past.
"This book has been a passion project for Joe and I from the start, and we took the decision of a publishing partner extremely seriously," says writer Joshua Hale Fialkov, best known for his Eisner-nominated graphic novel Tumor as well as work on The Ultimates, and I, Vampire. "We had such a great experience doing it on our own...that we wanted to continue that journey. In Oni Press, we've found a group of the hardest working folk in comics, who want our vision delivered to as big an audience as possible. We could not be happier."
After this perfect introductory issue, The Bunker's twisting, mysterious tale will continue on as an ongoing series. In addition to portions of the existing pages being updated and redrawn to share new secrets of the Bunker, Infurnari is also enhancing the color palette to the previously single toned pages.

"The Bunker is the kind of smart, character-driven genre fiction we love," said Oni Press' Editor in Chief James Lucas Jones. "From the moment our Publisher Joe Nozemack read the first issue, he knew it was something we needed to publish. We're excited to be embarking on the next phase of The Bunker with Josh & Joe and can't wait for readers in both the print and digital markets to see what they have planned."

Item Code: DEC131233
Price: $3.99
PREVIEWS Page #331
In Shops 02/05/14
Use the PREVIEWS catalog to order this book from your local comic shop!