Mick Foley Returns To Comics With WWE #1
Nov 25, 2013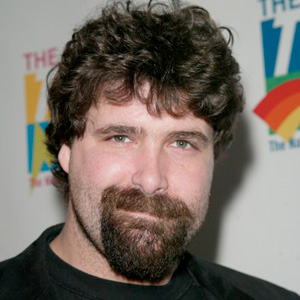 Mick Foley is a household name if you're a fan of WWE entertainment. You probably also recognize Mick's name from the Mankind Chaos! comic books that were published when Mick still wore a sock on his hand. The bottom line is that Mick and wrestling has been a formula that worked before in comics, and now Super Genius and Papercutz have cooked up this chemistry again as — in the world of comics — the rules are few, and the fun is limitless.
Not to mention I've we've been waiting for this book since the WWE teased it at San Diego Comic Con!
With the debut of WWE #1 (OCT131279) in the October PREVIEWS catalog, we here at PREVIEWSworld thought it would be neat to catch up with Mick and ask him about his latest project that takes some of wrestling's biggest names and puts them in what looks to be action movies. The hardcore legend and author of the new WWE comic book obliged us with the following exclusive interview.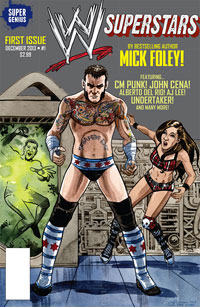 PREVIEWSworld: You are said to be a "semi-retired American professional wrestler, author, comedian, actor, voice actor." Even being semi-retired, the laundry list of activities you juggle in between a husband and father makes one think 8 hours of sleep is simply overrated. So how did you go about putting together the concept for WWE #1 in between your high-rise juggling act?
Mick Foley: Well, let me say that I probably need to change my Wikipedia page as I'm a completely-retired wrestler now, which frees up my time to do other things. While I do have many duties at WWE, I try to jump at the chance to participate in something like the writing of this comic book. So, eight hours of sleep is highly sought-after … but I don't normally rack up that many hours in a single evening.
PREVIEWSworld: Did the wrestling personas you've developed over the years like Dude Love, Cactus Jack, and Mankind play into any of the story ideas you developed for this comic book? Where did you draw your ideas from when it came to hardwiring the plot for WWE #1?
Mick Foley: Well, the first thing I did was I decided to collaborate with writer Shane Riches because we had been really successful with a graphic novel called RPM. Shane is just much better at putting writing into comic book parameters. So he and I both thought that the wisest move would be to take the WWE superstars out of the wrestling ring and put them in an alternate universe. So I think that's the main thing this book offers: our fan base will see the people they know and love with the same characteristics in different settings. Ones they're not used to seeing on Monday and Friday nights.
PREVIEWSworld: Your character Mankind joined Stone Cold Steve Austin and The Undertaker back in the Chaos! Comics days. Would you like to see any of those "old school" warriors return to books as cameos? Have you ever thought about talking to those guys? Might that play a part in future WWE books?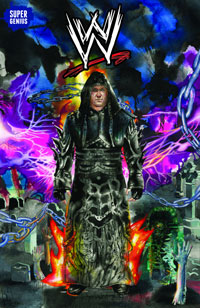 Mick Foley: Well part of what we loved about placing the storyline in an alternate universe is that we can call up any of the superstars from the past, present, or possibly even the future to make appearances. Whether they're living or dead. So within that parameter I certainly think there's room for one of the Mick Foley incarnations.
PREVIEWSworld: Have you been able to talk to the guys in the WWE about this book? Guys like John Cena, Mark Henry, or Vince McMahon?
Mick Foley: I know a few of them are really excited. Guys like CM Punk who grew up as huge fans are dying to see what they look like in a comic book. I've had that chance, when WWE did their book in 1999, and WCW did their's in the early nineties.
I think this effort will top what we did 14 years ago.
PREVIEWSworld: Is there a particular Facebook, Twitter, or other social media account that readers can turn to for getting the latest news on this project?
Mick Foley: I would encourage people to go to my Twitter site or Facebook site where I'll show them the best place to go for the latest on this project.
**********
Check out the PREVIEWS PREVUE of WWE #1 here. You can order these WWE books from your local comic shop.
Check out the other cool WWE merchandise that you can order from the PREVIEWS comic shop catalog!
| | | |
| --- | --- | --- |
| ITEM CODE | TITLE | PRICE |
| DEC132297 | POP WWE CM PUNK VINYL FIG | $10.99 |
| DEC132298 | POP WWE JOHN CENA VINYL FIG | $10.99 |
| DEC132299 | POP WWE REY MYSTERIO VINYL FIG | $10.99 |
| DEC132300 | POP WWE SHEAMUS VINYL FIG | $10.99 |
| DEC132301 | POP WWE STEVE AUSTIN VINYL FIG | $10.99 |
| DEC132302 | POP WWE THE ROCK VINYL FIG | $10.99 |
| DEC130608 | WWE UNDERTAKER RESIN STATUE | PI |
| DEC131485 | TOPPS 2014 WWE TRADING CARDS | PI |