Innocence At War: Kurtis Wiebe Discusses Peter Panzerfaust
Nov 29, 2013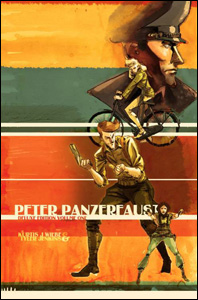 Writer Kurtis Wiebe and artist Tyler Jenkins re-imagine a classic adventure story in one of the 20th Century's defining events in their graphic novel series Peter Panzerfaust, published by Image Comics.

In World War II, a brave and daring young American named Peter leads a group of French orphans in resistance against occupying Nazi forces, lead by the hook-handed Kapitan Haken. Through their battles, the group encounters many of the classic elements of the Peter Pan story, including Wendy Darling and Tiger Lily (also Resistance fighters) and an inventive take on the crocodiles hunting Captain Hook.

Wiebe has written several series for Image Comics, and won the Shuster Award for Outstanding Comic Book Writer in 2012 primarily for his supernatural horror series Green Wake (also from Image Comics). There are currently two volumes of Peter Panzerfuast available (Volume 1: The Great Escape, NOV130431 and Volume 2: Hooked, NOV130432) with a Deluxe Hardcover collecting both volumes releasing in December (NOV130433).
Image Comics has provided the first issue of Peter Panzerfaust available as a pdf preview for download.

PREVIEWSworld interviewed Wiebe via email about Peter Panzerfaust, telling a fictional story in an historical setting, and the continuing appeal of WWII stories.

**********

PREVIEWSworld: Where did the idea to re-tell Peter Pan as a WWII resistance fighter come from?

Kurtis Wiebe: It originally came about when series illustrator Tyler Jenkins was watching Apocalypse Now and had an idea to have a story about child soldiers rising up and fighting their own war. He spun it like the "Lost Boys in Vietnam". I wasn't a huge fan of the idea at first, truthfully. I'd been researching WWII at the time, for my own enjoyment, and the idea of displaced children during that war started to stew in my mind.

Suddenly all the connections between the original Peter Pan story and the concept for young men and women caught up in a continent spanning war started to come together. I realized that a lot of it had to do with WWII having a clear good vs. evil motivation, while Vietnam was a pretty politically fueled theater.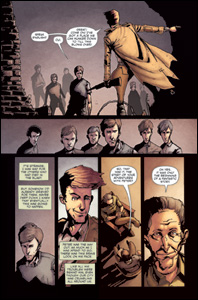 PREVIEWSworld: You've brought in a lot of the characters and elements of Pater Pan into this series. How closely or loosely does it follow the original story?

Kurtis Wiebe: We're releasing the Deluxe Hardcover for Christmas and I wrote an essay that details out exactly the parallels between the source material and Peter Panzerfaust. A lot of what we're working with is taking themes J.M. Barrie wove into Peter and Wendy as well as more iconic scenes and character moments.

I think the strongest connection, beyond the usage of characters, is the idea of never wanting to grow up. It's something we as adults, and even children, can identify with. We romanticize our youth, a time of simplicity and without the heavy weight of responsibility or the hurt and heartache of adult living.

Except, these characters are forced to deal with these adult circumstances and that is what I'm focusing on for this series. How does that affect young people when there is no choice but to embrace the change?

PREVIEWSworld: What kind of research have you done for this, from both the WWII and Peter Pan angles?

Kurtis Wiebe: A lot. Although most of the historical research was done long before I started writing the series because it's of particular interest to me. I'd read Stephen Ambrose's Citizen Soldiers, watched Band of Brothers, and done a whole pile of reading on the politics surrounding WWII.

For the Peter Pan aspect, I really had to dive back in and read through the novel again. I avoided using the Disney film for reference because I wanted this to be as tied to the original vision as possible. I was surprised how dark the original book could get at times.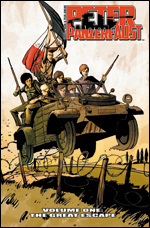 PREVIEWSworld: Since the series takes place in a real setting, how do you tie the fictional story you're telling with the actual events of WWII?

Kurtus Wiebe: It's a matter of ensuring I'm fully aware of the context of the war to the movements of the characters. All the vehicles, weapons, and gear are appropriate for the year it's set in. The first two arcs are in mid-1940 while the third arc takes place at the end of 1941. There's quite a few changes, both in military tech and in the battle lines, between the second and third arc. I have to make sure that my 'war map' stays accurate so that the world is solid, but also stay aware of the fiction and to not let it get bogged down by minute details.

PREVIEWSworld: Almost 70 years after the end of WWII, we still see a great deal of stories that either take place in the war or use it as a reference point. What is it about WWII that makes it such a fertile ground for storytelling?

Kurtis Wiebe: It's the greatest clash of good and evil in the last few centuries. It was a real life realization of all the greatest stories ever told where normal men and women rose up across the world to stop a madman. It's legendary.

PREVIEWSworld: You've mentioned that Peter Panzerfaust is a 25 issue series. Given the success you've found with the book, is there a temptation to extend that?

Kurtis Wiebe: Our series will actually be 30 issues, so we're at the half way point right now with Issue #15 coming out this week. Since day one, Tyler and I have had a very specific vision for the story, with a definite beginning, middle and end. We do not want to compromise the story we've planned just to keep it going, and despite it having a finite goal, I believe readers will really value the decision when it's all said and done.

PREVIEWSworld: You've worked with Tyler Jenkins on previous projects. What is your process for working with him? Does having him as artist influence your writing?

Kurtis Wiebe: Honestly, it makes scripting pretty simple. There's been a few instances in the story now where I will leave 5-6 pages fairly unscripted. I give him the basic feel and tone for the scene, have the dialog included, and let him stage and frame the pages. It's worked really well and have become some of the standout scenes in Peter Panzerfaust.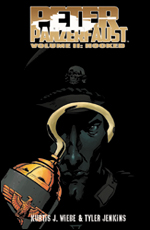 PREVIEWSworld: What is it about Peter Panzerfaust do you think that's made it really catch on with people (other than simply being a well-made comic)?

Kurtis Wiebe: It's an adventure story with heart. It's about letting go of our youth and embracing our adult lives but being able to see our past in a magical light. It's about finding love for the first time, about how deep and real it feels and learning later what true love is.

It's a story about magic in a time of awful reality.

PREVIEWSworld: You won the 2012 Shuster Award for writing. How did that feel?

Kurtis Wiebe: Pretty unbelievable. I think it was the first time I actually recognized that my writing is read by more people than I ever realized. To know that, Green Wake in particular, had profoundly moved readers was overwhelming and I still look at that award and find it hard to believe.