Documentary Brings Back Bettie Page For The Holidays
Nov 14, 2013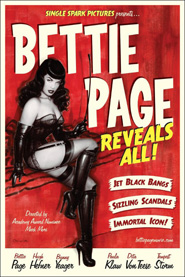 With holiday shopping now in full swing, pop culture aficionadoes are once again feeling the lure of Bettie Page merchandise now that authorized documentary Bettie Page Reveals All hits select theaters.
The film is narrated throughout by Bettie Page herself (who passed away in 2008) and it reveals the life story of the Queen of Pinups. Bettie Page changed history with her drop dead beauty and sultry figure, as the brunette was featured on more books, posters, magazines, and calendars than any other model. Many argue that it was Bettie Page who helped fuel the 60s sexual revolution. One thing's for sure: whereas many are challenged to remember the public faces of that movement, it's never a challenge to Google Bettie Page and see how the Pinup Queen's legacy is still larger than life.
Directed by Academy Award-nominated documentary filmmaker Mark Mori, the film shows vintage stills and film footage of Bettie throughout her career, and includes appearances from Playboy's Hugh Hefner, famed Bettie photographer Bunny Yeager, Irving Klaw collaborator (and sister) Paula Klaw, as well as actresses Mamie Van Doren and Rebecca Romijn.
To celebrate the renewed interest in the Queen of Pinups, we've gathered here a list of items that are currently in-stock, and available to order from your local comic shop.
COMICS & BOOKS
| | | |
| --- | --- | --- |
| ITEM CODE | TITLE | PRICE |
| JUN131268 | BETTIE PAGE IN DANGER #10 (MR) | $9.95 |
| OCT121204 | BETTIE PAGE IN DANGER #6 (MR) | $9.95 |
| FEB131131 | BETTIE PAGE IN DANGER #8 (MR) | $9.95 |
| APR131231 | BETTIE PAGE IN DANGER #9 (MR) | $9.95 |
| SEP063774 | BETTIE PAGE BY OLIVIA HC (MR) | $29.99 |
| JAN118121 | BETTIE PAGE QUEEN OF HEARTS TP | $19.99 |
| JUL128220 | BETTIE PAGE RULES TP | $22.99 |
MERCHANDISE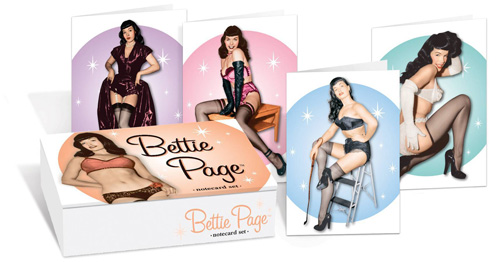 BETTIE PAGE BOXED NOTECARD SET
| | | |
| --- | --- | --- |
| ITEM CODE | TITLE | PRICE |
| FEB090137 | BETTIE PAGE 11 OZ LEOPARD MUG | $12.99 |
| JUN060069 | BETTIE PAGE BOXED NOTECARD SET | $6.99 |
| JUN110054 | BETTIE PAGE CHERRY RED ROUND BELT BUCKLE | $19.99 |
| JUN110055 | BETTIE PAGE CHERRY RED SMALL CASE | $22.99 |
| JAN100212 | BETTIE PAGE FLOATY PEN (MR) | $12.99 |
| MAR110186 | BETTIE PAGE GIRL OF DREAMS DAVE STEVENS MINI STATUE | $59.99 |
| NOV080084 | BETTIE PAGE HEAT SENSITIVE MUG (MR) | $14.99 |
| MAY110063 | BETTIE PAGE HOT ROD PERSONAL CASE | $27.99 |
| DEC100094 | BETTIE PAGE PINT GLASS SET | $24.99 |
| JUL040062 | BETTIE PAGE PLAYING CARDS | $4.99 |
| NOV070094 | JIM SILKE BETTIE PAGE PORTFOLIO | $19.99 |
| JAN100209 | JOURNAL BETTIE PAGE HORIZON | $9.99 |
| MAR060062 | STATIONERY SET BETTIE PAGE PEEPSHOW | $4.99 |
| JAN100211 | STICKY NOTEBOOK BETTIE PAGE ORANGE | $8.99 |
| JAN100210 | STICKY NOTEBOOK BETTIE PAGE PINK | $8.99 |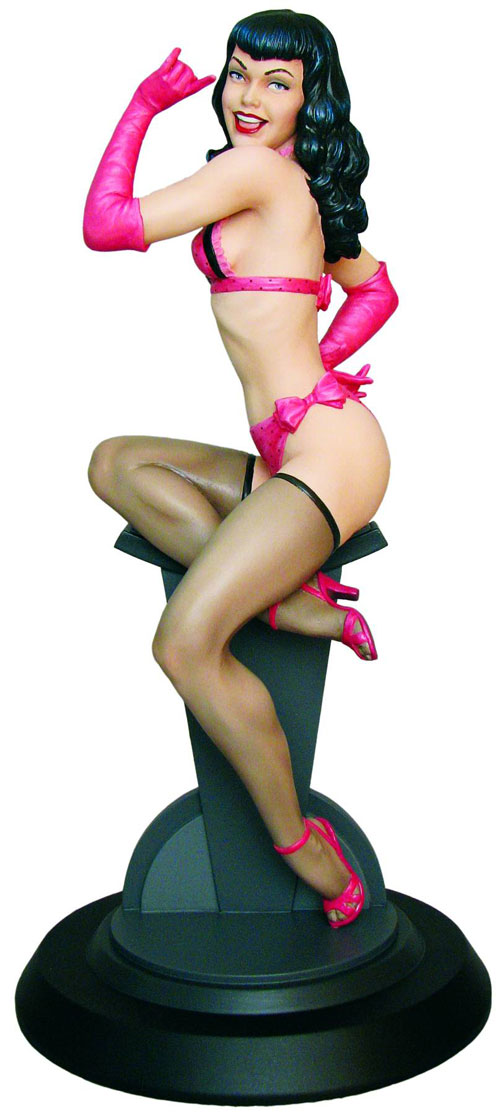 BETTIE PAGE GIRL OF DREAMS DAVE STEVENS MINI STATUE