Sculpting Lady Death: An Interview with Clayburn Moore
Nov 09, 2013
Clayburn Moore has been sculpting fine art professionally since 1985. His amazing looking stautes, busts and action figures have won him numerous awards and been sought after by collectors around the world.
Brian Pulido's signature character Lady Death has been sculpted by Moore multiples times, but now with the Lady Death La Muerta Statue you have a whole new take on the comic book goddess.

Our sister website TOYCHESTnews.com talked with Clayburn about the statue, the sculpting process and what's on the horizon for CS Moore Studio.

***********

TOYCHESTnews: You've sculpted several Lady Death statues over the years. How did you and Brian Pulido start working together?

Clayburn Moore: Brian and I met at Bill Liebowitz' Golden Apple Comics in Los Angeles. I was there for a signing and Brian was, too. We started talking and got along well and decided to do the sculpture. Later, Bill Liebowitz, who was a truly terrific person, suggested we debut our foray into action figures with Brian's Chaos action figures at Golden Apple, which is on Melrose Place. I was there early and Bill and I were talking in his office. He leaves for a minute and comes back in and says "Clay, you want to meet one of your collectors?" So I said I would be happy to. I walk out on the floor and find myself conversing with Michael Jackson, the King of Pop his own self. That was pretty crazy.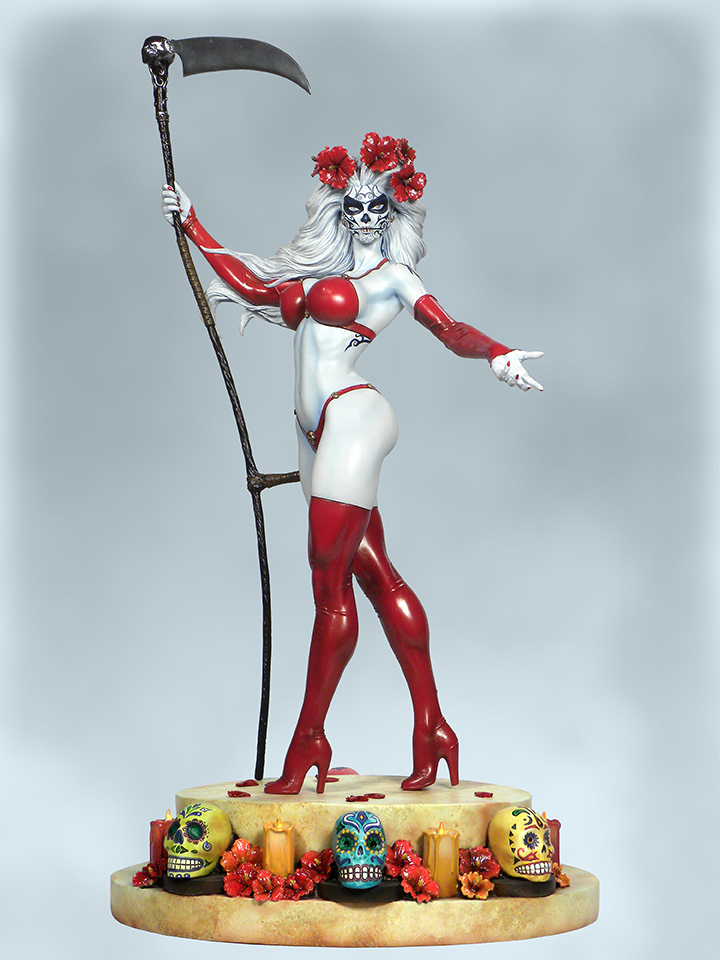 TOYCHESTnews: Tell us how you and Brian collaborate during the sculpting process. What are the basics steps you take to decide on the look and pose of the statue?

Clayburn Moore: I typically send Brian several poses in a rough thumbnail form. They show the look and feel of the piece and they capture the drama well, so we narrow it down from there. Although I like them all I have my favorites and Brian usually likes those as well since they are always slightly stronger poses and Brian has a good eye.

TOYCHESTnews: Before we talk more about the Lady Death La Muerta Statue, explain to us the general steps you take to sculpt a statue?

Clayburn Moore: After the pose is chosen, I form a wire armature, which acts as a skeleton for the sculpting material. I build up the general mass of the figure in Super Sculpey and send Brian (in this case) a set of photos to see how it's going. It can be fairly rough at this point, but that's a key stage of the process and the creator should be involved at that stage. I then begin to hone in the anatomy, but not the costume detail. When the anatomy is fairly close, but not completely smoothed and finished, I add the head to define and establish the character. I add the costume after the body is finished. Brian would have approved the head and finished body by now and I sculpt the hair more or less at the same time as the costume. It then goes to Michael Measles for the mold and a casting goes to Jim Rowell who paints all of the masters that go to the factory for production.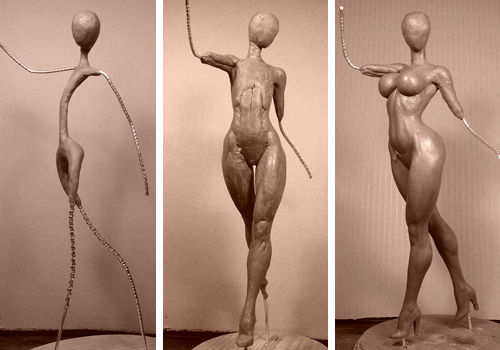 TOYCHESTnews: The Lady Death La Muerta Statue is a much different take on the Lady Death character. What attracted you to do a statue with this look?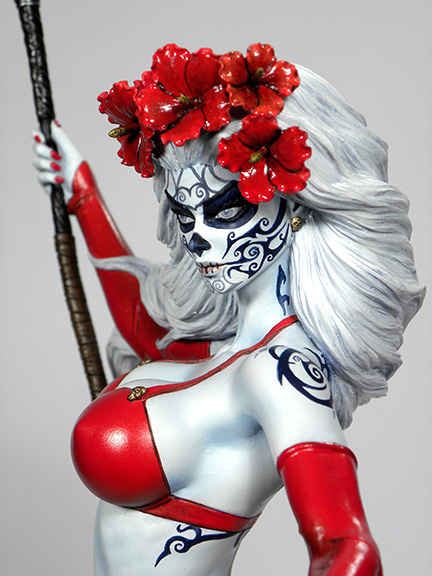 Clayburn Moore: I'm from San Antonio and I have relatives who live and work in Mexico. The Latin culture has always been a big part of our lives. I was very familiar with the Day of the Dead celebration, so when I saw the Richard Ortiz art of Lady Death with this look, I thought it would make a fantastic sculpture. Brian confirmed it was a very popular image and we agree to move forward. The sculpture is a bit larger than my other 1/6th scale pieces as I wanted her to appear vital, powerful and commanding.

TOYCHESTnews: When sculpting the Lady Death La Muerta Statue, what was the most difficult thing to get right?

Clayburn Moore: I wanted her to have a very regal look as if all life and death is hers to command. Keeping the attitude of the figure and maintaining the flow without the figure becoming stiff looking is always the most difficult part of the sculpting process. You want it to live and not be seen as just a frozen figure in space.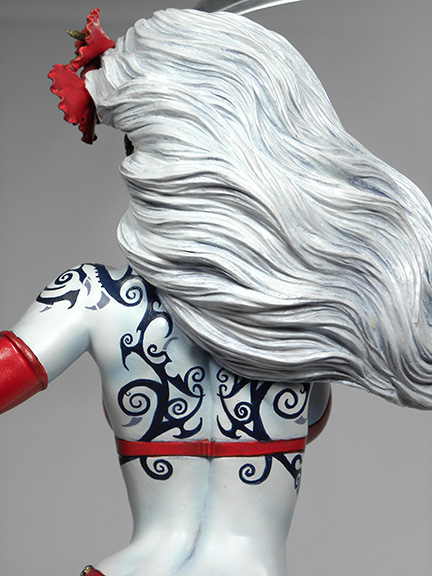 TOYCHESTnews: What do you like best about the statue?

Clayburn Moore: What do I like best? Jim Rowell hit this piece out of the park! He absolutely nailed this paint scheme. It is the finest culmination of the symbiosis of sculpting and paint scheme I have ever experienced on any piece I have ever done. Now our job is to make sure that attention to quality and detail is maintained in the production and that is one of our strengths.

TOYCHESTnews: You are not only sculpting statues, you are also creating characters. Talk about your new B.A.R. Maid comic mini-series for Zenescope Entertainment?

Clayburn Moore: I had wanted to do a series of sculptures that were patriotic 50's style pieces. I'm also a history buff, especially World War II and as I began to rough in the piece, she became less of a pin-up and more of a dramatic looking character. A story also began to formulate from the idea of her carrying a Browning Automatic Rifle aka B.A.R., a heavy, rifle machine gun used up until the Vietnam War as the squad automatic weapon (everyone else had regular rifles). The basic outline is that her (Cassidy O'Hara) parents were missionaries in China in the early 1920's. They are mysteriously killed when she was a little girl, so she's raised by her Uncle Paddy who was a U.S. Marine in WWI. He also served on a gun boat in China in the early 20's and in both conflicts he carried a B.A.R. Over the years, Paddy teaches Cassidy to defend herself in hand to hand combat as well as fully instructing her in the use of the B.A.R. and the M1911 Colt 45 Automatic pistol. Paddy runs a drinking establishment in Manchuria where Cassidy assists him as a bartender and general assistant. When the Japanese invade in 1932, things begin to deteriorate and Cassidy and Paddy form a guerilla group of disparate fighting women and men including her best friend Elena Sanchez, who is also from a missionary family and fights with a Thompson machine gun and Ying Lee, an upper crust Chinese fighter who's weapon of choice is the German K-98 sniper rifle. Because she worked as a bartender and she carries a Browning Automatic Rifle, she is the B.A.R. Maid.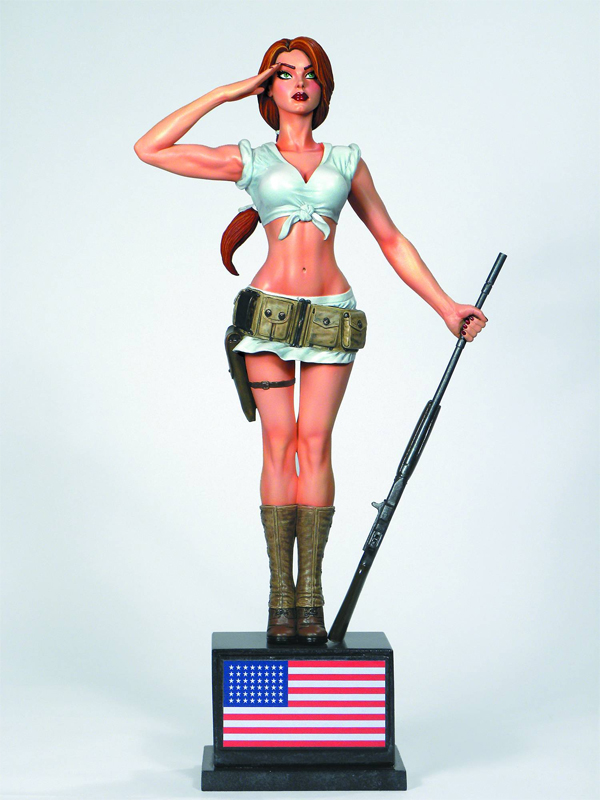 TOYCHESTnews: And with the comic you'll be creating a B.A.R. Maid Statue. Tell us more about that?

Clayburn Moore: I had designed Cassidy and completed the statue some months ago. I wanted to have her saluting the U.S. Flag as this all began with the patriotic motif. I was planning to market the statue using the photos and the plot summary alone. I was talking to my friend Joe Brusha, co-publisher of Zenescope Entertainment and was showing him the photos of the statue, and he said he thought it would make a great comic, so that was the genesis of the mini series. We're doing some great covers with Billy Tucci, who is a fan favorite and who knows his military hardware even better than I do, Franchesco!, who is rendering some gorgeous pieces for this as well as terrific work from Pasquale Qualano and Anthony Spay. Joe is writing the books, with an assist from Robyn Hood writer Pat Shand.

TOYCHESTnews: Finally are there any other CS Moore Studio projects coming up that you can tell us about?

Clayburn Moore: I'm working with Erik Larsen on a statue of Dart, one of his seminal character from his long-running Savage Dragon series. It's going to be a terrific platform for a gorgeous female form in combat. She'll be spinning throwing her darts with her God Sword at the ready. I'm also looking forward to working with Zenescope on a new statue. We've just about decided on Little Red Riding Hood, so more news about that soon.

We're also really excited about a series of solid PVC sculptures of many of the characters I've sculpted over the years with a curvy, sexy animation look I developed with a very talented artist by the name of Manny Carrasco. I had wanted to work up a look for some time for these characters that would be super sexy in solid PVC that would come in at a much lower price point than our 1/6th scale statues. Manny, my wife Shelley and I were talking and we just started to work up the look. I'd sculpt something and Manny would draw it up and tweak it, then I'd re-sculpt and Shelley had some great ideas. That's how the look was created. Manny does the 2-D and I do the 3-D. Sometimes he draws from my statue and sometimes I sculpt from his drawing. We've started the series with Sinful Suzi, Joe Linsner's sexy blue-haired devil girl and Top Cow's gun toting, green haired Aphrodite IX. Kabuki is about finished and we have plans for Lady Death, Dawn, She Dragon, Witchblade and many others, including some of our own designs. They're about 8 inches tall and will range in price from $45 to $60 depending on the cost of production.

Finally, we get a great reaction to Shelley Moore's creation "Mondo-Chi", an urban vinyl take on our little Chihuahua dog Butch. The idea is that little dogs like Chihuahuas act big and tough because when they dream (and they're always napping), they actually go to other dimensions where they have adventures of all kinds as heroes like spacemen and pirates (the heroic kind), for example. We're in discussions for a comic book about Mond-Chi, but so far, people seem to love his look and his story just from his debut at comic conventions.

We're very excited about all these projects and we hope everyone will check them out at csmoorestudio.com, Facebook and Instagram for more info.


Check out some additional photos of the Lady Death La Muerta Statue!