October's Top 50 Comics & Graphic Novels!
Nov 10, 2013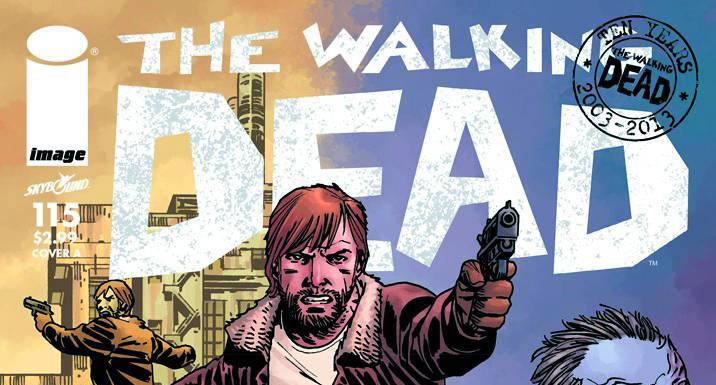 Robert Kirkman celebrated ten years of his best-selling zombie series The Walking Dead with The Walking Dead #115, the best-selling comic book in October.
DC Comics had five titles in the top ten for October, led by Scott Snyder and Greg Capullo's Batman #24, an oversized issue, at #2. Also in the top ten were Forever Evil #2 at #4, Justice League #24 at #6, Superman/Wonder Woman #1 at #7, and the long-awaited The Sandman: Overture #1 by Neil Gaiman and J.H. Williams III from the Vertigo imprint at #8.
Rounding out the top ten with four books was Marvel Comics, with Jonathan Hickman and Jim Cheung's Infinity #4 their top book at #3. Also in the top ten were Infinity #5 at #5, Superior Spider-Man #20 at #9 and Superior Spider-Man #19, the issue that guest-starred Spider-Man 2099, at #10.
Among the other premier publishers, Dark Horse Comics' top book in October was The Star Wars #2 at #28, the second issue of the adaptation of George Lucas' early Star Wars screenplay.
Finally, IDW Publishing's top book for the month was My Little Pony: Friendship Is Magic #12 at #109.
---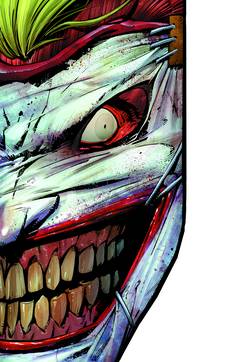 The Joker attempts to break Batman's psyche and destroy his relationships with his allies in Scott Snyder and Greg Capullo's Batman Volume 3: Death of the Family from DC Entertainment, October's best-selling graphic novel.
In total, DC Entertainment had four of the month's top books including The Joker: Death of the Family, a companion volume to Batman Volume 3 at #3; the Batman: Court of Owls Book & Mask Set at #4, and Batman Volume 2: The City of Owls at #7.
Marvel Comics had one title in the top ten, Warren Ellis and Mike McKone's Avengers: Endless Wartime original hardcover graphic novel at #2.
Dark Horse Comics had two titles in the top ten. Avatar: The Last Airbender Volume 6: The Search Part 3 ranked #5, and Mike Mignola and Duncan Fegredo's Hellboy: The Midnight Circus graphic novel ranked #6.
Image Comics rounded out the top ten with three titles, led by Greg Rucka and Michael Lark's Lazarus Book 1: Family at #8. Also in the top ten were both volumes of Brian K. Vaughan and Fiona Staples' Saga; volume 1 ranked #9 and volume 2 ranked #10.
Finally, among other premier publishers, IDW Publishing's My Little Pony Volume 1: The Magic Begins was the publisher's top selling book for October just outside the top ten at #11.
TOP 50 COMIC BOOKS
Based on Total Unit Sales of Products Invoiced in October 2013
| | | | | |
| --- | --- | --- | --- | --- |
| RANK | DESCRIPTION | PRICE | ITEM CODE | VENDOR |
| 1 | WALKING DEAD #115 (MR) | $2.99 | AUG130518-M | IMA |
| 2 | BATMAN #24 (NOTE PRICE) | $6.99 | AUG130235-M | DC |
| 3 | INFINITY #4 | $3.99 | AUG130735-M | MAR |
| 4 | FOREVER EVIL #2 | $3.99 | AUG130159-M | DC |
| 5 | INFINITY #5 | $3.99 | AUG130740-M | MAR |
| 6 | JUSTICE LEAGUE #24 | $3.99 | AUG130172-M | DC |
| 7 | SUPERMAN WONDER WOMAN #1 | $3.99 | AUG130187-M | DC |
| 8 | SANDMAN OVERTURE #1 (MR) [*] | $4.99 | AUG130325-M | DC |
| 9 | SUPERIOR SPIDER-MAN #20 | $3.99 | AUG130787-M | MAR |
| 10 | SUPERIOR SPIDER-MAN #19 | $3.99 | AUG130784-M | MAR |
| 11 | BATMAN SUPERMAN #4 | $3.99 | AUG130231-M | DC |
| 12 | ALL NEW X-MEN #17 | $3.99 | AUG130836-M | MAR |
| 13 | JUSTICE LEAGUE OF AMERICA #8 | $3.99 | AUG130176-M | DC |
| 14 | UNCANNY X-MEN #13 | $3.99 | AUG130841-M | MAR |
| 15 | X-MEN BATTLE OF ATOM #2 | $3.99 | AUG130845-M | MAR |
| 16 | X-MEN #6 | $3.99 | AUG130839-M | MAR |
| 17 | AVENGERS #21 | $3.99 | AUG130745-M | MAR |
| 18 | AVENGERS #22 | $3.99 | AUG130747-M | MAR |
| 19 | GUARDIANS OF GALAXY #7 | $3.99 | JUL130635-M | MAR |
| 20 | GUARDIANS OF GALAXY #8 | $3.99 | AUG130757-M | MAR |
| 21 | DAMIAN SON OF BATMAN #1 | $3.99 | AUG130193-M | DC |
| 22 | NEW AVENGERS #11 | $3.99 | AUG130749-M | MAR |
| 23 | UNCANNY AVENGERS #13 | $3.99 | AUG130773 | MAR |
| 24 | DETECTIVE COMICS #24 | $3.99 | AUG130244-M | DC |
| 25 | WOLVERINE AND X-MEN #37 | $3.99 | AUG130843-M | MAR |
| 26 | GREEN LANTERN #24 | $2.99 | AUG130255-M | DC |
| 27 | ALL NEW X-MEN SPECIAL #1 | $4.99 | AUG130802-M | MAR |
| 28 | STAR WARS #2 LUCAS DRAFT | $3.99 | AUG130082 | DAR |
| 29 | MIGHTY AVENGERS #2 | $3.99 | AUG130753-M | MAR |
| 30 | SAGA #15 (MR) | $2.99 | AUG130710 | IMA |
| 31 | BATMAN AND TWO FACE #24 | $2.99 | AUG130241 | DC |
| 32 | FOREVER EVIL ARKHAM WAR #1 | $2.99 | AUG130168-M | DC |
| 33 | GREEN LANTERN ANNUAL #2 | $4.99 | AUG130265 | DC |
| 34 | DEADPOOL #18 | $2.99 | AUG130847-M | MAR |
| 35 | THOR GOD OF THUNDER #14 | $3.99 | AUG130822-M | MAR |
| 36 | PRETTY DEADLY #1 (MR) [*] | $3.50 | AUG130504-M | IMA |
| 37 | JUSTICE LEAGUE DARK #24 | $3.99 | AUG130180-M | DC |
| 38 | BATMAN THE DARK KNIGHT #24 | $2.99 | AUG130239-M | DC |
| 39 | INDESTRUCTIBLE HULK SPECIAL #1 | $4.99 | AUG130804-M | MAR |
| 40 | AQUAMAN #24 | $2.99 | AUG130198-M | DC |
| 41 | VELVET #1 (MR) [*] | $3.50 | AUG130505-M | IMA |
| 42 | AFTERLIFE WITH ARCHIE #1 | $2.99 | JUL130793-M | ARC |
| 43 | INDESTRUCTIBLE HULK #14 | $3.99 | AUG130816-M | MAR |
| 44 | SUPERIOR SPIDER-MAN TEAM UP SPECIAL #1 | $4.99 | AUG130806-M | MAR |
| 45 | WALKING DEAD TYREESE SPECIAL (MR) | $2.99 | AUG130529 | IMA |
| 46 | HAWKEYE #13 | $2.99 | MAY130668 | MAR |
| 47 | KICK-ASS 3 #4 (MR) | $2.99 | JUL130693-M | MAR |
| 48 | HUNGER #3 | $3.99 | JUL130612 | MAR |
| 49 | NIGHTWING #24 | $2.99 | AUG130251 | DC |
| 50 | WALKING DEAD #1 10TH ANNIVERSARY ED (MR) | $5.99 | AUG130527 | IMA |
TOP 50 GRAPHIC NOVELS
Based on Total Unit Sales of Products Invoiced in October 2013
| | | | | |
| --- | --- | --- | --- | --- |
| RANK | DESCRIPTION | PRICE | ITEM CODE | VENDOR |
| 1 | BATMAN HC VOL 03 DEATH OF THE FAMILY (N52) | $24.99 | MAY130216 | DC |
| 2 | AVENGERS ENDLESS WARTIME OGN HC | $24.99 | JUN130674 | MAR |
| 3 | JOKER DEATH OF THE FAMILY HC (N52) | $29.99 | JUN130256 | DC |
| 4 | BATMAN COURT OF OWLS BOOK & MASK SET (N52) | $24.99 | MAY130220 | DC |
| 5 | AVATAR LAST AIRBENDER TP VOL 06 SEARCH PART 3 | $10.99 | JUN130051 | DAR |
| 6 | HELLBOY MIDNIGHT CIRCUS HC | $14.99 | JUN130031 | DAR |
| 7 | BATMAN TP VOL 02 THE CITY OF OWLS (N52) | $16.99 | JUL130235 | DC |
| 8 | LAZARUS TP VOL 01 (MR) | $9.99 | AUG130621 | IMA |
| 9 | SAGA TP VOL 01 (MR) | $9.99 | AUG120491 | IMA |
| 10 | SAGA TP VOL 02 (MR) | $14.99 | APR130443 | IMA |
| 11 | MY LITTLE PONY TP VOL 01 THE MAGIC BEGINS | $7.99 | JUN130376 | IDW |
| 12 | THANOS RISING TP | $17.99 | JUL130704 | MAR |
| 13 | ADVENTURE TIME FIONNA & CAKE TP | $19.99 | JUL130961 | BOO |
| 14 | BATTLING BOY GN VOL 01 | $15.99 | AUG131327 | ST. |
| 15 | WALKING DEAD TP VOL 01 DAYS GONE BYE | $14.99 | NOV128157 | IMA |
| 16 | THOR AND MIGHTY AVENGERS | $7.99 | AUG130826 | MAR |
| 17 | FABLES WEREWOLVES OF THE HEARTLAND TP | $14.99 | JUL130260 | DC |
| 18 | MY LITTLE PONY TALES TP VOL 01 | $19.99 | AUG130381 | IDW |
| 19 | BATGIRL HC VOL 03 DEATH OF THE FAMILY (N52) | $24.99 | JUN130257 | DC |
| 20 | GREEN LANTERN TP VOL 02 REVENGE OF BLACK HAND (N52) | $16.99 | JUL130229 | DC |
| 21 | GREEN LANTERN HC VOL 03 THE END (N52) | $24.99 | JUN130260 | DC |
| 22 | BTVS SEASON 9 TP VOL 04 WELCOME TO TEAM | $17.99 | JUN130024 | DAR |
| 23 | FABLES ENCYCLOPEDIA DELUXE ED HC (MR) | $39.99 | JUN130286 | DC |
| 24 | STAR WARS EWOKS SHADOWS ENDOR GN | $7.99 | JUN130021 | DAR |
| 25 | EARTH 2 TP VOL 01 THE GATHERING (N52) | $14.99 | JUL130241 | DC |
| 26 | CATWOMAN TP VOL 03 DEATH OF THE FAMILY (N52) | $16.99 | JUL130237 | DC |
| 27 | BATGIRL TP VOL 02 KNIGHTFALL DESCENDS (N52) | $16.99 | JUL130236 | DC |
| 28 | LAST OF US TP AMERICAN DREAMS | $16.99 | JUN130012 | DAR |
| 29 | EARTH 2 HC VOL 02 THE TOWER OF FATE (N52) | $24.99 | JUN130268 | DC |
| 30 | THOR GOD OF THUNDER PREM HC VOL 02 GODBOMB | $24.99 | JUL130708 | MAR |
| 31 | SUICIDE SQUAD TP VOL 03 DEATH IS FOR SUCKERS (N52) | $14.99 | JUL130239 | DC |
| 32 | HELLO KITTY HERE WE GO GN | $7.99 | JUL131343 | VIZ |
| 33 | SUPERCROOKS TP (MR) | $16.99 | JUL130695 | MAR |
| 34 | MARA TP | $12.99 | AUG130622 | IMA |
| 35 | THOR SEASON ONE PREM HC | $24.99 | JUL130707 | MAR |
| 36 | LOVE AND ROCKETS NEW STORIES TP VOL 06 | $14.99 | JUN131137 | FAN |
| 37 | WALKING DEAD TP VOL 18 WHAT COMES AFTER | $14.99 | APR130482 | IMA |
| 38 | BLACK BEETLE NO WAY OUT HC VOL 01 | $19.99 | APR130019 | DAR |
| 39 | UNCANNY AVENGERS PREM HC VOL 02 APOCALYPSE TWINS | $24.99 | JUL130705 | MAR |
| 40 | WALKING DEAD 100 PROJECT LTD ED HC (MR) | $24.99 | JUL130501 | IMA |
| 41 | AVENGERS PREM HC VOL 03 PRELUDE TO INFINITY | $24.99 | JUL130703 | MAR |
| 42 | EAST OF WEST TP VOL 01 THE PROMISE | $9.99 | JUN130466 | IMA |
| 43 | WALKING DEAD TP VOL 02 MILES BEHIND US (NEW PTG) | $14.99 | SEP088204 | IMA |
| 44 | JLA EARTH 2 DELUXE EDITION HC | $24.99 | JUN130263 | DC |
| 45 | MIND MGMT HC VOL 02 FUTURIST | $19.99 | JUN130046 | DAR |
| 46 | WOLVERINE AND X-MEN BY JASON AARON TP VOL 07 | $19.99 | AUG130888 | MAR |
| 47 | BLEACH TP VOL 58 | $9.99 | JUL131332 | VIZ |
| 48 | MARVEL ZOMBIES TP COMPLETE COLLECTION VOL 01 | $34.99 | JUL130723 | MAR |
| 49 | BATMAN TP VOL 01 THE COURT OF OWLS (N52) | $16.99 | DEC120323 | DC |
| 50 | CABLE AND X-FORCE TP VOL 02 DEAD OR ALIVE | $12.99 | AUG130883 | MAR |