Indie Edge December 2013: Dean Haspiel
Nov 15, 2013
This month's featured creator is…
Dean Haspiel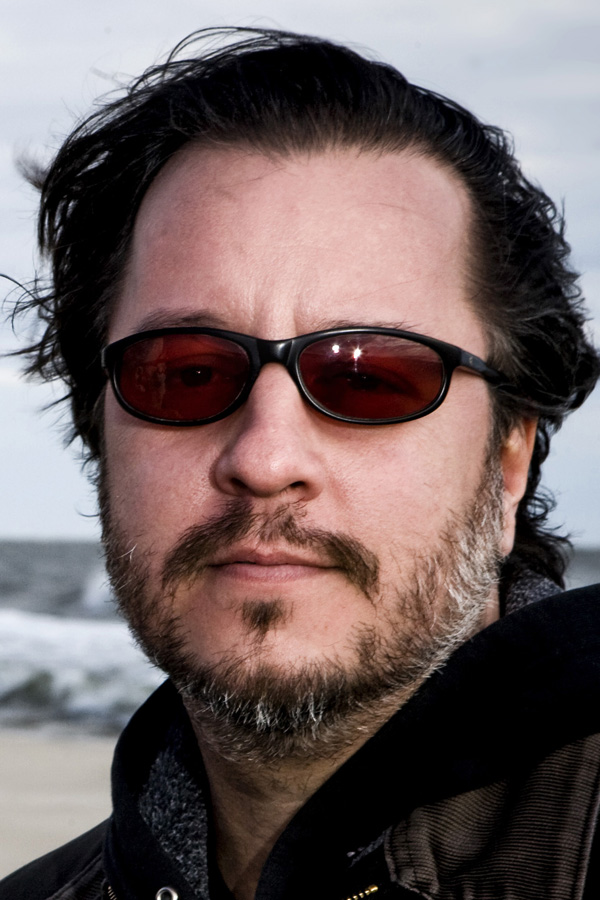 Emmy Award winner and Eisner Award nominee Dean Haspiel created Billy Dogma and The Red Hook, illustrated for HBO's Bored To Death, was a "Master Artist" at the Atlantic Center for the Arts, is a Yaddo fellow, and occasionally teaches comic book storytelling. Dino has written and drawn many superhero and semi-autobiographical comics, including collaborations with Harvey Pekar, Jonathan Ames, Inverna Lockpez, Stan Lee, and Jonathan Lethem. He's currently collaborating with writer Mark Waid on The Fox for Archie/Red Circle Comics. Look out for his new Hang Dai Editions venture, Psychotronic Comix, coming soon.
Dean Haspiel, which of your works would you recommend to new readers?
The Fox (Archie Comics/Red Circle)—Please check out my 5-issue "Freak Magnet" mini-series featuring The Fox, masterfully dialogued by Mark Waid with gorgeous colors by Allen Passalaqua, along with a back-up story featuring The Shield, written by J.M. DeMatteis with art by Mike Cavallaro and Terry Austin. We bring the pulp fiction back to Red Circle Comics! (#1: AUG130981; #2: SEP130880; #3: OCT130856; #4: NOV130769; #5: See this month's Archie Comics listings!)
Cuba: My Revolution (DC Comics/Vertigo)—My collaboration with Cuban painter Inverna Lockpez and her story about abandoning her dreams of becoming an artist to join Fidel Castro's militia, and the torture and heartbreak of losing everything that ever meant anything to her, until her eventual escape… so she could make her dreams come true in America.
The Alcoholic (DC Comics/Vertigo)—Fans of HBO's Bored To Death will surely want to read my collaboration with author/screenwriter/renaissance man, Jonathan Ames. The Alcoholic is a beautiful-yet-poignant cautionary tale that brings warmth and levity to a very serious matter. Only you can decide what happens to our "hero" on the last page of his journey.
Dean Haspiel, what comics are you reading?
Saga (Image Comics)—With 75+ years of comic book legacies staking permanent claim in our cultural lexicon, it's not easy to make you care about brand new fictional comic book characters. So, when Brian K Vaughan took a little break from the comics grind to bolster television, his innate ability to craft instantly likable, albeit sometimes snotty, characters in clever conflicts [See: Y: The Last Man, Ex Machina, and The Runaways] was sorely missed. Then he and his collaborator/artist Fiona Staples dropped Saga into our monthly midst and reminded us of what we were missing. Not since I was a kid coming out of the first showing of Star Wars have I felt this energized and thrilled about the mix of magic and science and galaxy-building mythology. Plus, it's got "mature content" so I don't feel like too much of a teenaged dork as I enter my latter years.
Satellite Sam (Image Comics)—Fans of American Flagg! rejoice! Had I the talent and tenacity, I, too, would have shaped and devoted my entire comics writing career the same way Matt Fraction must have (I'm half-joking) so as to be able to collaborate with Howard Chaykin, one of the finest comics craftsman our industry has ever been graced with. Satellite Sam is, arguably, an alternative universe sequel to what Chaykin was doing on Flagg! with those neat Easter eggs and multi-layered quips where comics demand your full attention. This comic is a perfect example of why artists should collaborate and the wild fruits they can bear.
Minimum Wage (Image)—I'm happy to know that Bob Fingerman is back doing Minimum Wage. Bob's semi-autobiographical comix inspired me to make some of my own and he was part of a very necessary revolution of personal comix back when American Splendor, Eightball, Love & Rockets, Artbabe, Optic Nerve, Hate, Acme Novelty Library, and Black Hole came out on a regular basis. I look forward to reading and seeing what Bob's aggro version of his "Archie Gang" is up to after all these years.
Are you following PREVIEWSWorld on Twitter yet? Follow @PREVIEWSworld