Ash and The Army of Darkness #1 Gets Second Printing
Nov 06, 2013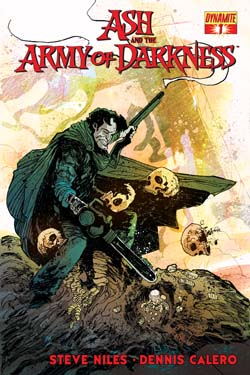 Press Release
This just in, Ash and the Army of Darkness #1 is a hit! Hitting comic stores last week, the first printing has completely sold out with a second printing to follow. Ash and the Army of Darkness, the highly anticipated reboot of the Army of Darkness comic book franchise as written by horror master Steve Niles, is drawn by Dennis Calero, with a cover by Calero and the incredible Ben Templesmith In the first issue, the battle has been fought and won. Ash battled and defeated the Deadite image of himself and saved the world. Now all he wants to do is get home and have a normal life. Too bad he messed up the Book of the Dead incantation. New series. New start. Will Ash ever escape the land of the Deadites? Will he ever find his girl? Will he ever remember the last part of the incantation? Now an army of unbelievable horrors rules the land and only Ash can annoy them.

"Very excited to hear about Ash and the Army of Darkness #1 selling out," says writer Steve Niles. "I'm looking forward the books continued success for many more issues ahead."

"I'm really gratified on the success Steve and Dennis and the entire team have brought to the new Ash and the Army of Darkness series is having, as it is a book everyone at Dynamite is incredibly proud of," adds Nick Barrucci, CEO and Publisher of Dynamite Entertainment. Dynamite has had a storied history with publishing Army of Darkness books, and this ranks among my very favorite. This is the direct sequel to the Army of Darkness movie, written straight-up seriously by Horror Mastermind, Steve Niles! I am just so glad that fans are taking to this series as much as we are."

Comic book writer and novelist Steve Niles is credited as being an instrumental force in bringing horror comics back to prominence in recent years. Perhaps his best-known work is 30 Days of Night, a best-selling vampire series co-created with innovative illustrator Ben Templesmith and adapted into a feature film. His impressive list of credits include such licensed and creator-owned tales of terror as I Am Legend, Hellspawn, Chin Music, Simon Dark, The X-Files, Remains, Criminal Macabre, and 28 Days Later.