Conner & Palmiotti Give Harley Quinn A Facelift
Oct 03, 2013
Meeting and greeting retailers takes a side road to an old Bugs Bunny/Daffy Duck cartoon and BAM! We have concrete being poured into the foundation for Jimmy Palmiotti and Amanda Conner's new Harley Quinn (SEP130227) series for DC Comics. Veterans in the industry, both Jimmy and Amanda were nice enough to take a few minutes to explain their brainstorms, and fill us in on the project that has them working and writing together to keep Harley sexy, silly, and dangerous.
**********

PREVIEWSworld: A "no-rules" character gets a "no rules" book in which she gets to pick the artist that draws her in an ongoing series. Sounds like something we'd see in Who Framed Roger Rabbit? because we're crossing the line between who's in charge of the circus. Makes me think of the old Warner Bros. cartoon where Bugs Bunny is at the drawing board illustrating Daffy Duck, and Daffy's powerless to stop Bugs' maniacal ideas. A really fun cartoon. Is that the kind of fun you both are trying to bring to the new Harley Quinn series? The inmate running the asylum?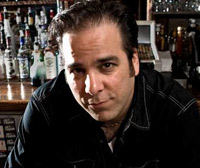 Jimmy Palmiotti: For the zero issue we wanted to do something unique, fun and unexpected that could lead and set the tone for the ongoing series.
The format and the idea actually make some kind of sense and at the same time take what people know about the character and flip it around a bit.
For me, it is awesome to see so many different artists take on Harley all in one book. After issue 0 we dig in, and it's the continuing adventures of Harley where we do not break the 4th wall and do a lot of world building as the series goes on.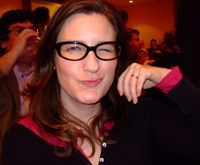 Amanda Conner: Actually, I had that exact Bugs Bunny/Daffy Duck cartoon in mind when we were laying out this book. We're such stinkers!
PREVIEWSworld: So what's the back story on why you're both on this book? What's the project's genesis? Have you both always been drawn to Harley's dark humor? Her tumultuous relationship with the Joker? Connect the dots for us so that we can peek behind the curtain and learn more about your excitement for this project, and how you pushed it over the finish line.
Jimmy Palmiotti: I was a guest of one of the many D.C. Entertainment meet and greets with comic book retailers going on around the country. Dan Didio told me they were doing a stop-over in Orlando and invited me to take part in it. While we were there, a lot of different retailers were talking about the most popular characters in the new 52 and how there should be a Harley book.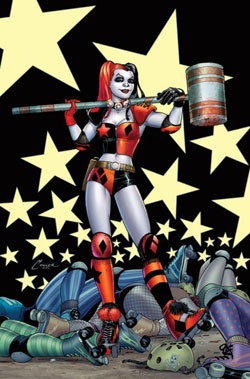 Later that evening Dan and I were talking about the attitude and feel of the character and he asked if maybe this was something Amanda and I would be interested in writing. I told him I would ask Amanda when I got back home and I did just that. We took a bit of time coming up with a concept we were comfortable writing and pitched it to the crew at DC and happily they liked it.
Amanda Conner: Yes, when Jimmy mentioned it to me, the idea was kind of irresistible. Harley's always been a really fascinating and fun character. Jimmy and I have worked on so many things together, but writing together is going to be something completely new. Co-writing a book with Jimmy is going to be interesting. We'll let you know how it goes!
PREVIEWSworld: Have you had the opportunity to bounce things off Paul Dini and Bruce Timm? What's been their take on what you guys are cooking up for this new series? Things like giving Harley new outfits. Are they down with the character evolving, and want to touch base with you guys at times to get the dirt? Is that inner circle stuff that's on tap for New York Comic Con?
Jimmy Palmiotti: Amanda and I think the world of both Bruce and Paul. No one can come close to the brilliance these two brought to the table with Harley. We know that 100%. Amanda mentioned the idea for the zero issue to Bruce at San Diego Comic Con and that is why he has a page in the zero issue. I haven't spoken to Paul yet, but we are trying our best to keep the spirit of the character they created and at the same time look at Harley's position in the new 52 and sort of meld them together. The tone of each Harley is different and going totally one way isn't something we thought would be best for the character.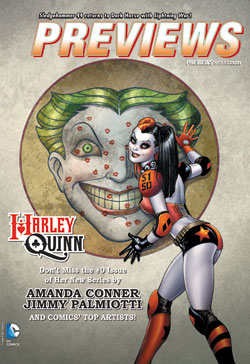 Harley will have the mischief and insanity of the classic Harley, as well as the sexiness, but she will also have a very dangerous and deadly side to her as well… to match the way the character is portrayed in the Suicide Squad title.
Amanda Conner: What Jimmy just said. And we wanted to bring a lot of the Dini/Timm flavor to the current Harley. You can't imagine how happy I was when Bruce said 'yes' to doing a page in the Harley #0 book.
PREVIEWSworld So without giving too much away, what's the deal with a book about Harley? She already exists in Suicide Squad, so a solo book about the happy harlequin suggests there's a lot of layers to the onion, and no one's peeling them fast enough. Yes? Is this ground zero for us getting to know Harley behind the smiley face make-up?
Jimmy Palmiotti: We are looking at this book as the adventures of Harley Quinn. We are going to establish a new home, new supporting cast and a whole lot of familiar faces down the line. We love what Ales has established and look forward to what Matt Kindt is going to bring to the book, but they will not be tied together much at first. We plan on bringing Harley out of Gotham to a place that might be a little better suited for her: Coney Island. Since it is a solo title and not part of a team, it's very important for the book to find its way and for us to make sure this is a character that can carry her own title.
Amanda Conner: It'll be good for her to be established as her own person in her own book with her own story. There are a lot of people out there that want to see how the onion layers peel… And a BIG onion layer is that she IS a psychotic killer. Our challenge is to make her a loveable one!