Press Start: Halo Escalation Leads A Galaxy Of Video Game Items
Oct 06, 2013
New from Dark Horse Comics comes Halo: Escalation #1, a Gem of the Month in the October PREVIEWS. It will be the first ongoing comic book series based on the popular video game. Lead writer of Halo 4, Christopher Schlerf and artists Sergio Arino and Juan Castro continue the story of Sarah Palmer and explore the fallout of the events from Halo 4. It's an essential part of the Halo canon that fans have been waiting for.

The first issue in this ongoing series tells the story of the UNSC flagship Infinity and its assignment to take on escort duty during a diplomatic mission between the Arbiter and a powerful chieftain of the Brute tribes. However, a rogue Covenant group plots to assault the ship, and it's going to take all the firepower the Spartans have to keep the delegates alive!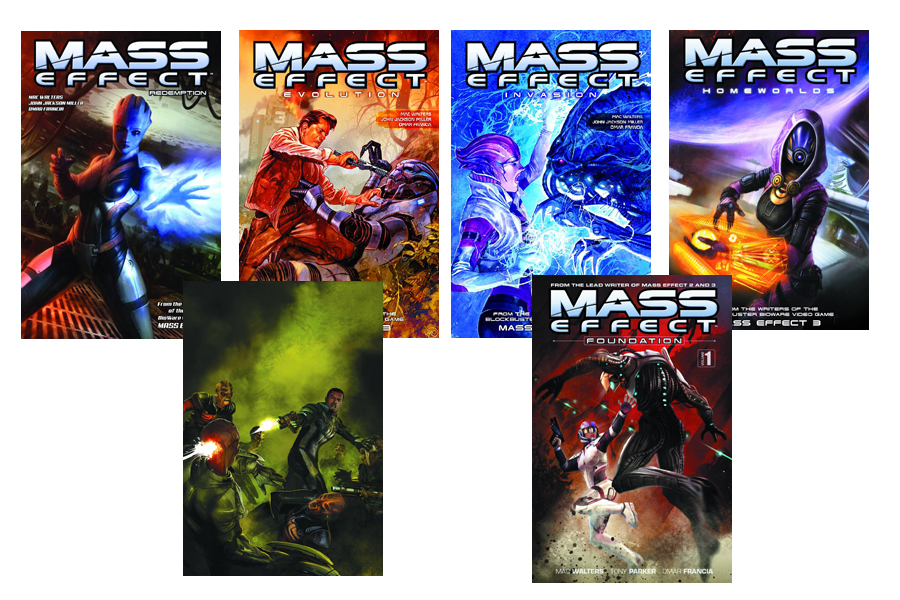 Also from Dark Horse is the sixth part in the ongoing Mass Effect: Foundation series. This thrilling adventure set during the events of the Mass Effect trilogy tells the story of Jacob and Miranda's mission taking a deadly turn for the worse when a Batarian warlord sets his gun sights on them. Written by Mass Effect 2 and 3 lead writer Mac Walters this series expands upon the story and characters you know and love from the Mass Effect trilogy. And if you're looking to catch up on the events of the Foundation series, a collection of the first four issues will be available in Mass Effect: Foundation Vol. 1 in February, 2014. Still itching to delve into the world of Mass Effect? Be sure to pick up these four Mass Effect trade paperbacks Vol.1: Redemption, Vol.2: Evolution, Vol.3: Invasion and Vol.4: Homeworlds.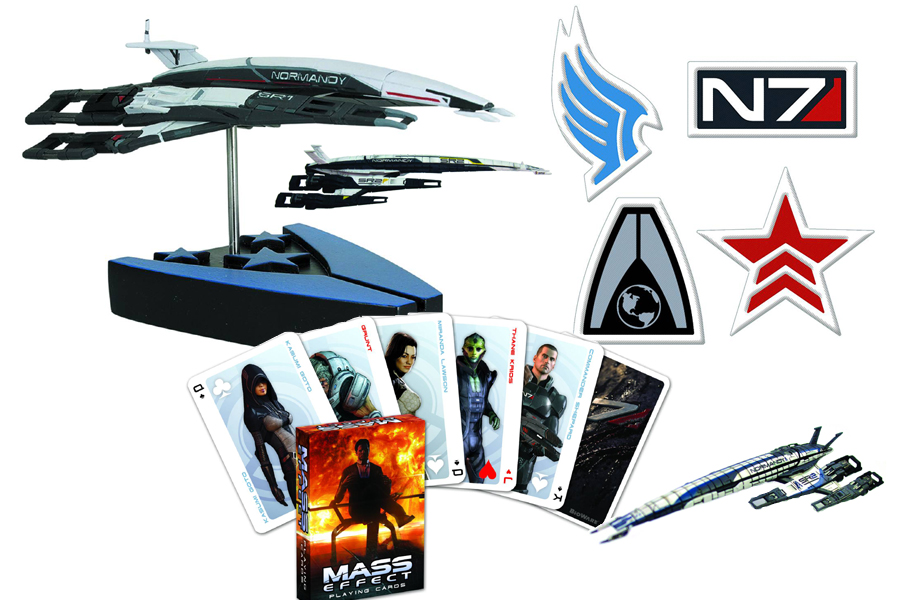 There are also some Mass Effect collectibles available from Dark Horse to show off your Mass Effect fandom, like the series of scaled ship replicas featuring the Alliance Normandy SR1 Ship, Normandy SR2 Cerberus Ship, and the SR-2 Normandy Ship. Other Mass Effect merchandise includes Mass Effect Playing Cards, Mass Effect System Alliance Embroidered Patch, Mass Effect N7 Logo Embroidered Patch, Mass Effect Renegade Embroidered Patch, and Mass Effect Paragon Embroidered Patch.
Dark Horse also features products from Bioware's other popular RPG franchise; Dragon Age. Get hardcover collections like Dragon Age Vol. 01: Silent Grove, Vol. 02: Those Who Speak, and Vol. 03: Until We Sleep. There is also cool merchandise like the Embroidered Patch of the Chantry, Embroidered Patch of Kirkwall, Embroidered Patch Quanari, Embroidered Patch of the Templars, the Dragon Age II Flemeth Dragon Statue, and Dragon Age II Trading Cards.
And don't forget Dark Horse Comics' "Art of…" line of video game art books with the Art of Bioshock Infinite, Art of Remember Me, Art of Alice: Madness Returns, Art of The Mass Effect Universe, and Art of The Last of Us. And speaking of Naughty Dog's latest blockbuster The Last of Us; all four parts (1,2,3,4) of The Last of Us: American Dreams miniseries are also available.
BLASTS FROM THE PAST
Also featured in the October PREVIEWS is a litany of retro gaming goodies. Like the Donkey Kong 9" and Diddy Kong Plushes 6". These two cute plushes from the Donkey Kong Country games will go great with a collection of other Nintendo plushes, from the Super Mario games. Like the Mario, Fire Mario, Daisy, Peach 8" plushes. Also available is the Tanooki Mario, Luigi, Fire Luigi, Kitsune Luigi 9" plushes. Other characters include Baby Peach, Toad, Yellow Toad, Yoshi, Light Blue Yoshi, Pink Yoshi, Yellow Yoshi, Birdo, Blue Toad, Chain Chomp, Dry Bones, Hammer Bros., Magikoopa, Shy Guy, Warp Pipe, and Wiggler plushes.
It's not just Nintendo characters featured this month. Sega's classic blue blazer Sonic the Hedgehog gets his due with new entries into the all ages Sonic the Hedgehog, and Sonic Universe series from Archie Comics. Sonic also is getting a 5 inch action figure complete with four light-up chaos emeralds.
Archie Comics is also representing the Capcom's classic blue bomber, Mega Man as it brings out issue #33 of Mega Man along with the Mega Man Vol. 6: Breaking Point trade paperback.
And if you're a Legend of Zelda fan be sure to look for The Legend of Zelda Manga Box Set (volumes also available individually), and The Legend of Zelda Collector's Edition Strategy Guide Box Set from Prima Games, complete with treasure chest!
OTHER GAMING GOODIES
Some other gaming themed collectibles and toys in this month's PREVIEWS comes from properties like World of Warcraft with Mega Bloks sets featuring Deathwing's Stormwind Assult, Sha of Anger, and Sindragosa & The Lich King. There is also the Team Fortress 2: Balloonicorn vinyl figure and POP! figures from both the Mass Effect and Assassin's Creed franchises. Featuring characters like Altair, Ezio, Connor, Edward, and the Plague Doctor from Assassin's Creed. And Mass Effect characters like Shepard, Garrus, Grunt, Miranda, and Tali.
Straight out of Japan comes the super detailed and artfully crafted Revoltech Yamaguchi: Metal Gear Action Figures featuring Raiden from Metal Gear Rising Revengence, and Snake from Metal Gear Solid: Peace Walker. Also featured is the Capcom figure builder #2: Chris Redfield from Resident Evil 6. And Square Enix brings two Halo 4 action figures to their Play Arts Kai line with figures of Sarah Palmer and a Spartan Soldier.
From the quirky Persona series comes the Persona 4 Arena: Elizabeth D-Arts figure and the Persona 3: Thanatos D-Arts Action Figure. And straight out of the fighting arena and into your home comes two highly detailed statues from both Street Fighter and Tekken with the Street Fighter: Dahlsim 1/4 scale statue and the Tekken Tag Tournament 2: Jun Kazama Bishoujo Statue.
That does it for this month's collection of awesome video game themed comics and merchandise. If any of these catch your eye be sure to visit you local comic shop and pre-order these gaming goodies now!