Doc Savage Action Figure: Prepare To Be Superamalgamated!
Sep 19, 2013
Since the 1930's Doc Savage has been able to do just about everything. The iconic pulp hero is a physician, surgeon, scientist, adventurer, inventor, explorer, researcher, and musician.

Well it's about time someone finally made a 1:6 scale action figure of him! Thanks to Go Hero and Executive Replicas you can now order your very own Doc Savage figure and this one has just about everything.

Our sister website TOYCHESTnews talked with Go Hero Founder/Principal/Art-Nerd Extraordinaire Steve Forde about the bringing the Man of Bronze to life.

*****************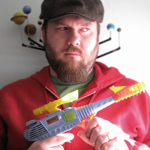 TOYCHESTnews: Doc Savage was created 80 years ago and is still popular today. Why has he been such a timeless character?

Steve Forde: Doc Savage is the predecessor to many of today's favorite comic book heroes. With his heightened intelligence, super strength, and his 'do gooder' code, he is the true 'Super Man'. Now throw him into 1930's treasure hunting adventures of Indiana Jones proportions and you have a recipe for a legendary hero. Bottom line, anyone who wears jodhpurs and keeps ripping through his shirt is awesome!

TOYCHESTnews: Shane Black (Iron Man 3) is going to write and direct an upcoming Doc Savage movie. What are your thoughts about The Man of Bronze being back on the big screen?

Steve Forde: I am always excited to see pulp characters like Doc Savage, Buck Rogers, or The Shadow get the respect they deserve. I think Shane Black will have the John Carter challenge which is that George Lucas has already realized many of the same themes on screen already. The masses who don't know the Doc Savage may feel a sense of recycling - kind of like how the internet accused J.R.R. Tolkien of ripping off J.K. Rowling. I assume the action with be a spectacle, but I am hopeful because it appears Black respecting the source material by setting the film in the 1930s.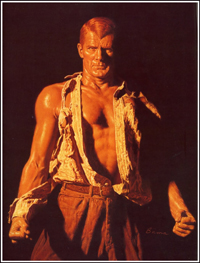 TOYCHESTnews: Tell us more about the Doc Savage 1:6th scale action figure. It's the first ever?


Steve Forde: The world of 1:6 scale collectibles has made leaps and bounds with ultra-realism and infinitesimal detail. Go Hero, along with our project partners Executive Replicas, are proud to have a knack for making several 'First-Ever' fan favorite character figures. For this project we walked the line between that photo-realistic look and remaining true to the stylized source art to really pay respect to the original illustrations that are so beloved. The 'Silver Age' version has details inspired by the Bama paintings like the hair peak, chiseled face, and shredded shirt. We also have an exclusive 'Golden Age' version inspired by the Baumhofer art available from GoHero.com. I think we are making the ultimate collectible for Doc Savage fans as well as introducing Doc to the new generation of collectors.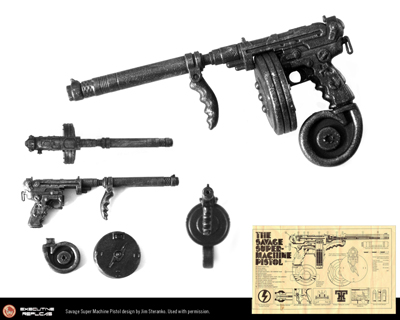 TOYCHESTnews: Describe the die-cast weapons that come with the figure?

Steve Forde: Doc Savage is fully equipped for his adventures with several weapons and accessories. We have the classic Luger and Ray Guns as seen on some of the famous covers. The one we are very excited about is the Super Savage Machine Pistol designed the comic book legend Jim Steranko. This is the first time this amazing design has been realized in 3D. We actually got the blessing from Jim Steranko personally, which just adds to how special this piece will be.

TOYCHESTnews: Go Hero's Facebook page had some cool Doc Savage memes. Which one is your favorite?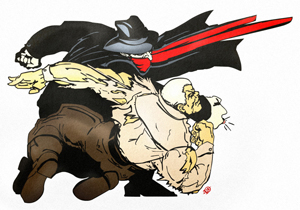 Steve Forde: With many of these classic characters, I engage in some 'edutainment' to inform new collectors of their pulp-pop roots and just how deserving, relevant, and amazing these characters are. So, I designed a number of posts to give Doc a voice to comment on various topics like the Expendables, Justin Bieber, and taking credit for diverting that meteor that hit Russia. We also had a Top 10 people ripping their shirts which included Captain Kirk and Bruce Lee. It is a lot of goofy bravado…but informative to how Doc Savage relates to 2013. At the moment my favorite post is where I recreated the famous Frank Miller scene from the Dark Knight Returns where Batman clobbers Superman and replaced them with the Shadow and Doc Savage. It is a fun way to pay tribute to Frank and remind people that you would not have Batman and Superman with The Shadow and Doc Savage!

Pre-order the Doc Savage 1:6th scale action figure Silver Age Version (SEP131977) now at your local comic shop!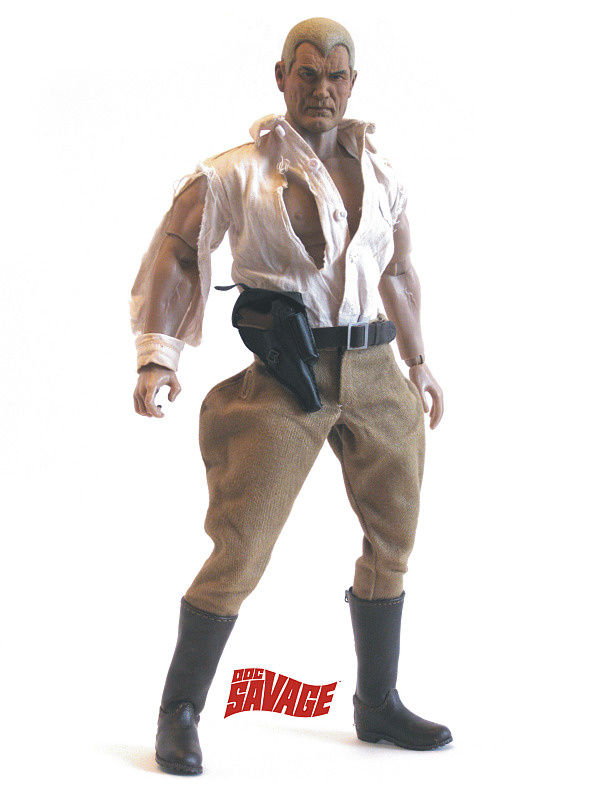 Figure features a Silver Age-style head; a Kaustic Plastik Heroik Muscle Body KP02B that features over 40 points of articulation, extraordinarily lifelike muscle defintion, 4 posing hands, carefully painted skin texture; die-cast weapons including Jim Steranko's "Super Savage Machine Pistol," Silver Age-style raygun, and German Lugar; leather belt; leather holster; leather boots; socks; ripped shirt; jodhpurs; and stand.