Ghost and the Machines
Sep 01, 2013
How does one talk about dead things through a tranquil walk through a park, or over a cup of hot coffee? Good question. That idyllic setting didn't happen for this interview, but writers Kelly Sue DeConnick and Christopher Sebela were nice enough to talk about Ghost #1 (SEP130019) via telepathy for this exclusive PREVIEWSworld interview. Longtime friends, Kelly and Chris already had a leg up when it came time to proving how the chemistry would work. Now you get to read about the experiment, and reach your own conclusion.
**********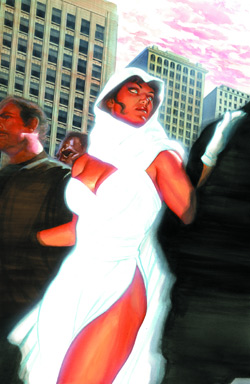 PREVIEWSworld: Ok. So here's the deal. You both live in Portland, Oregon. And you're both working on Ghost #1 for Dark Horse Comics. So the fact that you share the same geography must already give you a leg up in the art of persuasion. Just jump in the car, and drive for a while to storm the other's house when you have a beef, right? Is that how this team works? Or are you both more Twitter/email warriors when it comes to brainstorming for this book?
Kelly Sue DeConnick: Pfft. We don't have beefs. We're like… vanilla and chocolate. Peanut butter and jelly. Shields and Yarnell. Sid and Marty. Sonny and -- wait. Not that one.
Christopher Sebela: At the risk of potentially destroying any edge we might have, I think we actually broke this first story on a scenic walk through an Oregon state park. It was very a serene and idyllic backdrop for a discussion about dead and demonic things. I think we work best conversationally. We kick stuff around a dining room table sometimes, just throwing things out there, and we're at least secure enough with each other to say when something's sort of sucking. It's very casual and I can't recall a single instance of us clashing on stuff. But yeah, it's nice when you can collaborate in person, so it's a pretty ideal setup.

PREVIEWSworld: Your writing backgrounds are different. Kelly you've worked in manga and Christopher you've worked on indie projects for Monkeybrain comics/Oni. So how was the gap closed on your differences so as to make this duo a fine-tuned machine to take on the Ghost ongoing series? Is it the bond from writing Captain Marvel? Or is it more than that?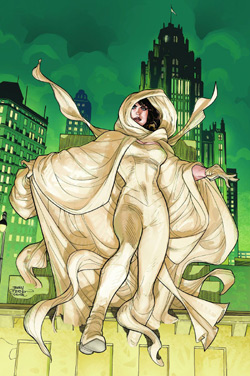 Kelly Sue DeConnick: Nah, man, we've been friends for more than a decade. My kids call him Uncle. Chris videotaped my wedding, for God's sake. (I got married so long ago we used VIDEOTAPE.)

Christopher Sebela: Yeah, we've been friends forever now, so there's already an established shorthand of sorts. When we started in on Captain Marvel, there wasn't a lot in the way of growing pains. We've always talked out story stuff on our ideas with one another, so it wasn't that hard a transition to keep doing the same thing, only for the same book. Plus, I think our differences complement each other pretty well. We both have our things we love and things we excel at and we smash them all together to make as great a story as we can.
PREVIEWSworld: The old mythos of Ghost revolved around Elisa Cameron and her search for the truth surrounding her (apparent) death. For those post-90s readers, we were treated to the 5-part mini-series In The Smoke and the Din, which rebooted the character. And like In The Smoke... this new series is set in Chicago, not Arcadia. So now that we're dealing with a "real" setting versus the fictional Arcadia, how did this play into your research for "getting the lay of the land" when it came to crafting stories? Who was tapped to sit in front of Google maps or take trips to the library?
Kelly Sue DeConnick: Actually Chris is from Chicago — or lived there for a long time anyway. (Chris, where do you consider yourself to be "from"? I don't even know how to answer that.) …which was a big part of the reason that when I knew my schedule would preclude me from staying on the book solo, Chris was the obvious choice. Chicago's a big part of the DNA of this book. It seemed like it should have at least one writer who had more than a single research trip under her belt. (On my research trip to the Windy City I had arranged to have someone take me to see the newsroom at the Chicago Tribune… all I had to do was find a place to park. This story ends in tears.)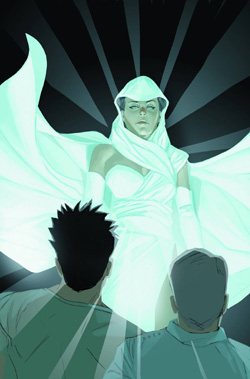 Christopher Sebela: I grew up in Chicago, and spent a lot of my young life riding El trains and making up stories about superheroes bounding along the rooftops whizzing by, which means I've been a nerd all my life and I've been waiting to tell superhero stories set in Chicago all my life. I used to live behind the site of the Valentine's Day Massacre, I've gone to Resurrection Cemetery to try to find Resurrection Mary, we'd look for Dillinger's cold spot in the alley next to the Biograph as kids, murderers were running around dumping body parts all over the city, including on my street. I feel like I saw all the pretty and ugly parts of Chicago, so the marriage of that city and the Chicago that Ghost is making her way through syncs up perfectly for me. That said, it's been awhile since I lived there, so I try to get info from friends of mine still in Chicago about "would this be viable if such and such" logistical stuff. And of course, the Internet is eternally there in times of desperate need.
PREVIEWSworld: If you could divulge your secret muse for what motivates you to write Ghost, what would we learn? How do you get-it-together to write what comes next? Intravenous caffeine? Ambient droning from computer speakers? What? And since we're only starting on the first issue of the series, what can you tease us with as to what comes next for Ghost?
Kelly Sue DeConnick: Coffee. Always coffee. Coming up we'll meet someone from Elisa's past as she continues her quest to rid Chicago of its hidden demons. Chris? You're better at this than I am. What've you got?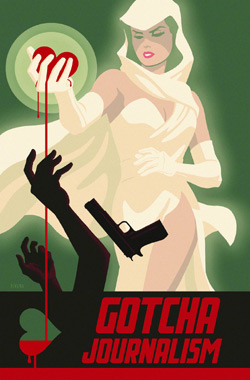 Christopher Sebela: Radioactive levels of coffee, a lifetime of horror comics/movies/books, 70s character studies disguised as action films, Cramps records on headphones, writing late at night. Now you know all my power words.
What comes next? Things open wide up. We've got demons running loose in Chicago with all sorts of secret plans, we've got Ghost still trying to figure out who she was and who she is now, we've got her new family of Vaughn and Tommy adjusting to this new line of work, we've got lots of creepy full-o-dread moments and killer action scenes. And everything is going to be elevated to amazing status by Ryan Sook's interiors and Terry Dodson's covers.
PREVIEWSworld: Let's play San Diego comic convention panel. Bang! You're both sitting in front of live microphones, and you're asked by the moderator to give your scoop on what makes this comic tick. How would you "hook" readers into wanting to pick up Ghost at the comic shop? Is it because you both have secret voodoo powers over artist Ryan Sook, and he's helpless to draw anything other than what you ask him? How would you explain to the audience that the DeConnick/Sebela team is the right horse to pick at the race track?
Kelly Sue DeConnick: "Spooky super-hero action with a horror tinge."
Christopher Sebela: I think mostly I'd stammer and mutter a lot, and my hand would shake adorably. As Barton Fink as this might sound, Ghost is equal parts horror and superheroics, but with HEART. As much as it's about the mission, it's also about the people on the mission, and making them compelling whether or not they happen to be fighting demons or any other manner of bad things lurking around Chicago. But it's also full of nightmares and thrill rides.
Basically, if you like to enjoy reading comics, you're going to love Ghost. And if anything, Ryan Sook has voodoo powers over US. He's already given us the vapors several times with what he's come up with , and I wouldn't dare tell a mad genius like him what to draw. Luckily he seems to like what we're giving him, so it all works out.