Wake Up and Draw Returns for Jack Kirby's 96th
Aug 19, 2013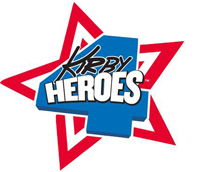 The Hero Initiative, the charitable organization dedicated to helping veteran comic creators in medical or financial need, is celebrating the 96th birthday of Jack "King" Kirby on August 28, 2013 with a little help from his family.
Hero has recruited over 40 artists to get up on the morning of August 28 to simply "Wake Up and Draw." This event is a way for artists to celebrate the day by sending a "birthday card to Jack." All drawings will be featured in a special gallery at ComicArtFans.com, and fans can follow the action through the day on Twitter searching hashtag: #WakeUpAndDraw. All drawings will be auctioned to benefit Hero Initiative at a later date.
Jillian Kirby, Jack's granddaughter, has spearheaded the "Kirby4Heroes" campaign. Jillian has recruited a number of comic stores throughout the country to donate a percentage of their sales to Hero on this special day. Many retailers have decided to "celebrate" with their own ideas, including hosting a "birthday party" for Jack, auctioning off original artwork, as well as other activities; all proceeds will go to the Hero Initiative in the name of the Kirby4Heroes campaign. Activities will grow yearly as we approach Jack's upcoming 100th birthday in 2017.
"I started the Kirby4Heroes campaign as a way to connect with my grandfather, who died the year before I was born," said Jillian Kirby. "I've grown so much closer to him through my endeavors in this area. I have to admit I'm astounded by him as an artist, family member, and just as a kind human being. Raising funds for those in the comic book industry in need of financial and medical assistance is a cause my grandfather Jack would have championed. He never turned his back on a person in need."
Fans can visit the official Kirby4Heroes campaign Facebook page and donate via the PayPal link at www.HeroInitiative.org (Please type in "Kirby4Heroes" in the special instructions box)
A list of participating stores includes:
Jesse James Comics, Glendale AZ
Flying Colors Comics, Concord CA
Lee's Comics, Mountain View CA
Alakazam Comics, Irvine CA
Mission: Comics and Art, San Francisco CA
Golden Apple Comics, Los Angeles CA
The Secret Headquarters, Los Angeles CA
A&M Comics, Miami FL
Chimera's Comics, Lagrange IL
Aw Yeah Comics, Skokie IL
Graham Crackers Comics, Plainfield IL
Alternate Reality Comics, Las Vegas NV
Paradise Comics, Toronto, Ontario
Floating World Comics, Portland OR
Austin Books & Comics, Austin TX
New stores are being recruited each week.