The Final Plague Is A Lesson In Misery
Aug 12, 2013
In this PREVIEWS Exclusive interview with artist Tony Guaraldi-Brown, Action Lab's new comic The Final Plague (AUG130917) is dissected for your grey and gruesome pleasure. A brutal book that strips humanity down to its birthday suit, this end-of-times dreariness will leave you feeling sticky, cold, and helpless.
**********
PREVIEWSworld: For those not familiar with the storyline's beginning, can you give us a recap of the plot behind The Final Plague? And, without giving too much away, where are things going now that issue #3 is currently solicited through the PREVIEWS catalog? What roadblocks might be lurking around the corner for Drs. Stohr and Friedman?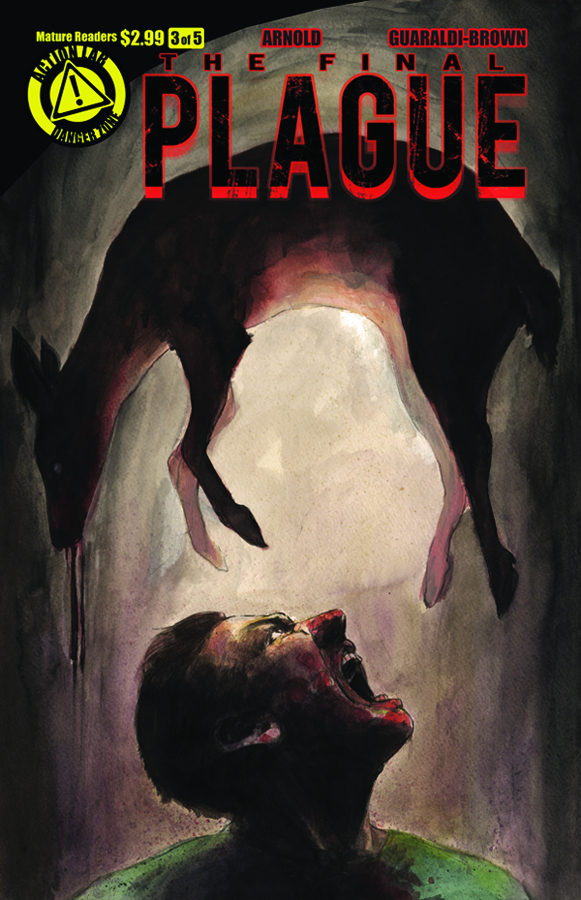 Tony Guaraldi-Brown (TGB): The Final Plague opens with an Iowa farm family, The Michaels, combating a zombified rat. Throughout the first issue we toggle back and forth between the Michaels, learning of the concerns and issues that they face: the mom's battle with cancer and what will come of that, the rabid rats that keep showing up and of course the horrific chaos that is presented by the end of issue 1. Along with them, we are also introduced to Dr. Stohr and Dr. Friedman, two scientists who have uncovered this affliction that is spreading through the animal kingdom. Being part of a large government project, the doctors have to deal with government high command, quarantine and what this infectious disease does to the human body because even though you learn quickly that animals become rabid, mindless killing machines that won't die, people become something a bit different, in that some go crazy and become ravenous while others become hypnotized and do things beyond their control.
In the first five issues, the reader will start to see the broad scope of this plague and how the animals destroy the order of the food chain as well as how humans deal with the fact that life as they know it will never be the same.

PREVIEWSworld: What gave birth to this project? Are you a fan of David Croneberg's Rabid? Were you traumatized by Stephen King's The Stand? Can you give readers some insight as to what helped you conceptualize art for The Final Plague for Action Lab Entertainment?
TGB: J.D. (Johnnie as I know him) came up with this story years ago. Johnnie is a smart guy with a strongly creative mind, who is influenced by so many things from Dr. Who to the Nature Channel. We both grew up on horror movies and novels like The Stand, as well as sci-fi/horror movies. With that said, Johnnie and I both try to bring sensitivity to the story that you normally don't see in conventional comics, through the subject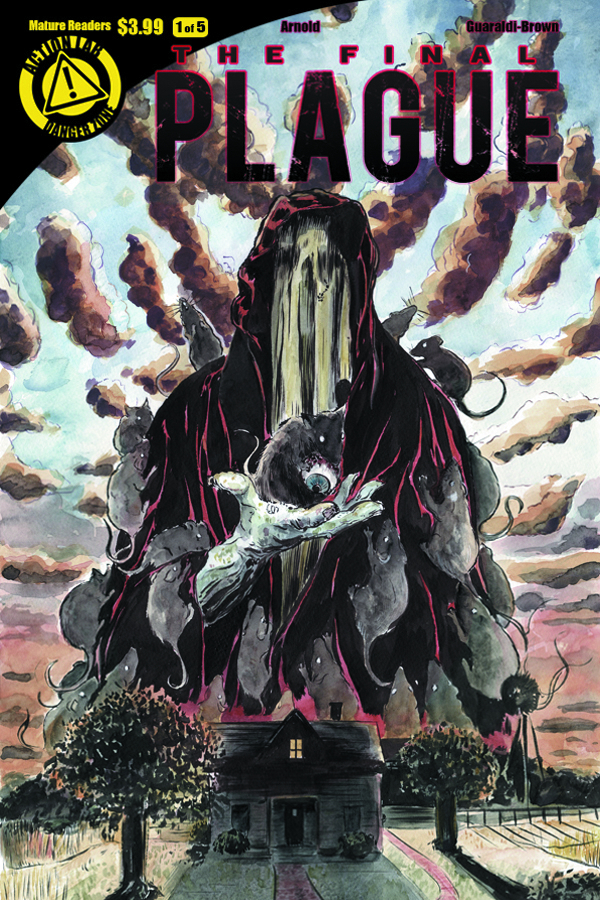 matter as well as the art.
On my end, because the story can be so gruesome at times, I wanted the work to have a softer feel to it in those emotional moments and then become very refined in those extreme moments. The way that I work is much more expressive and I feel that mood, visual flow and emotion are very important to visually telling a story. I also feel as a storyteller that I have a duty to the characters to be sensitive to their situation, whether it is dealing with a sick family member or being run down by a pack of rabid dogs. I think too often popular comics glorify violence without dealing with the emotional impact of those violent actions on the characters or the readers. With the Final Plague I want you to sympathize and relate to the fear and pain that the characters go through so that you, as the reader, are not desensitized but instead empathetic and sympathetic to their situation.

PREVIEWSworld: Give us a glimpse into your man cave. What's the environment most conducive to you when it's time to sit down and bang out the page breakdowns? Do you prefer blank walls? Indie music? White noise? What?
TGB: I have an office that was built in my garage by the previous owners of my house. It's a total mess even though I wish it was clean. I love art books. I have shelves upon shelves of them so that I can look up reference or visual inspiration from my favorite artists. My prized possession is IDW's oversized book of Mazzuchelli's Daredevil: Born Again. I love his work on that storyline and aspire to capture some of his storytelling techniques in my work.
When working, I have my computer on to Pandora, the Lagwagon station or Hepcat (fast punk or mellow ska, haha) as well as my iPhone to take reference pictures for the figu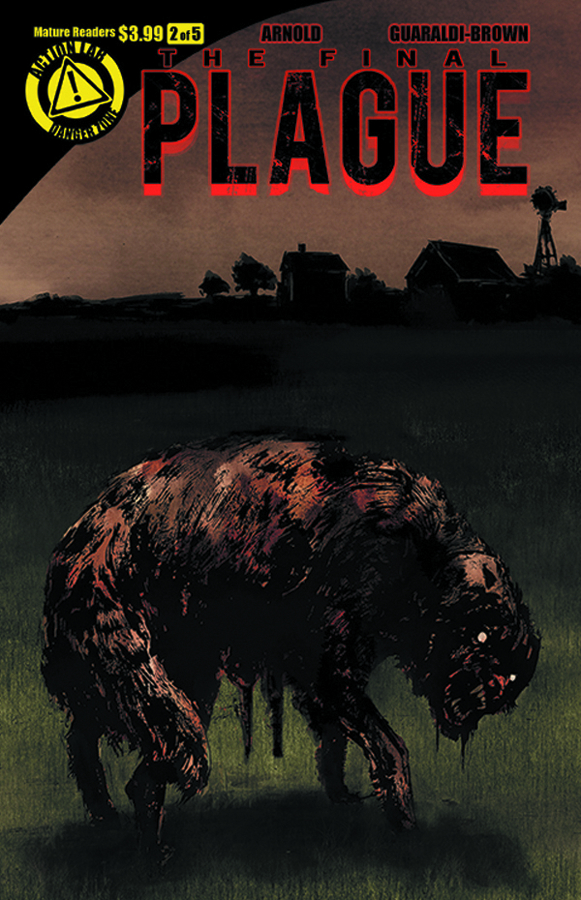 res in the story. I'm flanked by my bookshelves so that, as I stated before, I can pick up a book and see how an artist used light, composition, or framing to portray a certain mood.
I'll read through the script briefly, just once and then I'll take the thumbnail process just a few pages at a time. I feel that this helps me keep the emotions of the story fresh and so that I can still relate to the experience of the reader when they see it for the first time. When I'm done with the thumbnails, I'll take what reference photos I need and start drawing. I usually work on Strathmore watercolor paper at 19.5x13 inches, way bigger than normal size, but I've found that this size works best for me. I'll draw, then ink with a brush and quill pen, lay down tonal washes and then scan them into the computer for some subtle color additions in Photoshop. Then the image is off to the letterer and away to the company for final checks and printing.

PREVIEWSworld: How would you describe your relationship with writer J. D. Arnold? How do your visions size up with his script? How many late night phone calls are involved to get things right? Or do you already have a .320 batting average?
TGB: My relationship with Johnnie is great; he's a really good friend. Working with him is easy. I appreciate that he trusts me to do his story justice. Even though the timeline can be frustrating for him (one script in 8 hours versus one page of art in 8 hours), he has given me the freedom to bring my thoughts and ideas to the story. I always try to check with him on any changes that need to be made because of framing or dialogue and probably 75% of the time he is willing to be flexible; those times that he can't be, I respect his decision and do the best I can to help him put images to his story in the manner that he needs done. Johnnie loves comics so as long as I'm putting a strong effort into producing quality work, he is happy.
PREVIEWSworld: Might you and J.D. be attending any conventions before the end of the year should fans want to meet you? And if not, are there any social media sites or other contact information people could use to get in touch?
TGB: Both Johnnie and I are in Northern California, so we will be at A.P.E Oct 12-13th, and I think this spring we want to get up to Emerald Con in Seattle, but that will be in March. We'll have a signing this fall at his shop in Santa Cruz, Comicopalis as well the shop here in my home town of Rohnert Park, The Comic Book Box. Both Johnnie and I are on Facebook, I'm on Tumblr, and have my own website.