Sneak Peek: Cryptozoic Man from Dynamite Entertainment
Aug 07, 2013
Halloween is only two months away, and Dynamite will soon be launching its Cryptozoic Man (AUG131163) horror comic book series created by Comic Book Men stars Bryan Johnson and Walter Flanaghan.
To describe Cryptozoic Man, Bryan Johnson asks "What do you call a man who's lost everything, a race of creepy extraterrestrials, a psychopath who sports a bondage-style, leather pig mask, a dimension choc-a-bloc full of nightmarish creatures, as well as Bigfoot, El Chupachabra, and a host of other cryptids? You call it Cryptozoic Man."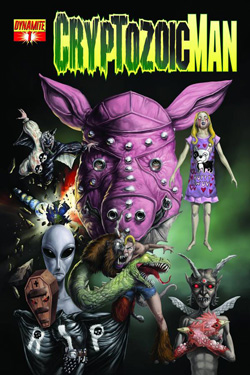 In Cryptozoic Man, middle-aged husband/father Alan Ostman sees his life quickly unravel when his daughter goes missing on a camping trip in the Pacific Northwest... Bigfoot country. While searching for his missing girl, he's abducted from a roadside bar... by Gray Aliens. He soon learns that the fate of the world depends on trapping the world's most legendary cryptids and defeating a psychopath in a pig-shaped leather bondage mask. To do so, Alan must embrace an unnatural power, but is he willing to sacrifice his humanity now and forever?
"I am so psyched about the Cryptozoic Man project because it has a little of everything I love about comics," says Walter Flanaghan, who is aptly handling the art chores of the series. "It has action, science fiction, and horror elements, plus my favorite type of comic book hero: the monster hero. Cryptozoic Man is the story of a man who will stop at no lengths to find his missing daughter... even going so far as allowing himself to be transformed into a horrifying patchwork monster made up of the creatures of legend: Bigfoot, the Loch Ness Monster, and the Jersey Devil."
Cryptozoic Man debuted originally as a concept on the television show Comic Book Men, a weekly series on AMC showcasing the operations and staff of filmmaker Kevin Smith's New Jersey comic book store, Jay and Silent Bob's Secret Stash. A second season episode focused primarily on Johnson and Flanaghan's development of the Cryptozoic Man concept as a pitch to Dynamite's CEO and Publisher Nick Barrucci and Joseph Rybandt, Senior Editor. Industry legend Stan Lee, co-creator of Spider-Man and The Avengers, gave a glowing endorsement of the project in a concept video. The televised debut of the Cryptozoic Man comic book provided a huge opportunity for the creators to reach out to a worldwide audience.
"Bryan and I are hoping readers will dig the vibe we are going for in the book," adds Flanaghan. "We want to bring a weird and spooky twist to these legendary beasts that still bring a sense of mystery and wonder by themselves. As well as sprinkling in some aliens, inter-dimensional portals, and time travel in our creepy cosmic comic."
Order Cryptozoic Man (AUG131163) from your local comic shop!
Enjoy this five-page preview!