Vamplets From The Nightmare Nursery of Gloomvania
Aug 02, 2013
Gayle Middleton has worked behind the scenes as a conceptual designer with clients like Steven Spielberg, Charles Schulz and Gene Roddenberry. As a toy creator she designed the world look for brands like My Little Pony and Littlest Pet Shop.

Now Middleton has released her own creations called Vamplets, which hail from the gothic-victorian themed world of Gloomvania. The horribly adorable gang of Vampyre babies are available in plush form and their story is being told in a new book from Action Lab Entertainment called Vamplets: The Nightmare Nursery (AUG130915), which is available in the scary month of October.

Gayle tells us all about the Vamplets in this PREVIEWSworld interview!

**********************

PREVIEWSworld: You've had quite a career working as a conceptual designer for movies, television, major toy companies and more, but now you've created your own characters. Talk about how Vamplets came to be?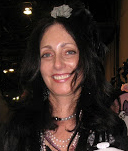 Gayle Middleton: It was 2006 and I was very involved in toy design. I had been working on My Little Pony and then was asked to design and style Littlest Pet Shop for Hasbro's relaunch of the line. I was doing so much cute that when I had free time I started drawing Vampyre babies drinking bottles of blood. They made me smile and that was the start of it.

PREVIEWSworld: In Vamplets: The Nightmare Nursery teenager Destiny Harper answers an ad for "The Night Care Nursery" and then is magically transported to Gloomvania. Tell us more about Destiny and what happens to her?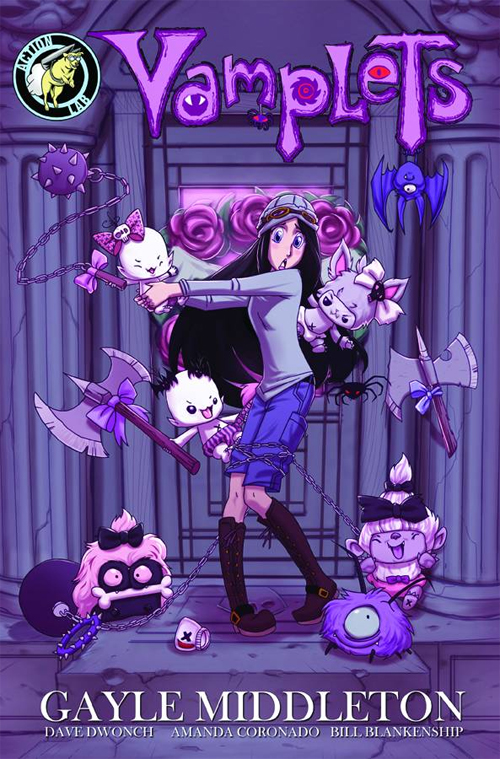 Gayle Middleton: Destiny is a 17 year old who feels like an outcast, is quirky and has no real friends. She has no idea what to do with herself after graduating. This is what starts her on her path to the true home world of the Vampyres "Gloomvania" What happens to her there? Mayhem, mischief, adventure, insane and crazy creatures.

Destiny is tricked into becoming the Nightcare Nanny and finds herself overwhelmed by Vampyre, werewolf, zombie, and cyclops babies. She also starts making some very weird friends like Rasket the stinkless stink bug, and a teenage shrunken head named Penelope Rancid. Destiny will also gain an enemy in Gloomvania which makes her job as the Nightcare Nanny even harder.


PREVIEWSworld: Talk about some of the different Vamplets we'll see in Gloomvania?

Gayle Middleton: Lily Rose Shadowlyn is our sweetest baby Vampyre who loves to give Vampyre kisses. Howliss is an out-of-control werewolf baby and a master escape artist. There is also Octavia, our very curious Cyclops baby, always keeping her one huge eye on everyone and everything. Other Vampyre babies include Count Vlad Von Gloom (descended from Count Dracula), Midnight Mori (a bossy Vampyre baby who is a weapons expert), Burton Creepson Jr. (a tormented artist whose preferred creative medium is the blood from his baby bottle), and Cadverson Nightshade (the genius inventor). And let's not forget sneaky Cinder the pedigree Vampyre Kitten, who loves to steal sips from the Vamplets' baby bottles of blood when they're not looking.




PREVIEWSworld: Vamplets Plush Figures (JUN131917) like Howliss, Lily Rose, Octavia, Hector, and Roari Snow are coming soon to comic shops. So I can start my own Nightmare Nursery?

Gayle Middleton: If you dare you can indeed start your own nursery but I should tell you that all our babies come with warnings. Maybe I should reveal two of those warnings before I go any further: Lily Rose Shadowlyn as you know is our sweetest baby Vampyre who loves to give Vampyre kisses but she does not know that they are lethal. Keep her at arms length . There is Howliss our werewolf baby who at this age is out of control. He is always breaking loose and going berserk. Keep him behind silver bars in a sturdy cage. If you still want to start your own Nightmare Nursery go right ahead. All warnings are posted on our website www.vamplets.com in our Hall of Horrors.You've been warned.

PREVIEWSworld: Finally, tell us what you have planned in the future for the Vamplets?

Gayle Middleton: I have a huge story to tell and many more characters to introduce. We will be continuing on with our Nightmare Nursery comic book series and introducing The Legend of the Ghost Pony comic book with our amazing publisher Action Labs. We will also be extending our line of designer plush with new babies from the Nightcare Nursery and a line of Gloomvanian pets from the Undead Pet Society called VamPets. We also have had interest from several companies in regards to film and TV, and hope to find the right partner for development soon.Vamplets have a huge loyal fan base (over 106,000 on Facebook) and we will keep delivering the best products with the best partners we can for our fans.