San Diego Comic Con 2013 — Preview Night
Jul 18, 2013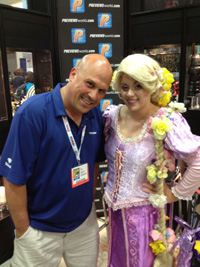 Total escapism. Geek culture on a sugar rush. So many different ways to describe what was the opening night for San Diego Comic Con 2013. And many times you didn't need words. The visuals were enough. A picture that just had to be sent from an iPhone. So many displays that seemed to be in high resolution, all made possible by construction workers and vendors that worked furiously to build displays while they scrambled, jumped, and raced around on forklifts.
But it was ordered chaos! Really. It was the calm before the storm. Because we knew that before we could finish taking our pictures, and the crews had unpacked the last boxes of books, toys, and merchandise, people would soon rush through the doors to enjoy days of shock and awe that would immerse them in pop culture from publishers, vendors, TV, and Hollywood.
Before we could look at our schedule to see who was first on the list for interviews, cosplayers like Larissa "Para" Galarza had approached the booth to model for Halloween Comic Fest. Dave Dorman was showing us his original cover painting for IDW's The Other Dead. TV and movie star Patricia Tallman was chatting with us and giving us "insider information." And we were even able to grab the one-and-only PREVIEWS Editor Marty Grosser for a sit-down impromptu interview, which is no small feat as SDCC is the one event where Marty is usually not available for comment because he's far too busy having fun.
For just the few short hours that we spent walking the floors and meeting people, it felt like homecoming. It felt like family. So many pictures. So many hugs. So much camera time.
It's going to be a great show this year, folks. Wait until you see what we've got on tap for you. Check out some of the pictures that show the action on the floor Wednesday night, and who we'll be talking to at this year's San Diego Comic Con.