Heading Out To The Highway: Christopher Golden Talks Sons of Anarchy
Jul 08, 2013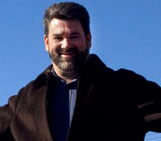 Comic book fans are familiar with how TV shows have translated into comic books. Just look at the plethora of titles out there ranging from Spongebob Squarepants to My Little Pony to The X-Files. But now there's a new book on the scene from BOOM! Studios, and it's headed for comic shops this September. Christopher Golden — writer of the new Sons of Anarchy comic based on the Fox TV show — explained to us here at PREVIEWSworld how the project got going, and a little about what it takes to make characters sound like their TV counterparts.
**********
PREVIEWSworld: Taking into account previous books like Planet of the Apes, licensed comic books BOOM! Studios has been releasing lately tend to lean toward more kid-friendly titles like Regular Show, Garfield, Peanuts, and Adventure Time. How were you approached to write this comic based on a TV drama that's about the lives of an outlaw motorcycle club? How were you able to show that you could make it do the license justice, and make it "fit" into the BOOM! family of titles?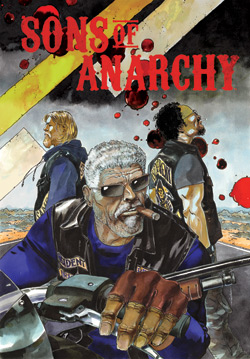 Christopher Golden: My pitch was "Jax gets a beagle and they go on fun dreamtime adventures together..." No. Not really. Truth is, I'd dealt with Kurt Sutter on another project and then later a little bird told me BOOM! had picked up the SoA license, and also that Kurt may have put in a word for me with Fox Licensing. I don't want people to get the idea that I'm claiming I'm buddies with Kurt Sutter. Not at all. Our paths have crossed a little professionally and he's a no nonsense guy. That's it. In any case, I've written all kinds of things over the years including media properties from Buffy the Vampire Slayer to Uncharted. If I love it, then I do it. And I love this show so much. Its characters are some of the most complex and layered creatures on TV. As far as making it fit into the BOOM! family of titles...every family has a black sheep. An outlaw. Sons of Anarchy is BOOM!'s.
PREVIEWSworld: Will the comic be an adaptation of the TV series' storylines, or has BOOM! given you the green light to go in another direction?
Christopher Golden: BOOM! and Fox have approved this first mini-series, which is a six-issue storyline I call "The Whistle Blower." It's an original story that dovetails neatly with events of Season Five, introduces new characters, and brings at least one other SoA charter into the story. Most of the familiar characters will appear, though my focus is on a few members of SAMCRO in particular, starting with Tig.
PREVIEWSworld: What kind of passion do you bring to this project? What does the TV show say to you?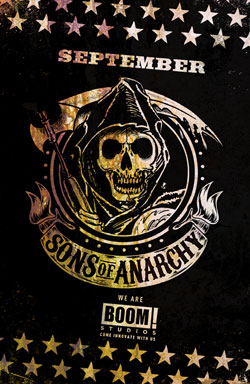 Christopher Golden: It's the best damn show on television, full of characters making ugly decisions — sometimes for good reasons, and sometimes for reasons that are incredibly selfish but masked in self-righteousness. It's about loyalty and betrayal, honor and dishonor. It's about the illusion each of us has about ourselves, the image of ourselves we've built up in our minds, and what happens when that image is endangered. That's true for so many of the characters on the show. The plotting on the series is intense and tightly knotted, but it's all there to push the characters to these decision points that are in many ways even more dramatic than the plots themselves.
PREVIEWSworld: Kurt Sutter is the series' creator, one of its most prolific writers, and a regular director. He has also directed each season finale. Since he shows such a hands-on approach to the show, was that same kind of relationship established for this comic book? Or was BOOM! given more autonomy?
Christopher Golden: I'm a gun-for-hire, so I'm not really sure where Kurt is in the process. In the old days on Buffy, Joss Whedon didn't really want anything to do with the novels and comics because for him it was an all-or-nothing situation — if he was going to be involved, he'd want to have direct approval of everything, and he didn't have time for that. It may well be that Kurt is taking a similar approach. He has a hell of a lot on his plate. I did run one plot idea by him at the beginning and he nixed it, but his explanation of WHY he nixed it was incredibly instructive for me in understanding certain areas would be off limits. Beyond that, it's been the usual media property approvals process. I submit to BOOM! and they submit to Fox.
PREVIEWSworld: What do you see as your greatest challenge in bringing the characters to life in this comic book? And what have you done to "nail it" in your opinion?
Christopher Golden: No way, man. I'm not going to be the one to say whether or not I've nailed it. So far, Fox and my editors at BOOM! seem happy, but it's going to be the readers who decide whether or not I've gotten it right. But I'll tell you this, after having done a lot of media stuff over the years, some of which I'm very proud of: the way to get the voices right is not necessarily to study their vocal cadence or word patterns. The way to get the voices right is to understand the characters' hearts. If you know what and who they love and what causes them pain, you're halfway there.