Dave Dorman Has The Prez Fighting The Dead
Jul 02, 2013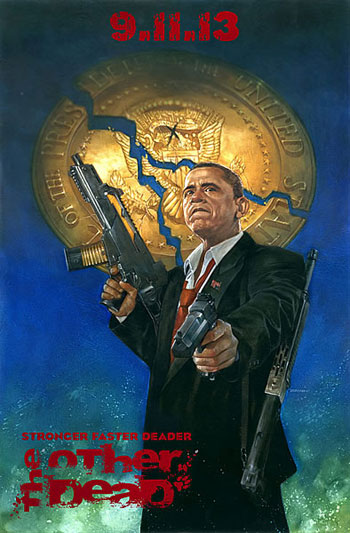 Joshua Ortega (Gears of War), Digger T. Mesch (Agent 88), and Kevin Eastman (Teenage Mutant Ninja Turtles) roll out a zombie book for IDW Publishing, with Dave Dorman featuring the President on the cover.
The Other Dead #1 (JUL130366) kicks off a storyline in which a sudden outbreak turns every animal on Earth into raging, flesh-craving monsters. A motley cast of characters has no choice but to battle the dead, using a hefty amount of firepower and whatever else is at their disposal.
The first issue is slated for release on Sept. 11, 2013, and for stores that ordered 100 copies of The Other Dead, 10 of those copies will feature Dave Dorman's variant Obama cover.
If you are interested in purchasing Dorman's original portrait for the cover, the work will be for sale at this year's San Diego Comic Con, and without the title inserted for the comic book printing.
Dorman's art will be displayed at booth 4500 at the Comic Con, with the 20×30 inch painting (oil and acrylic) as the centerpiece.