IDW Gets Animated in September
Jun 13, 2013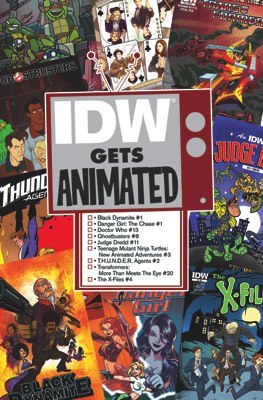 PRESS RELEASE

Prepare for your favorite IDW comics to get a little more animated than usual this September! All month long, IDW will be publishing special "IDW GETS ANIMATED" variant covers rendered in vein of classic cartoons! Ever wondered what The X-Files' Mulder and Scully would look like as colorful, hijinks-having monster chasers? Ever wanted to see the mighty Judge Dredd as a rubber-jointed 70's warrior? OF COURSE YOU HAVE!

Luckily for you, intrepid reader, so have we! This September only, eager fans will be able to find the following titles with special "IDW GETS ANIMATED" variant covers:

Black Dynamite #1 by Six Point Harness Studios
Danger Girl: The Chase #1 by Loston Wallace
Doctor Who #13 by Blair Shedd
Ghostbusters #8 by Dan Schoening
G.I. Joe: A Real American Hero #194 by Jim Rugg
Judge Dredd #11 by Phil Postma
Popeye Classics #14 by Jack Mendelsohn
Teenage Mutant Ninja Turtles New Animated Adventures #3 by Tanya Roberts
T.H.U.N.D.E.R. Agents #2 by The Sharp Brothers
Transformers: More Than Meets the Eye #21 by Andy Suriano
The X-Files: Season 10 #4 by The Sharp Brothers

While the content of the books will be the same, these variant covers are going to be a vivid blast of cartoon madness. It's going to be a fun month to say the least, so fans are urged to drop their local comic shop a line and reserve their copies now!