Who's Behind The Door In Moreci's Hoax Hunters?
Jun 17, 2013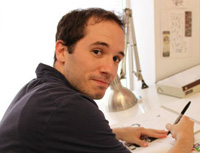 Michael Moreci's Hoax Hunters has recently come on the radar as more than just an unidentified flying object. To put it bluntly, in Michael's words, Hoax Hunters has taken hold because of its appeal: its "The X-Files for the reality TV generation." A good formula, especially for those who dig films like Paranormal Activity, or walk through graveyards Halloween night. But things are just starting to get nasty with issue #10, and Michael, it seems, takes joy in the mind games he has in store for his characters.
**********
PREVIEWSworld: Hoax Hunters is barely a year out of the gate, and already there's a film option? Congratulations, Michael! Was this a case of Jeff Krelitz (the producer of Peter Panzerfaust and Red Brick Road) coming along saying, "Hey, now I know where Chris Carter should have taken the X-Files!" What was discussed between you and Jeff that got the green light for the book?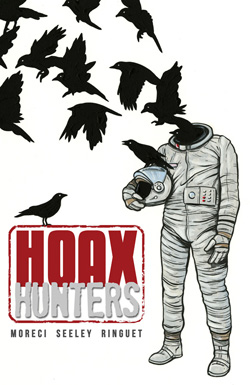 Michael Moreci: First, thanks! Well, anyone who knows Steve and I understands that we're big in Hollywood. We're always wheeling and dealing. That, of course, is a joke. I think what Jeff saw in the book, initially, was the simple hook: The X-Files for the reality TV generation. It's unique but simple, and sometimes, that makes for the best ideas. Or maybe those are the easiest to sell. After some initial talks, we showed Jeff more of the series (he'd only read the first issue or two) and he became really enthusiastic about the story, the characters, and the world we were building. He saw something there that could appeal to a larger audience, enough so that he's invested himself in the development of something more for Hoax Hunters.
PREVIEWSworld: Issue #10 of Hoax Hunters is the first issue in season one's final arc. Can you give us a bit of a preview? What's waiting for us in the abandoned house basement?
Michael Moreci: For starters, this is by far the darkest Hoax Hunters has ever been. That's reflected in the story and the art, with duties now being held by T-Rex Jones. We're going to see the Hoax Hunters — every member of the team — pushed to their limits, physically, mentally, and emotionally. There are monster cryptids on the loose in the Midwest, a demon causing havoc in South America, and the devil to pay for Jack's meddling with the dimensional device. We've been planting story seeds for this point since issue one — much of what's been going on will come to head for a pretty explosive finish to season one.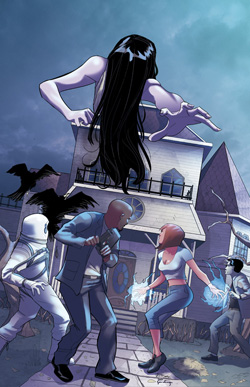 PREVIEWSworld: You've already got manufacturing underway to make figures based on the book's characters, like Murder. How did you get this underway so fast with the book relatively new to the market?
Michael Moreci: We're actually very lucky to be friends with the mad genius that is ManOrMonster? Studios. If you're not familiar with his work — wow, it's incredible. He does amazing toy design, his own casting and painting, everything. He's terrific. Plus, Steve and I are both big toy nerds. Us having a toy of our own, that kinda had to happen. Couple that with how iconic Murder is, and it all came together pretty well.
PREVIEWSworld: If you had to cite your influences for the subject matter of Hoax Hunters, what would they be? Do you cite yourself as a UFO buff? A sucker for stories of the paranormal? Do you have a closet full of old Ripley's Believe It Or Not?
Michael Moreci: For sure, I've always been a fan of speculative sci-fi conspiracy shows. From The X-Files to Eerie, to Indiana Jones, to The Twilight Zone, I love that kind of stuff. But, I am also really influenced (with Hoax Hunters) by serialized mysteries with strong characters, like LOST or Battlestar Galactica. LOST did so many things so well, from the crazy, compelling mystery to the blending of genres to its sentimental core. Hoax Hunters, in some ways, shares that ambition. We take a lot of different influences, put them in a blender and hit frappe. Horror, sci-fi, the Fantastic Four, cryptid lore — we create ecstatically and with our hearts on our sleeves. With that base, we are sure never to lose sight of two things: where the story is going, and how to make our cast of characters as endearing as possible.
PREVIEWSworld: Michael, can you give us some social media information so that fans can keep track of where the latest news is posted for Hoax Hunters? And will you be making the summer conventions this season?
Michael Moreci: Yep! You can find Hoax Hunters on Facebook and its website, hoaxhunterscomic.blogspot.com. You can find me on Twitter and michaelmoreci.com.
As for my travel schedule, it's pretty light as of this point. I was just gone five of the past six weekends, but the next couple weeks are free. Fall is busy, with trips to New York, Detroit, Iowa, and some other places I just can't remember right now. Hope to see you all there!
Check out these Hoax Hunters books you can order from your local comic shop!
| | | |
| --- | --- | --- |
| Code | Title | Price |
| | HOAX HUNTERS TP VOL 01 MURDER DEATH & THE DEVIL | $14.99 |
| | HOAX HUNTERS TP VOL 02 SECRETS AND LIES | $12.99 |
| | HOAX HUNTERS CASE FILES #1 | $2.99 |