Indie Edge July 2013: Jeff Smith
Jun 14, 2013
This month's featured creator is…
JEFF SMITH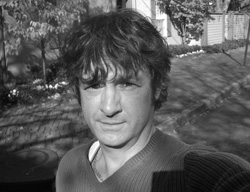 Jeff Smith is the New York Times best-selling author/cartoonist of the Bone graphic novels. Bone won numerous awards around the world, including multiple American Eisners and Harveys, and the French Alph Art. In 2005, Smith's work was chosen to launch Graphix, an imprint of Scholastic Books. Smith is the guest editor for Best American Comics 2013. RASL, his current offering, is now available in a full-color hardcover collection.
Jeff Smith, what are your favorite projects you've contributed to over the past decade?

Well, I haven't been involved in all that many, but there are moments that stand out. In the early days, Bone allowed me to be part of the Self-Publishing & Indie movements, and then later when Scholastic launched Graphix with a colorized version, I was on hand to see teachers and librarians embrace comics and graphic novels as art, as well as teaching tools. RASL, my hard science/hardboiled crime story, which finished its serialized run in the comic shops last year, was the most complex story I've ever tackled. Interweaving String Theory, true history, and a bunch of damaged outcasts in a noir-drenched mystery on multiple universes meant I had to keep my notes straight. Coloring and re-editing RASL for the new hardcover was almost as challenging as anything I ever been a part of. And I recently wrapped up my gig as guest editor of The Best American Comics 2013 for Houghton Mifflin Harcourt. Talk about reading Indie comics, that's all I did for the better part of a year! What an astonishing amount of talent is out there right now. From the cover by Kate Beaton (Hark! A Vagrant!) to the last story by Paul Pope (Battling Boy), I'm grateful to have been even a small part of this project.
| | | |
| --- | --- | --- |
| | | |
| Bone Artist's Edition (See Page 157 in this month's IDW section of the July PREVIEWS!) | RASL Complete HC (See Page 280 in the July PREVIEWS!) | The Best American Comics 2013 (See Page 315 in the July PREVIEWS!) |
Jeff Smith, what are you currently working on?
I just started work on my next comedy/adventure project about the first human to leave Africa 2,000,000 years ago as the species was going extinct: Tuki Save the Humans.
Jeff Smith, what fun titles are you reading?
| | | |
| --- | --- | --- |
| | | |
| You're All Just Jealous of My Jetpack (JAN131108) by Tom Gauld — I first read Gauld in last year's Goliath and fell in love with his drawing style. Jetpack is seriously funny and beautiful to behold. | The Infinite Wait and Other Stories by Julia Wertz. With drawings that appear simple and child-like, Wertz disarmed me, and drew me into a story that is both sardonic and poignant. She'll probably hate that description! | Battling Boy by Paul Pope. My old pal is back with an adventure tale about kids, gods, and monster villains. His lush line work and dynamic movement across the page is something that hasn't been seen since the days of Kirby. (See the July PREVIEWS page #299!) |
Are you following PREVIEWSWorld on Twitter yet? Follow @PREVIEWSworld