Pat Shand's Realm Knights: Big Egos For A Big Blast
Jun 06, 2013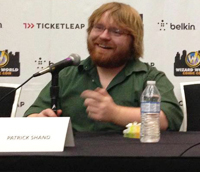 Girls, girls, girls from the Grimm Fairy Tales universe is what comes to mind when one thinks of Zenescope Entertainment. Girls and monsters, if we wanted to be specific. Oh, yeah, and then there's that cool book by Raven Gregory called Fly. And, uhm, wait they just did a new take on Sleepy Hollow, too. Hmmm. And then there's this new four-issue limited series coming out with Realm Knights #1 (JUN131401), which appears to be a…team book? Things appear to be shaking up over at the big Z, so we decided to check in with full-time writer Pat Shand, and see if he could give us some insight as to the new direction for Joe Brusha and company.
**********
PREVIEWSworld: Zenescope launches a team book. That seems to be the action line when you read the description for Realm Knights. Is that how you pitched this new limited series to Raven Gregory and company?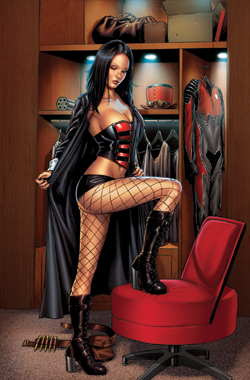 Pat Shand: I didn't pitch this one. The idea, like many others, came from Joe Brusha. It's just one of those concepts that makes sense from the beginning. Besides the awesome factor of this being a superhero team comprised of fairy tale characters, Greek gods, Medieval legends, and classic horror icons, it's just something that makes sense for the Grimm Universe. You've got all these characters doing well on their own in the same universe, so let's throw them together and see what type of mayhem comes out of it.
PREVIEWSworld: Is this just the first installment of other projects like this to come later in the year, Pat?
Pat Shand: Can't comment on that going forward, but I'd like if that if it ends up being the case. Realm Knights runs through December, though, so any follow-up would have to be next year.
PREVIEWSworld: This new series seems to have a different tone from previous Zenescope titles. The familiar girl/gloom/doom seems to be taking a back seat for action/adventure and fun. So what gives? Why change gears with what's been a longstanding Zenescope formula?
Pat Shand: I never approach my writing with a doom/gloom motif in mind. A lot of the books we do are dark and emotional, for sure (Wonderland especially), but when I am writing I try to be sure that the reader had the same reaction as I do while writing. Whether it be sadness, happiness, fear… but the thing I always try to include is fun. I love writing these books, and I love reading the ones that I don't write. While Realm Knights is definitely a change of pace, I couldn't characterize the other books as doom/gloom. They're all fun reads.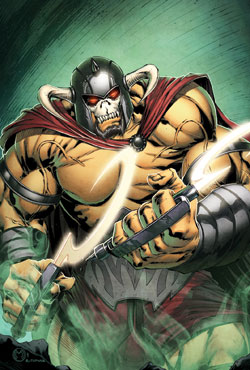 PREVIEWSworld: Is it only Realm Knights that's getting a fresh coat of paint, or is the Grimm Universe as a whole possibly getting a makeover?
Pat Shand: Each book should totally have its own feel. There isn't a company-wide shift toward bright-happy-fun if that's what you mean. The Zenescope tone is horror/action/fantasy-based, and that isn't changing. Realm Knights definitely stands out in tone — that much is clear, and it was very much my intention going in that this would be a roller coaster ride. It's a big summer blockbuster, but it has heart and it still embraces the horror and thrills readers have come to expect from Zenescope books.
PREVIEWSworld: Tell us about the chemistry you introduce in Realm Knights. There are a lot of strong egos to balance in the group. Who's the most difficult when it comes to compromise?
Pat Shand: Robyn. Always Robyn.
PREVIEWSworld: Who is most likely to play referee?
Pat Shand: Hm… Sela. I think. Sela and Helsing. They're both great friends, but I think Helsing has been so removed from society before we introduced her, that she somehow knows the exact right thing to say. She isn't PC, she isn't scared to hurt feelings – she just reads people very well. Sela, she has been a hero forever. She's this great, selfless hero who wants to make everything okay, but I think at this point she's also ready to put feelings aside and become a leader.
PREVIEWSworld: And who would rather be somewhere else?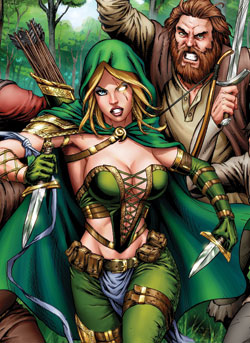 Pat Shand: Hm. Robyn again. This takes place after her current mini-series, Robyn Hood: Wanted, and I won't spoil anything from there, but so much happened to her in that series that she is very irate that she's being forced to leave it behind to deal with this global threat that she isn't convinced concerns her.
PREVIEWSworld: It looks like you have four-or-so books listed in the Zenescope section of the June PREVIEWS catalog. That's quite a load. No doubt a full-time schedule. With such a tight schedule to meet, does this help you in writing Realm Knights in that your world is like that of the Zenescope universe? Meaning, you're so involved in the lives of these characters, it makes spinning out of their own titles that much easier when it comes to writing a team book?
Pat Shand: (laughs) I think it's closer to six, right? It's insane. And you're totally right, it helps that I've written all of these characters before in their own books. Also, it helps very much that I'm doing this team book on the heels of the Unleashed event, which includes most of them. I would never call the project easy because it's still a lot of juggling, but it made approaching it less of a task and allowed me to get to the fun.
PREVIEWSworld: Pat, do you plan on heading to San Diego Comic Con this year? If that show and others are on your calendar, how can fans get in touch with you and keep up on news pertaining to your monthly books?
Pat Shand: No SDCC for me this year. Fans can add me on Facebook (PatShandWriter) or follow me on twitter @PatShand. I'm always interacting!