John Higgins' Razorjack: Building The Perfect Beast
Jun 07, 2013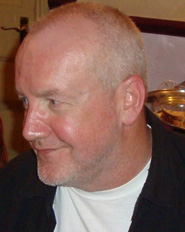 How does one create a monster? The perfect beast? If you ask writer John Higgins, he's already done it with the release of the Razorjack HC (JUN131286). In this PREVIEWSworld Exclusive interview, John relates what makes Razorjack such a loathsome creature; how she is infectious. From his perspective, he's learned from the best in the business, and now it's time to deliver his own taste for terror — with no creative compromise.
**********
PREVIEWSworld: So tell us about Razorjack. There are probably readers out there who aren't quite up to speed on the character, so could you give us a synopsis of what the book's about, and how it's capable of elevating your heart rate?
John Higgins: For any straight-forward action/adventure, horror, supernatural story, we need a villain. I wanted to create the biggest most evil villain that I possibly could, and she is! But saying she is evil incarnate is all well and good – or bad. But how do you get this across to the reader? Well, by creating characters we can identify with, care about, and root for. Three of these characters emerge as students accidentally create a portal from Razorjack's world into our own. Razorjack didn't know about it before, but now she knows we exist, and her only goal is to cross completely over into our world and send her steel clad armies to eradicate all life. Due to the intervention of two of our heroes, she is momentarily slowed down.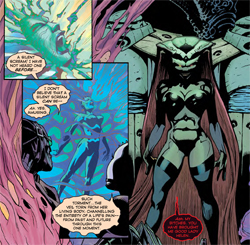 Through the continuous murderous incursions of her Twist Bitches into our dimension, the day she gets full-access to Earth, the core dimension is getting closer. These twisted creatures whose general aspect is of a perfect and beautiful woman (but who have been harvested from their birth) cradles from all of Razorjack's conquered worlds. They've been genetically and psychologically twisted into cold killing machines. Their sole purpose is to do Razorjacks bidding, which is to kill and keep killing until nothing remains alive. No character is safe, and even heroes die in Razorjack's world.
Razorjack is our nightmare, you have run as far and as fast as you possibly can, heart pounding, gasping for breath, you press back hard against a wall, feeling vulnerable but hidden. There is no reason why you cannot escape from the twisted, alien, sharp fanged thing shuffling slowly by your hiding place. It just needs to shuffle on past and you will be safe. But then … it stops and looks straight at you. And that is when Razorjack's story really starts, she has discovered our world, she knows we are here and she is coming for you.
PREVIEWSworld: What influenced you as a creator to make you produce such work like Razorjack?
John Higgins: I have been lucky to work with some of the best creators in the business since I first started, Alan Moore through to Mark Millar. But I felt I needed to create my very own world, from the ground up.
As much as I love working on Batman, Judge Dredd, or even the Watchmen, it has always been as an artist for hire. I had reached a stage when I needed to do something that was completely me, with no creative compromises. And from deep inside the darkest recesses of my mind arose Razorjack, a creature of total evil with the body of a Goddess and the head of the devil herself, she dug her claws into me and hasn't let go since.
PREVIEWSworld: How would you best describe the relationship between you the "writer," and you the "artist." If we could listen to the internal dialogue, what would we hear?
John Higgins: A**hole! Try harder dip wick. Is that the best you can do? Come on that's old hat, look for a better way. I've seen that before, do it again. John Higgins the writer is never satisfied and John Higgins the artist wishes John Higgins the writer would stop complaining, John Higgins the writer thinks John Higgins the artist is not working hard enough. And on and on! Other than that, it's a perfect working relationship.
PREVIEWSworld: David Lloyd, Garth Ennis, Mike Carey, and Warren Ellis have had high words of praise for your work. These are men with very nice credentials. So you must be doing something right! What is it about your work that you think these creators find so appealing?
John Higgins: That is a hard question to answer, but I suppose I am very fortunate to have worked with all the above named creators and consider them as friends first and foremost as well as proven talents who I admire. As collaborators I have always tried to give them the best I possibly could, and to get such endorsements indicates I did not disappoint them in my endeavors to do so. Plus, it is nice to know all those pints of beer I brought them over the years finally paid off!
PREVIEWSworld: If people want to know your whereabouts to get a clue on what conventions you might be attending this year, where should they go to know more about what John Higgins is doing this year?
John Higgins: It has been a busy year for me with the latest Razorjack edition from Titan books due out, so please check out my website.