Aw (Hell) Yeah: Hellboy Gets "Itty Bitty"!
Jun 02, 2013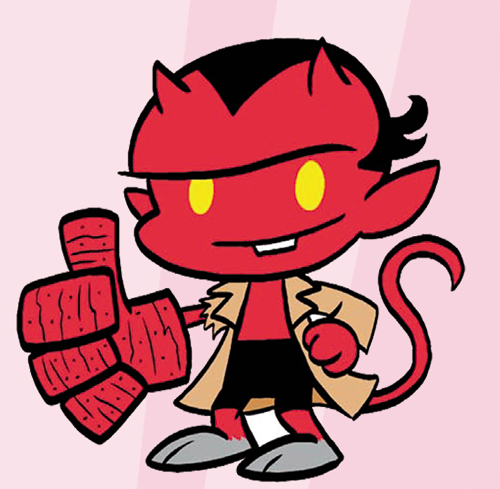 Famous Cartoonist, Art Baltazar is the creative force behind the New York Times best-selling, Eisner Award-winning DC Comics series, Tiny Titans, co-writer for Billy Batson and the Magic of SHAZAM!, Young Justice, Green Lantern Animated (Comic), and artist/co-writer for the awesome Tiny Titans/Little Archie crossover and the new Superman Family Adventures! One of the founders of the Aw Yeah Comics comic shop, he stays home and draws comics and never has to leave the house! He lives with his lovely wife, Rose, big boy Sonny, little boy Gordon, and little girl Audrey! Aw Yeah! Livin' the dream!

Franco is from the great state of New York. He spends most of his time in his Batcave-like studio and emerges occasionally to yell at people and stuff. He is the creator, artist and writer of Weirdsville and the co-creator and writer of Patrick the Wolf Boy and Aw Yeah Comics! He has also worked on titles for DC Comics including, but not limited to, the critically acclaimed Superman Family Adventures, Young Justice, Billy Batson and the Magic of SHAZAM!, Green Lantern the animated series, and the New York Times best-seller, multi Eisner Award-winning series, Tiny Titans… Aw Yeah!

Now, both creators (who are prone to "Aw Yeah" outbursts at any moment) are once again joining forces for Dark Horse Comics, this time lending their talents to this new project starring cult-favorite Hellboy along with his cast of weird supporting characters and foes.

Hellboy and friends are gonna get ITTY BITTY!
---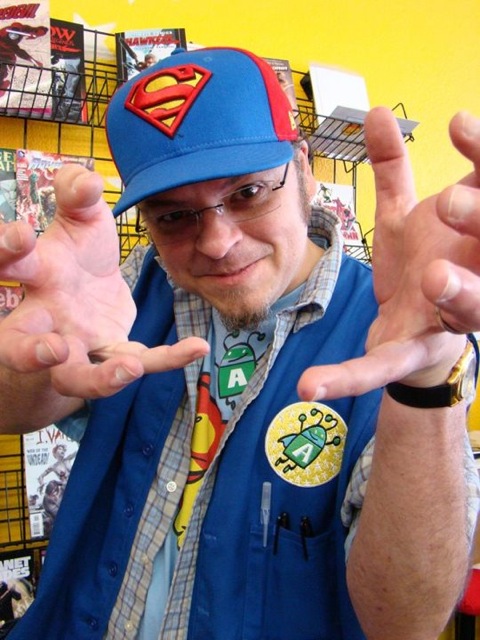 Art Baltazar
PREVIEWSworld: What brought you to Dark Horse and this project?

Art Baltazar/Franco: Uh... HELLBOY! That's the guy that brought us here! It also helps that all the people behind the scenes are super awesome and nice. Are you kidding me?! I remember getting the first issue and thinking how cool this guy was and, all this time later, here we are, and they asked us to get in on the fun! I hate the cliché that this was a no-brainer, but it really was! It's one of those projects you think you'll never get to do but here we are!

PREVIEWSworld: How much input does creator Mike Mignola have with the project?

Art Baltazar/Franco: We send him stuff and he says it looks cool! The fact that he see's stuff that we worked on is just a fan dream...did I mention I'm a big fan?

PREVIEWSworld: How do you spin such things as demons, nazis, evil cults and such into a kid-friendly product?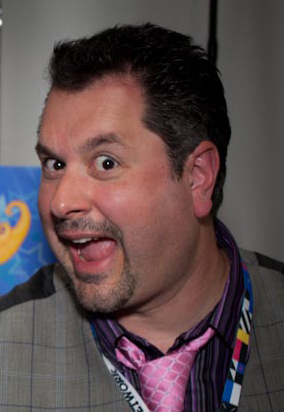 Franco
Art Baltazar/Franco: Kids are very in tune to things. They are smarter than a lot of people give them credit for. You don't need to outline what a group (like Nazi's) are for younger minds but make it an oppositional — like there's these guys, Hellboy, Liz and Abe and then there's those guys!


PREVIEWSworld: What can we expect in future issues of Itty Bitty Hellboy?

Art Baltazar/Franco: Well, walnuts, bananas and eventually pancakes.... Hellboy loves pancakes! It's just a fun book and we're really proud of it!

PREVIEWSworld: What would you tell an adult Hellboy reader to get them to try out Itty Bitty Hellboy?

Art Baltazar/Franco: I wouldn't tell them anything. I'd show them the cover and as they say: A picture is worth a thousand words!

PREVIEWSworld: What are some of your favorite kid-friendly titles to share with your kids?

Art Baltazar/Franco: Besides our books? Peanuts, G-Man — my son is a bit older so we get Godzilla and more super-heroey stuff!