Paul Jenkins' Tomorrowland: No Bake Sale Required
May 23, 2013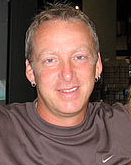 Paul Jenkins is the kind of guy that likes to tinker with things. He'll fill a race car with jet fuel, and take it for a spin to see if the speedometer becomes irrelevant. Thus, Tomorrowland was born as Paul attests that the mainstream work going around today is more for people who drive automatic transmissions. He wants a gig that has him driving a time-jumping DeLorean. In this PREVIEWSworld Exclusive interview, it is the need for creative speed that has him gunning the motor in Titan Comics' new series, Tomorrowland.
**********
PREVIEWSworld: Mainstream work you've done in the past has your name on properties like Spider-Man, Wolverine, The Inhumans, The Darkness, Hellblazer, and Teenage Mutant Ninja Turtles to name a few. However, with Tomorrowland #1 (APR131252) from Titan Comics it appears you're walked off the reservation and into the desert. Unknown characters, and a plot that involves saving "the vital spark of creativity?" This doesn't sound like anything you would write for DC Universe Presents. What makes you want to take this new direction in storytelling?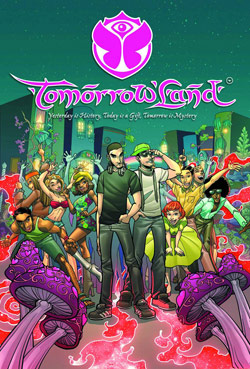 Paul Jenkins: I'm exploring right now. I think I am not going to be doing any Marvel or DC work for a bit because I just don't have a connection to the publishing right now. I was always the guy they brought in to do something new but these days, there is less of a need for that. I want to do innovative things but I think neither Marvel nor DC is in a position to do this right now because of the film exploitation.
Tomorrowland is a bit of a departure, I'll grant you, but first and foremost I am actually a big fan of the music style — it's pretty much what I listen to as I work. So that is an advantage. The idea here is to have fun, to create a little world and build it as time goes by. Working with the musicians is a blast. And I have actually done a book like this before — the Ozzy Osbourne book for Todd MacFarlane years ago.
PREVIEWSworld: I look at the cover for the first issue, and I immediately think of those Ralph Bakshi cartoons like American Pop and Cool World. Did any of those films resonate with you over the years, and make you think of trying such an approach with Tomorrowland?
Paul Jenkins: I could say they are influential in some ways but I think you'd have to ask the artists that one. To me, the art style is about fun, and accessibility.
This is an adventure story, and it has elements of magic and mysticism. If it were a Vertigo-style book it would require a different style, but to me the artists are knocking the story out of the park. I love it.
PREVIEWSworld: The solicitation text for Tomorrowland #1 paints the book as being a "retina-blasting fantasy adventure." Pretty bold words that promise a lot of sensory overload. So does that promise of pupil-pounding pages mean the Tomorrowland festival will be made to look like Lollapalooza on Woodstock steroids? Or are there other fireworks in the story that you can tell us about?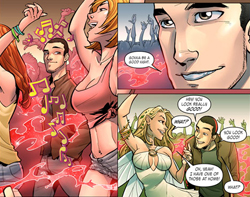 Paul Jenkins: I think in some ways it is hard to recreate the energy of such a show, but that is what we are going for. Tomorrowland very much fits the definition of Woodstock on steroids - in real life, it is a fantastic and magical event. This story is about creative energy, and its battle against destructive energy.
PREVIEWSworld: The new book promises to be a war over "forces of creation" and "energy we all carry inside us." It's a war that "we're losing rapidly." Is the story, in some ways, possibly a metaphor for certain current events?
Paul Jenkins: Yes, I think so... But in a not-so-obvious way. I am a champion of creativity, especially in schools and colleges. I think that for far too long we have been gutting our schools of creative energy. This is not about our various wars across the globe, it is about the battle for our minds.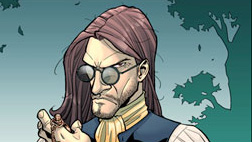 In what forward-thinking society are our schools having to do bake sales to raise money for musical instruments and paint brushes? I work in a creative industry but I recognize that creativity fuels almost every job and decision we make in our adult lives.
PREVIEWSworld: If people want to tune in online to see what's going on in your little corner of the world, where can they go for more information?
Paul Jenkins: Follow me on Twitter (@mypauljenkins) or like my Facebook page. You never know, I might say something unintentionally funny. :)