Indie Edge June 2013: Howard Chaykin
May 17, 2013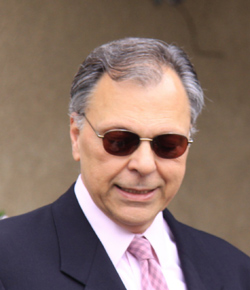 Howard Victor Chaykin has been a comic book professional for over forty years. Forty years. Think about it. He took a hiatus from the comics' industry for about fifteen years, to work his way up the ladder of television, on shows which he'd never watch — while keeping his hands in the comics business, because he knows nothing lasts forever. He has a terrible reputation among fans for profanity, limited patience with nonsense, and spite, an attitude he's finally and gratefully aged into. Howard Chaykin recently joined forces with Hermes Press for a new series starring legendary 25th century comic strip spaceman, Buck Rogers, and he took time out of his bust schedule to talk about his take on the series.
**********
PREVIEWSworld (P): Buck Rogers has been around since 1929. In your version of the feature what direction are you taking it in?
Howard Chaykin (HC): In many ways, I've gone back to a lot of basics, dealing with the issues with which the strip began. That said, I've retold the origin, taking into account the history, and of course the speculative history, of the time between 1929 and 2429.
P: Each new version of Buck Rogers has presented Buck's origin differently, how are you handling this?
HC: I'm doing a pretty straight-up take on the traditional origin — with the addition of a political element that impacts directly on how Buck deals with the world of 2429.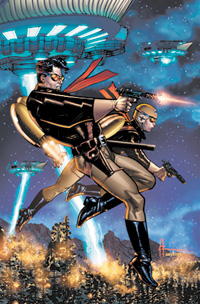 P: Without giving two much away — what is your concept for your version of Buck Rogers?
HC: Buck is a worker among workers, who finds a bizarre racialist and racist life running in the world into which he awakens. That'll have to do for now.
P: Can you give us a sneak peak into what well known Buck Rogers characters will be appearing in your new version of this feature?
HC: Wilma Deering, Dr. Huer, Killer Kane, Ardala and Black Barney all show up in the new book.
P: Do you see the triangle of hero, scientist, and love interest/damsel in distress for "space opera"?
HC: Buck and Wilma are colleagues, not romantically involved.
P: Do you see parallels between Buck, Huer, and Wilma/Flash, Zarkov, and Dale/Adam Strange, Sardath and Alanna?
HC: Of course — and between all those three and John Carter, Dejah Thoris, and Tardos Mors. Burroughs is clearly an influence on Flash Gordon and Adam Strange — Buck is his own creature.
P: Is there a writer or artist who interests you on this strip?
HC: The Dick Calkins stuff is god awful. The work of Russell Keaton, who did the Sundays in the 1930s (and unfortunately credited to the talent-free Calkins) was transcendently beautiful.
Howard Chaykin, What Are You Reading?
Genius Isolated: The Life & Art of Alex Toth Vol 1 HC (JAN110542)—The single greatest comic book artist of his time, possibly of all time. Trust me.
Johnny Hazard: The Dailies Vol. 1—1944-1946 HC (JUN111145)—Frank Robbins is a phenomenal, too often overlooked, artist in both comic strips and comic books.
Scorchy Smith and The Art of Noel Sickles HC (APR083922)—A sensational book from the guys who brought you Genius Isolated.
Are you following PREVIEWSWorld on Twitter yet? Follow @PREVIEWSworld