In Comic Shops 5/8/2013: Harbinger #12
May 08, 2013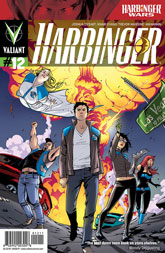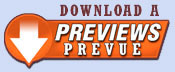 Publisher: Valiant Entertainment

(W) Joshua D. M. Dysart
(A) Khari Evans
(CA) Amy Reeder

HARBINGER WARS: HARBINGER continues here!

Battle weary, the Renegades follow Peter Stanchek's strange dreams and visions into the Southwest American desert, unsure of what exactly they'll find. Under the duress of constant conflict, and led by the words of the Bleeding Monk - who bleeds but does not die - our band of teens begins to fray, barely even a cohesive group by the time they reach Las Vegas, Nevada - now rechristened "Psiot Nation." Here Peter and his crew come face to face with the Harbingers who have escaped from Project Rising Spirit's prison...Harbingers who call themselves GENERATION ZERO.


---
Item Code: MAR131320 In Shops: 5/8/2013 Price: $3.99

---
Are you following PREVIEWSWorld on Twitter yet? Follow @PREVIEWSworld