Youth Gone Wild In Greg Pak's Batman/Superman
May 06, 2013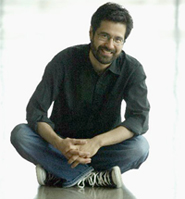 Two young men come into their own as heroes, neither one fully aware of how different yet similar they both are in thought, and deeds. It is a window through time that writer Greg Pak has chosen to show us, as he pulls back the curtain and reveals in this PREVIEWSworld Exclusive interview how Batman/Superman #1 will raise the bar and enrich the history of The New 52.
**********
PREVIEWSworld: Greg you've said that in Batman/Superman, each hero sees the other as "the most dangerous person in the world." So how does that play out in the story when it's said that you'll have them start from the beginning? If "the people that you love the most get the most under your skin," what character quirks would play out in your time frame that would foreshadow their eternal impasse? Meaning, how one embodies "trust," and the other "fear."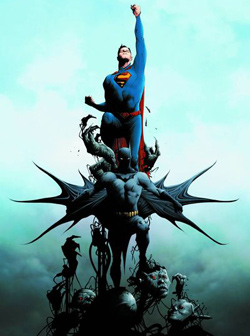 Greg Pak: That's a great question — and I dig your formulation of "trust" and "fear." But the great thing about the New 52, particularly at the point when our story takes place, is that the characters are young enough that they're still figuring out exactly who they are. They're also raw and wild — they're impulsive young men, and this superhero thing is still new to them. They're figuring out their boundaries, they're taking big risks, and they're making mistakes. That's all a great set-up for the two of them coming face-to-face for the first time.
PREVIEWSworld: In the time frame established for Batman and Superman, you've said that these two heroes are at turning points in their lives. They're learning their own identities and you've said that "sparks will fly." What type of combative meetings between two alpha males did you look at or think about to give you inspiration? Or was it a matter of looking at a lifetime of clashes between the two, and rearranging the jigsaw puzzle to build a new picture?
Greg Pak: I've been reading tons of Batman-Superman team up stories from the past. But when it came to actually writing these scripts, I'm just trying to get into the skin of these characters and be true to them at this specific moment in time. I love the whole conflict-between-cocky-young-men thing — we've all seen or experienced that in real life, with varying degrees of amusement, anguish, and exasperation. But I'm also loving the chance to explore the secret histories of each man. There are big parallels there between the two heroes — even moreso in the New 52 than before. And that provides deep and rich subtext for everything they do and the conflicts they have.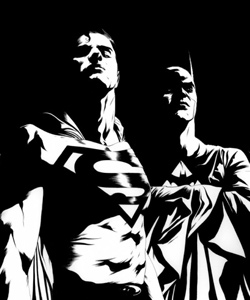 PREVIEWSworld: You've said that you've plotted out about three different times where Batman and Superman meet alternate versions of themselves. You do the timeline jumping thing. Always a fun exercise in comics. But now that The New 52 has launched, rules and regulations can be revised. You've got a little more elbow room for creativity, yes?
Greg Pak: Some of the classic Superman/Batman stories of the past have featured our heroes meeting alternate versions of themselves. And I'm thrilled to be able to play with some of those same elements — as the cover and solicitation to issue #2 reveals, we're heading to Earth 2! And yes, this is pre-Darkseid and those are Earth 2's Batman and Superman, in the flesh! So we get a fantastic chance to have our young, raw heroes face-to-face with the older, confident, established heroes of this other world. And yes, there will be ramifications for the wider DC Universe down the line. Big stuff here, amigos! Pre-order today! And that's just our first storyline. We've got crazy plans for these characters, so stay tuned!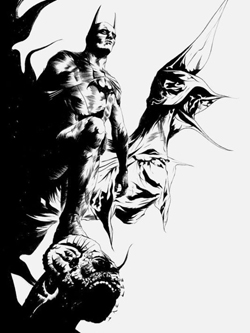 PREVIEWSworld: This is your first title for DC, as you've primarily worked with Marvel before this series. And I believe that this is Jae Lee's first crack at drawing the World's Finest team. So here we have two young guns taking on the biggest boys in the DC universe. How does that play into how you and Jae communicated in creating the tone for this new project? What sort of back-and-forth have you had between you two in hammering out the vision and atmosphere?
Greg Pak: Jae and I had a great opportunity to meet face to face a few months back, which was a tremendous way to launch into the book. We've talked a lot about the characters and traded tons of emails about specific details in the book. And the pages he's turning in are absolutely blowing my mind. Jae's amazing for the degree of thoughtfulness he puts into what he does — he has a whole world view for each project that translates into very specific decisions on the page. And then he creates these incredible images that perfectly embody the drama and the emotional state of the characters. Wait until you see the trees in Gotham City's playgrounds. I'm not even kidding — when Jae draws them in this key scene, those crazy trees brilliantly support and evoke the emotion and drama for Clark and Bruce.
PREVIEWSworld: If you had to pull voices from your head that would be representative for the voices Batman and Superman have in this book, who would those voices belong to, and why?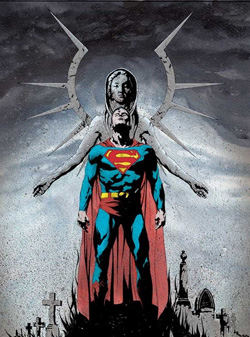 Greg Pak: Oh, boy. That's tough! I haven't actually been thinking of these characters as actual actors, probably because the comics I've read over the years still play a bigger stronger psychic role in my mind and heart than the movies. When I was first plotting the stories, I was seeing "Batman Year One" Batman, for example, rather than any of the television or movie Batmen. And now I'm just seeing Jae's versions of the characters in my head, because they're just perfect. That being said, Christopher Reeve remains the quintessential big screen Superman for me. But Clark's younger and more on edge in this story. Maybe if you dye his hair... a young Robert Redford, around the time of "Butch Cassidy and the Sundance Kid"? He's got that nice combination of innocent and dangerous.
Batman's tougher. My dream casting for Batman is to get a time machine and put Gregory Peck circa "Boys from Brazil" in Frank Miller's "Dark Knight Returns." But that's a different Batman from the hero in our story. Hmm...let's see. Okay, for sheer intensity and for that amazing voice, I pick a younger Edward James Olmos. A few years back I wrote the "Battlestar Galactica" comic book for Dynamite, and I spent hours watching and rewatching Olmos in the television show. He's got amazing gravity, and a sense of tremendous heart and righteous anger just beneath the surface. At the same time, he's so quiet, so watchful — and all the more powerful and dangerous for it. That's Batman, baby.