Fast As A Shark: Titan Comics Unchained...And Hungry
Apr 17, 2013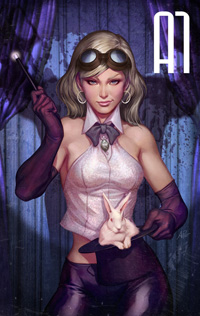 Dave Elliott is the mastermind behind the all-new Atomeka Press/Titan Comics publishing deal, which launches with A1 – a six issue 30-page anthology series that features three thrilling tales every issue: "The Weirding Willows," where Alice (of Wonderland fame) and her allies defend the Willows against all manner of other inter-dimensional enemies; "Odyssey," where an immortal superhero is drawn into a battle between angels and demons for the fate of mankind; and "Carpe DIEm," a technicolor whirlwind of adventure starring a deadly coterie of assassins – one for every day of the week! In this exclusive interview, Dave explains what readers can expect from the new A1, and other forthcoming titles.
**********
PREVIEWSworld: Dave, the A1 and Atomeka names have a storied history in the comics business. Though new readers don't need to know anything beyond what's in this all-new first issue, do you want to talk about how you – and A1 – got started, and what it means to be taking up the baton again?
Dave Elliott: I started A1 with Garry Leach in the mid 1980's with the goal to be a venue for our own self-published stories. The plan was to do a 32-page comic with a strip each, and then a short guest spot for those interested. Well, that guest spot ballooned to 80 pages and the first issue was 96 pages. Issue 2 was 120 pages but as issues went on we became editors and publishers, and didn't have time to produce any comics of our own. This time around I'm making sure it's different.
PREVIEWSworld: What made now the right time for you to resurrect the A1 name – and what attracted you to the anthology format?
Dave Elliott: A1 always meant variety and experimentation. It was a place to test new ideas and, for some artists, new mediums. As creators we need more than ever somewhere to do that. In the creator-owned field where publishers no longer pay page rates and any revenue is all from royalties, doing a 10-page story is a lot easier than a 6-issues series for probably the same return. Ever since I was a kid I loved the variety that a well-crafted anthology had. Comics that had a War story next to a Football one next to a humour strip next to a police and then a science fiction strip. Times have changed but the sense of Value For Money hasn't. The monthly A1 will have three 10-page strips every month. That's 30 pages of new full color strips when everyone is trying to do less.
PREVIEWSworld: The stories all seem like ideas you and your collaborators have had brewing for a while. So how did they come about, and how did you choose the artists you wanted to work with?
Dave Elliott: Yeah, these ideas have been percolating for sometime. Both "Weirding Willows" and "Odyssey" are very big stories that start out small and then go large. I'm a big fan of the way worlds are introduced like Star Wars. We start with a small group, but then realize it is a much bigger world.
Working with Garrie Gastonny, Barnaby Bagenda and Sakti Yuwono has been a dream. We met through working with the Singapore art powerhouse Imaginary Friends Studios, and now with their own studio founded by artist Sunny Gho, Stellar labs. I've never been able to work on something not knowing who's going to draw it and whether it's their thing or not. As for "Carpe DIEm…" everyone will love it. Expect big things!
PREVIEWSworld: Now that's the mini-series that you're doing more with the A1 brand, correct?
Dave Elliott: Yes, there will be an A1 Annual that will be oversized and 172 pages that isn't related to the mini-series. We'll start as an annual and increase the frequency if the market can support it. It will have everything from 2-3 page stories up to 20-30 paged stories. Color as well as black and white. But it won't stop there either, the trade collections from the monthly A1 will also be under the "A1 Presents" banner.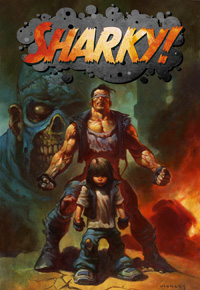 PREVIEWSworld: You're also releasing your series Sharky that you did with the fantasty artist Alex Horley that was originally through Image Comics. Why bring back Sharky?
Dave Elliott: Simple: because I'm working on new Sharky stories and the series was never collected. Many people never saw the graphic novel that ran in Heavy Metal magazine so that will be in Volume 2 with the other stories Sharky has appeared in over the years along with some new material. You'll see a new Sharky team-up with Dave Wilkins' El Zombo and Michael T Gilbert's Mr. Monster in the first volume of Monster Massacre soon, painted by Dave. Then he pops up in Odyssey later in the year. Alex Horley is working on a new series of short stories with me that explores a whole other side of the character and his world.
PREVIEWSworld: You mention Monster Massacre which has a line-up for the first issue that includes Joe Simon and Jack Kirby. How'd their appearance come about?
Dave Elliott: That's all thanks to Steve Saffel, Nick Landau, and the Simon & Kirby estates. Titan's done an amazing job of restoring the work of these two giants. Not only is the work being restored, but it is being done with the full co-operation of the Simon and Kirby estates who are getting royalties from the material, even though much of it is in the public domain.