Diggle Adds Paranormal Twist To New Crime Thriller UNCANNY
Apr 15, 2013
Uncanny is defined as seeming to have a supernatural character or origin. And that word fit's Andy Diggle's new Dynamite Entertainment crime line title perfectly.

The comic stars Weaver who is born with the uncanny ability to steal other people's skills - their memories, abilities, and expertise - for a limited time. Unfortunately Weaver is a con-man who only uses his abilities to help himself. That is, until he finds himself drawn into a dangerous game of international intrigue where the rules keep changing, the players are hidden… and the first thing he stands to lose is his life. And maybe, just maybe, he isn't so unique after all...

A new comic like UNCANNY gives writer Andy Diggle the freedom to take you on a thrilling, crime-filled journey right from the start. Just the kind of comic he loves to write.

PREVIEWSworld talked with Andy about joining Dynamite and what we can expect from UNCANNY #1 (APR130996) when it hits stores in June.

********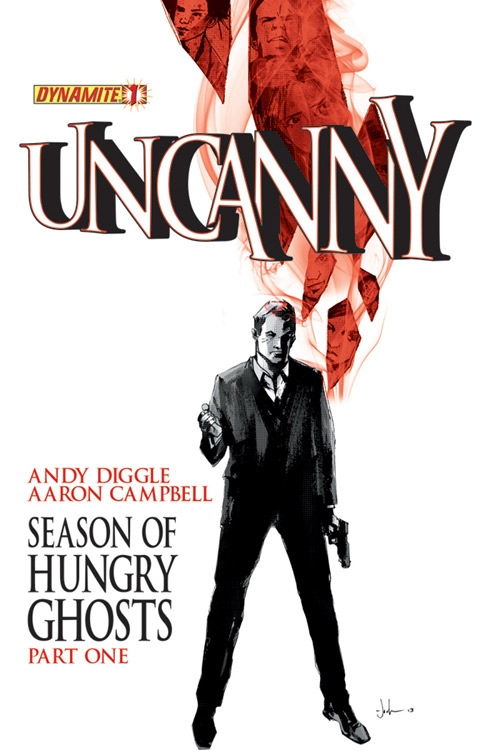 PREVIEWSworld: Talk about how you joined Dynamite's new crime line? How much do you enjoy writing crime fiction?

Andy Diggle: I'd been talking to Nick Barrucci off and on for a while about doing something for Dynamite, and the Crime Line was the perfect opportunity. It's exactly the kind of thing I love to write; dark, punchy, high stakes. Plus the opportunity to create something completely new was very appealing.

PREVIEWSworld: UNCANNY is not your usual crime comic because it has a paranormal twist. How will you mix those elements together?

Andy Diggle: It's played pretty much as a straight-on noir thriller at first, until you realize there's something else going on under the surface. I've been careful to avoid anything that looks too overtly magical or paranormal. I didn't want to make Weaver's power too overt, or it could look cheesy. Hopefully that leaves a little bit more room for the reader's imagination to fill in the blanks. You won't see anyone shooting lasers out of their eyes or battling demons in UNCANNY.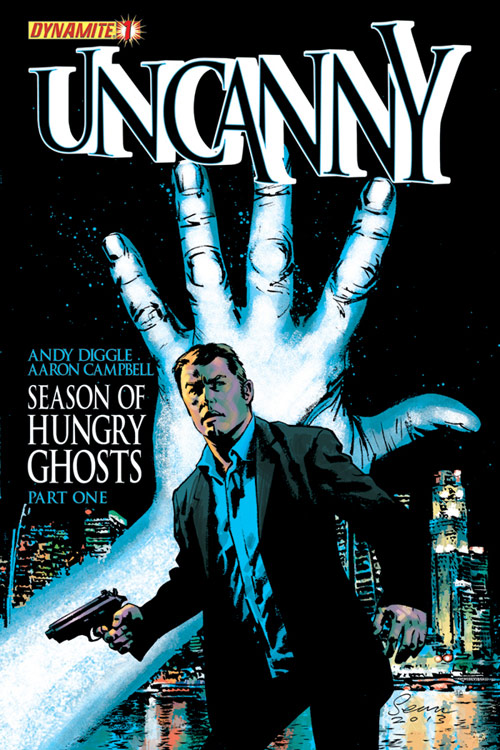 PREVIEWSworld: UNCANNY's main character Weaver uses his unique abilities for selfish reasons instead of trying to be a hero. Tell us more about Weaver?

Andy Diggle: We meet him at a crossroads in his life. He's lived a disposable lifestyle - sleeping in hotels, eating in restaurants, no friends, no attachments. And when things turn sour he just drops everything and moves on. He's a shark; he has to keep swimming. But of course that's a pretty soulless way to live. There's something missing inside of him; something that, until now, he's simply been stealing from other people. Our opening arc is where he finally stops running away from his past, and starts trying to shape his own future. Of course, things won't turn out so simple for him.

PREVIEWSworld: The first arc of UNCANNY is called Season of Hungry Ghosts. Sounds like the book is headed to a dark place?

Andy Diggle: Pretty dark, yeah, but it's also a fun ride. It's nice not having to talk down to the reader and sugar-coat everything. I can write with my own voice and respect the reader's intelligence. Anyone who knows my work knows that I love writing action, but it needs to be backed up by characters you care about or it doesn't mean a thing. The title "Season of Hungry Ghosts" is a festival I learned about when I was in Singapore last year, when the gates of Hell open wide and the spirits of the dead walk the Earth, looking for a piece of the action. It's like a month-long Halloween. People leave offerings on street corners and outside their doors - paper money, fake gold - to keep the ghosts off their backs. That seemed like a pretty apt metaphor for Weaver. His life is entirely fake, and that's why there's this hunger inside him. He's a ghost, a hollow man.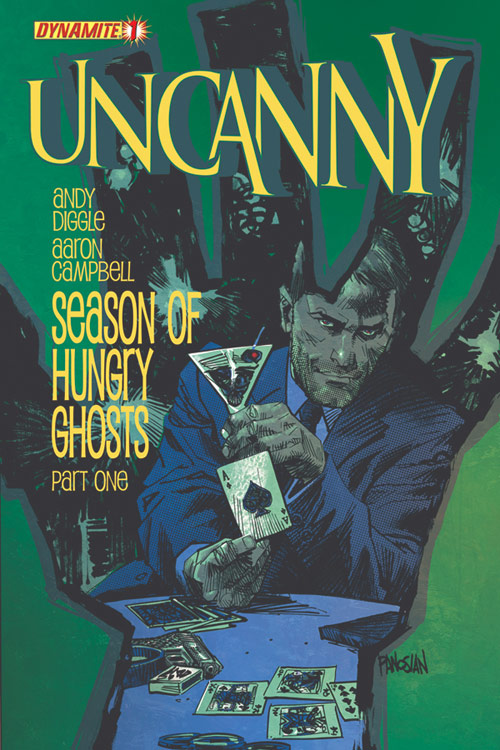 PREVIEWSworld: You'll be working with artist Aaron Campbell on the series. Talk about how his drawing style fits UNCANNY?

Andy Diggle: Aaron's a great fit for the story. He's been doing this amazing noir artwork on THE SHADOW which perfectly suits the dark pulp tone we're aiming for on UNCANNY. He's a pleasure to work with.

PREVIEWSworld: Finally, tell us why everyone should read UNCANNY?

Andy Diggle: It's dark, smart, violent, fun - and best of all, it's NEW!

********
Pre-order Uncanny #1 now at your local comic shop!

Item Code: APR130996
Price: $3.99
Ships with 50/50 split collation covers by Jock and Sean Phillips

Exclusive Subscription-Only Variant
Item Code: APR130997
Price: $3.99
Cover by Dan Panosian, available only to pull-list customers