Indie Edge May 2013: Gail Simone
Apr 12, 2013
This month's featured creator is…
GAIL SIMONE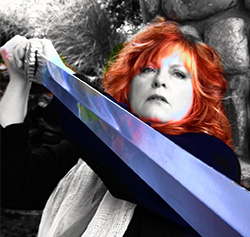 A former hairdresser, Gail Simone is now a multiple award-winning writer of comics and animation, including critically acclaimed, fan-favorite runs on Birds of Prey, Wonder Woman and Secret Six.
Her current DC books include Batgirl and The Movement. Red Sonja is her first major work outside of DC Comics in years.
Gail Simone on Gail Simone…
I live on the Oregon coast with my husband and two doggies. I love working in comics for the joy of collaborating with fantastically gifted creative people. I love traveling around the world to spread the message of comics, but above all, I love simply telling stories.
Gail Simone, what are your favorite projects you've contributed to over the past decade?
I was incredibly proud to write Wonder Woman, possibly the greatest female adventure icon ever. I am proud to have shown that, with Birds of Prey, an all-female book could be a success with a large, loyal following and without reverting to cliché. And I'm proud of Secret Six, which never failed to push edges and boundaries.
Wonder Woman: The Circle TP (JUN090218)
Secret Six Volume 1: Unhinged TP (MAY090194)
Birds of Prey: Of Like Minds TP (APR058376)
Gail Simone, what are you currently working on?
Red Sonja, Batgirl, The Movement, a couple "secret" projects, and an astonishing graphic novel with Ethan Van Sciver. Also, I'm working on the most successful mainstream comics project ever on Kickstarter, Leaving Megalopolis with artist/co-creator Jim Calafiore.
Gail Simone, what are you reading?
I am currently reading The Walking Dead (Compendium 1 / MAR092419), which is about zombies… or something. I'm loving Francesco Francavilla's Black Beetle (v1 HC / APR130019), which is just a delight in every way, and I never miss an issue of Terry Moore's Rachel Rising (v1 TP / JAN120780), one of the best mystery/spooky comics ever!
Plus: Battlefields, Masks, Captain Marvel, Batman, Animal Man, Aquaman, Godzilla… just a ton of books. It's a wonderfully creative time in comics right now.
Are you following PREVIEWSWorld on Twitter yet? Follow @PREVIEWSworld