Super Brutal Return For Dark Horse's X
Apr 04, 2013
Dark Horse Comics has unleashed their classic vigilante X onto the streets of Arcadia again and he has his eye set on cleaning up the criminal underworld! This will be a bloody, violent job that only X can handle as the criminal organizations and the corrupt justice system team up against him.

Writing a gory and gritty comic like this takes someone who is known to push the envelope and that's Duane Swierczynski. PREVIEWSworld talked with Duane about X's super violent return!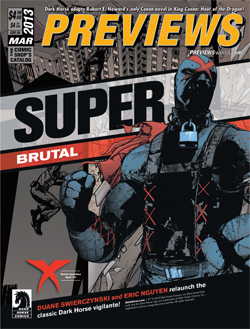 **********

PREVIEWSworld: X appeared on the cover of the March PREVIEWS catalog with the words SUPER BRUTAL. You've written violent comics in the past, how does X stack up?

Duane Swierczynski: There's just no comparison. Seriously. And this is coming from a guy who's chronicled the exploits of the Punisher and Godzilla. But X isn't violent for the sake of violence; he's trying to set an example. Continue to prey on my city, he's telling us, and LOOK WHAT WILL HAPPEN TO YOU.

PREVIEWSworld: Dark Horse introduced X back in 1993 as part of their Comics' Greatest World imprint. How much of the past have you brought into the new miniseries?

Duane Swierczynski: Even though I missed X during his initial run (I was just out of college and too broke to buy comics) I had a blast catching up. And what I loved most about the character were the mysterious elements. His identity is hidden. He has only one eye (... or does he?). He puts a freakin' padlock on his mask, and only removes it when a mission is over. All of this makes you wonder: who is this guy, and what drove him to this? So I want to keep this mystery alive in the main series.

PREVIEWSworld: So with X being a crime-fighting vigilante, who can we expect to see him trying to stop in this miniseries?

Duane Swierczynski: X is targeting the big elites who are gorging themselves on the city -- at the expense of everyone else. But after targeting three of these pigs, X finds himself in the crosshair of the biggest hog of them all -- a man named Berkshire whose appetite and power knows no bounds. X's only ally -- if you can call her this -- is an online muckraker who thinks X is a serial killer.



PREVIEWSworld: Finally, talk about working with artist Eric Nguyen on X?

Duane Swierczynski: It's been a dream. I think we have more giddy fun than anyone has a right to have -- especially considering the grisly subjects at hand. We keep riffing off each other. I'll be knocked out by his action sequences, which will inspire me to go even crazier with the next sequence, and so on. Don't get me wrong; it's not all about violent extremes. What we're both going for, I think, are the surprises. We want to show readers things they haven't seen before... and keep them guessing about the man behind the mask. And what he's capable of.
X #0
Item Code: FEB130034
In Shops: 4/10/2013

X#1 (of 4)
Item Code: MAR130008
In Shops: 5/8/2013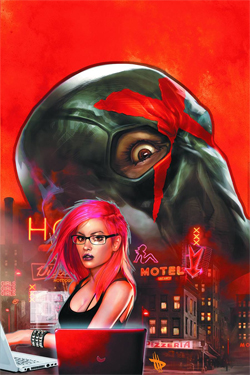 X#2 (of 4)
Item Code: APR130021
In Shops: 6/12/2013