Rob Williams Plays Head Games With Miss Fury
Mar 28, 2013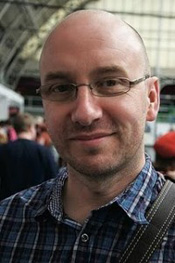 This year Rob Williams was charged with bringing Miss Fury into the 21st century for Dynamite Entertainment. This is a character that most readers today won't know because they weren't even born when Miss Fury was cracking Nazi jaw bones. So how does Mr. Williams take one of the oldest pulp characters in history and make her stand out in a world full of drones and laser beams? In this PREVIEWSworld Exclusive interview, Rob Williams lays out the head games with Miss Fury.
**********
PREVIEWSworld: So how did you land this gig writing about a famous female pulp crime fighter? One who wears a skin-tight cat suit, to boot! Miss Fury's been around since before World War II, so was it the smell of nostalgia that lured you into the job, or the fact that you get to play puppet master with an incredibly sexy character?
Rob Williams: I was talking to the guys at Dynamite about doing something for them again and Nick Barrucci asked if I knew a lot about Miss Fury. I knew very little, so did some reading up. I liked the fact that this was possibly the first female superhero to be written by a woman — that kind of put a bit of weight behind a character that could easily pass for a Catwoman type, if they weren't contemporaries from the same era. Then it was a case of trying to come up with what interested me about the character. She's called Miss Fury so what's she angry about? What are we all angry about? I figure that's her journey. I think I wrote in the pitch 'anger is an energy,' the PiL lyric.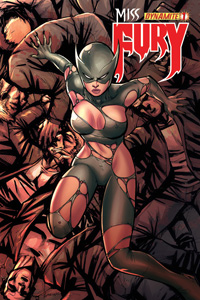 PREVIEWSworld: Ok, so she's from a time when pre-code comics filled the news racks. So, starting with issue #1, she's in the 20th century one minute, and in present time the next. So what gives with the Back to the Future scenario? Can you elaborate a little more on the plot mechanics for this first story arc?
Rob Williams: In the 40s Miss Fury is an immoral, nihilistic thief who steals because she's bored and unfeeling towards the world. But she stumbles across a group of Nazi secret agents during one Manhattan robbery and finds herself falling into a time machine - as you do. But something goes very wrong. She doesn't just appear in 2013, she's trapped in the timestream, constantly switching backwards and forwards, and further forwards into a terrible future where the Nazis win World War 2... in 2013. The cutting backwards and forwards make the series a little like a jigsaw puzzle where we see pieces of her character. And then there's the question of whether or not any of this is real? Is Miss Fury insane and imagining all this? And, if so, what drove her insane in 1942?
PREVIEWSworld: The solicitation text for issue #1 says she's "witness to generations of bloodshed and violence," thus "Miss Fury has lots of righteous rage." So are we dealing with an eternal crusader, or perhaps someone whose psyche may be a bit fragile, and possibly suffering from post traumatic stress disorder? Where's her head in all this?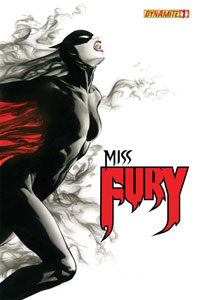 Rob Williams: Her head's all over the place, and you're on the right track with the post traumatic stress disorder. Something very bad happened to her, and maybe all this time travelling — her thinking that certain politicians are actually cloaked, armored time travelling Nazi agents — is actually the result of her trauma. Is any of this real? You won't find out until the end of our first arc. Miss Fury has to discover the truth about herself along the way.
PREVIEWSworld: Miss Fury's alter ego has been (originally) Marla Drake — high society type whose life had no real purpose — as well as Marla's granddaughter, Marlene Drake. So whose face do we see behind the mask, and can you tell us why you decided on your choice of character?
Rob Williams: Marla Drake. I figured, go with the original. And she's still a rich Manhattan socialite when we meet her, although her origin story is somewhat different and all new. We wanted this to be a fresh start for readers who don't know the character. No continuity to dig through. Although not a huge amount of people know the character well. But this is very much a 'get in on the ground floor' initial arc. Plenty of action, a bit of political satire. And in Jack Herbert we have an artist who really sells the book. Makes Miss Fury look like the classic femme fatale. Jack's made her look beautiful. My job was to make this more than a T&A book and give her some depth. Make her a three-dimensional character.
PREVIEWSworld: With Masks being so popular for Dynamite right now, do you think it's possible for Miss Fury to go over to play in that sandbox? A cameo appearance or crossover adventure? What can we expect to see down the road?
Rob Williams: Victor Gischler and I were talking just this week about maybe some kind of Miss Fury/The Black Sparrow/The Shadow crossover, so maybe. We'll see if that works out.