Key oF Z's Chondra Echert to Emcee UcreateComics Big Break Tour NYC
Mar 22, 2013
Chondra Echert, writer of Key of Z and creative co-director of Evil Ink Comics, steps into the creative arena as the emcee for the first stop of UcreateComicsBig Break Tour with famed artist Neal Adams (Batman, X-Men) and writer-director Kevin Smith (Batman Cacophony, Batman Widening Gyre and Green Arrow) at the Apollo Theater on May 4, 2013.

Chondra is a writer, editor and purveyor of pop culture with a background in advertising and psychology who represents the new breed of comic book creator. Hard work, talent and persistence is starting to pay off with success in the industry.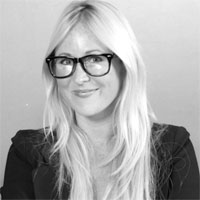 She's learned that; "Combining art and business requires a particular skill-set, which Kevin and Neal have really pioneered as creatives. As we maneuver through an ever-changing industry, I couldn't be more excited to be part of an event where they'll share that knowledge with new talent and help the next generation of creators get their work seen."

After co-writing the Kill Audio series from BOOM!Studios, Chondra made her sophomore writing appearance with the zombie miniseries, Key of Z. Chondra's work has been featured in a number of eclectic outlets, including the short story prose anthology, Zombie St. Pete and POPGUN 2 from Image Comics. Currently, she serves as Creative Co-director at Evil Ink Comics in New York overseeing the development of four titles, including Claudio Sanchez's New York Times bestseller The Amory Wars, recently picked up by Entourage and Boardwalk Empire producers Mark Wahlberg and Stephen Levinson.

For those in the New York area on May 4th, Big Break Tour seats start at $89 and include a free 12 month membership as a UcreateComics Freelancer, entitling attendees to:

• 12 free pitches (one each month) of a comic book concept, with a development contract of up to $50,000-all rights are retained by the creator.
• The opportunity to compete for paid professional writing and illustrating contracts to turn winning concepts into comic books.
• An individual e-store on ucreatecomics.com.
• Boxed lunch and designated seating (early birds get the best seats).

Big Break Tour NYC tickets available at www.ucreatecomicsevents.com and through www.TicketMaster.com

UcreateComics created a Million Dollar Fund to develop comic books. Everyone can pitch their idea, character, or even a full comic book to make tomorrow's great comic books, then UcreateComics members vote to decide whose concept is a winner. Freelancer members compete for paid scripting and illustrating contracts.