Beautiful Minds For The Dream Merchant
Mar 24, 2013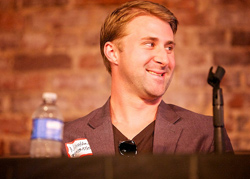 Nathan Edmondson has garnered much acclaim for his para-military stories that include Dancer, The Activity, and Who Is Jake Ellis? Guns and glory, however, are not the only subjects the writer cares to entertain, as demonstrated in his latest project The Dream Merchant (APR130534). In between a ticket for an airplane, Nathan talked to us briefly about his new comic series from Image, while trying not to give away the secret of the man behind the curtain.
**********

PREVIEWSworld: So, unlike the black ops/special forces types we see in Where Is Jake Ellis?, we have a story about a troubled teen in The Dream Merchant. Winslow can't focus in school, has trouble relating to other people, and his schizo best friend is a patient in a mental hospital. Who or what helped to serve as a model for this character? What gave you inspiration for Winslow? Have you met, known, or interviewed people that helped you develop this character?

Nathan Edmondson: The inspiration came from an exchange with a pen-pal as we talked about dreams and considered the idea that we could sell or barter dreams between one another. That inspiration won't be immediately obvious in the story, but as Winslow's journey progresses the reader will see how this idea plays a part.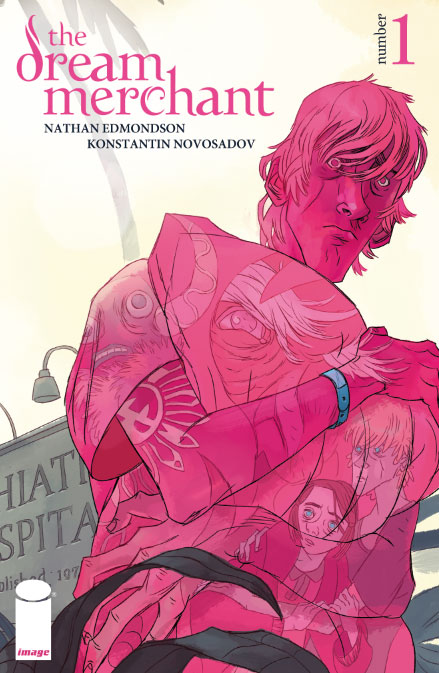 PREVIEWSworld: Winslow, we're told, is about to learn that dreams have meaning. From previous interviews, you've explained that science, philosophy and theology have all converged on the subject of dreams. To what do you owe this observation? Have you studied the subject in school, or in private research? We know you do similar research with people in the military for your other books. Can you be specific on observations you've made that became a part of the plot for The Dream Merchant?

Nathan Edmondson: A while back I did some reading on the psychology of dreams and talked with a friend psychiatrist about what we know about how dreams work--which is very little, ultimately. But theology and philosophy have throughout history attributed great meaning to dreams, and dream archetypes, and there are very interesting ideas about the connections between memory and dreams. The Dream Merchant is fanciful; it makes no attempt to answer many of these questions (as Freud was certain he could). Instead Konstantin and I weave a story using many of these ideas.

PREVIEWSworld: Your artist for this book, Konstantin Novosadov, is Russian. You've explained that you've used Google Translation so that the two of you could work together for this project. Much like dreams can be interpreted in different ways, did you find he interpreted any portion(s) of your script differently than you intended, and yet you found yourself equally satisfied with the result? Directors on movie sets have said they experienced similar situations: actors go off in a different direction than was intended, yet the result was worth keeping over the original idea. Did this happen for you in creating The Dream Merchant?

Nathan Edmondson: Absolutely. Our communication is strong and yet between the language barrier are simply different ideas of how some very fantastic things can be represented. Konstantin is fresh to comics, but he is a very competent illustrator, and I learned quickly that I could turn over sparse descriptions and let his vision carry them into something exciting on the page.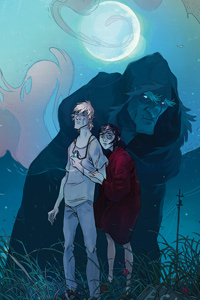 PREVIEWSworld: Winslow is being hunted. He apparently knows things that others don't want him to reveal. This sounds like a classic curse once viewed in the movie A Beautiful Mind, with Russell Crowe playing the role as a schizophrenic. And yet, it's been revealed that "strange entities will stop at nothing to erase" his mind. Is this mention of "entities" the reason why some have labeled this a "sci-fi" book? Or is there something else that would make Winslow think of little green men?

Nathan Edmondson: We've been vague about the real plot of this story and I like it that way, so I won't elaborate too far. But yes, the sci-fi nature of this book runs deep, and the fantasy elements spread wide. The connection to A Beautiful Mind is an interesting one, too; I hadn't considered that, but there are certainly a few comparable ideas there.

PREVIEWSworld: Another tag line that's been used to promote this series has been that when Winslow discovers his dreams "true meaning, the world will literally change." That is a future situation that some would find extremely frightening, and others would find fun as a rollercoaster. Does that best describe the journey you're trying to give the reader throughout this mini-series? What would you want people to walk away with when they turn the final page of The Dream Merchant?

Nathan Edmondson: "Wow, those dollars were well spent!" Ha. It would be great to leave readers with that sense of "what if," the same sort that leaves you uneasy after waking from a realistic dream. I'm happy, at least, for the reader to have a great deal of fun. Which, I'm confident, with Konstantin's artwork, they will!