A Dozen Comics Eggs For Easter!
Mar 30, 2013
Easter is often an overlooked holiday for comic books. Sure there's plenty of candy and fun little games for the kids, but what about the comicbook fans? Superheroes don't just take a day off for Easter. What happens when all of the Easter eggs go missing? Or who will stop the evil Easter bunnies from their plans of world domination?

Check out the superheroes that have kept Easter safe over the years. Or for those who prefer a more relaxing Easter, come celebrate with Walt Disney comics. We can't forget the true meaning of Easter either, and there's plenty of celebration for the resurrection of Jesus in these comics as well.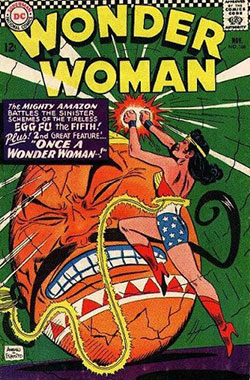 WONDER WOMAN VOL. 1 # 166
(1966)
This evil Easter egg was hiding a little too early in November 1966 when DC's Wonderwoman finds him underwater by an abandoned atomic sub. The evil Egg Fu might make a wonder-full idea for decorating this year.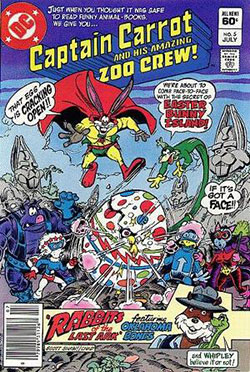 CAPTAIN CARROT AND HIS
AMAZING ZOO CREW # 5
(1982)
DC's Captain Carrot fights the Owl Robot and defeats Dr. Hoot, right when he discovers the "Secret of Easter Bunny Island." If only the thing inside the egg were a nice Easter Bunny instead of an evil yolk monster!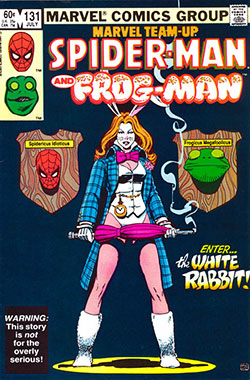 MARVEL TEAM UP # 131
(1983)
Marvel's 1983 Team-up featured Spiderman and Frog-Man as they tried to take down the White Rabbit, one of the most evil villains of all time. Well, if not one of the most evil, easily one of the most entertaining. Armed with a carrot-shooting umbrella, the bored billionaire White Rabbit resorts to robbing burger joints for fun. There's even a warning on the cover: "This story is not for the overly serious!" The bodacious bouncing bunny returns to stir up more mayhem in Spectacular Spiderman # 185, 253, and 256.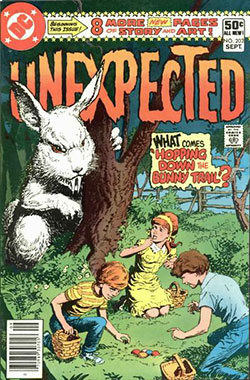 UNEXPECTED #202
(1980)
DC's Unexpected #202 from 1980 entitled "Hopping Down the Bunny Trail" portrays a darker kind of Easter Bunny. This rabbit's hobbies include hiding eggs, revenge, and devouring chocolate (but only if it has a chewy human-flavored center.) Watch out; don't bite the heads off any more chocolate bunnies, kids!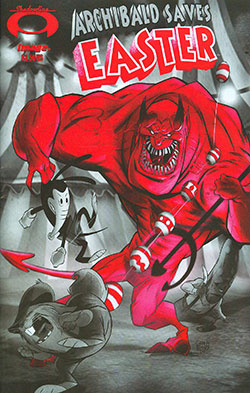 ARCHIBALD SAVES EASTER ONE-SHOT
(2008)
This fairly recent one-shot from the Shadowline imprint of Image comics features an insane aardvark and his pal, the Easter Bunny, as they try to save Easter from the devil. Pick up a copy to see if we're going to have an Easter this year. I sure wouldn't want that evil red devil hiding things around my house.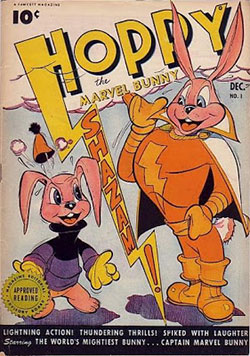 HOPPY #1

(1945)
This energetic Marvel bunny hopped in early in December 1945 during one of his first appearances as a spin-off and protégé of Captain Marval (a.k.a Shazam.) Hopefully this year someone will get a surprise egg with a lightning bolt on it!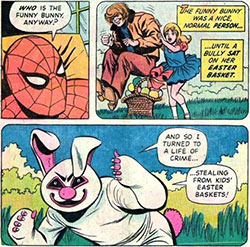 SPIDEY SUPER STORIES # 9
(1975)
From Marvel Comics and The Electric Company features a 6 page short story titled "Spidey Fights the Funny Bunny!". This "Not-so-Funny-Bunny" likes to steal eggs and candy from children. Don't worry though, Spiderman is sure to save the day!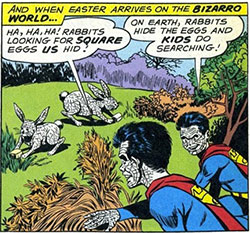 TALES OF BIZARRO WORLD
(1960s)
DC comic's Tales of Bizarro World revolves around the strange and widely known alternate universe: Bizarro World. Bizarro World's three laws dictate that: "Us do opposite of all Earthly things! Us hate beauty! Us love ugliness! Is big crime to make anything perfect on Bizarro World!" In Bizarro World, the Easter bunnies look for square eggs that the people hide. Glad it's not like that here!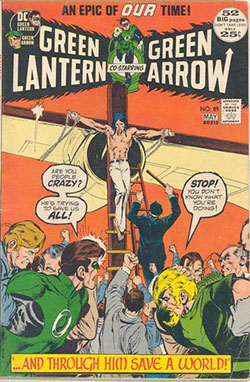 GREEN LANTERN VOL. 2 # 89
(1972)
DC's Green Lantern & Green Arrow Volume 2 #89 from 1972 features an environmentalist who comes in contact with Ferris Aircraft and is nearly crucified. This holiday retelling of a bible classic in our time titled "...And Through Him Save A World..." was actually reprinted in Golden Age Green Lantern v. 1 # 38.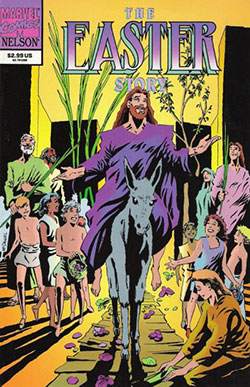 EASTER STORY (LIFE OF JESUS CHRIST SERIES)
(1994)
Sometimes people forget the real reason we celebrate Easter. In 1994 Marvel Comics/Nelson Publishing helped remind everyone with this Easter Story issue of the Life of Christ series, which features Jesus' life, death, and resurrection. It's like a bible with pictures.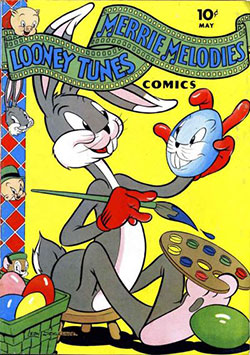 LOONEY TUNES #19
(1943)
When this issue was released by Looney Tunes and Merrie Melodies in May 1943 everyone finally knew who had painted all of those Easter eggs hidden around the house. If only all of these crazy wannabe Easter Bunnies knew they only had to ask Bugs Bunny for their own.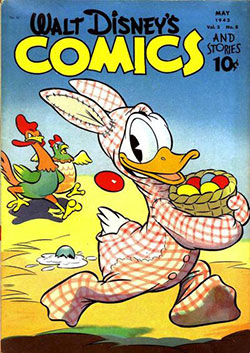 DISNEY #32
(1943)

This edition of Walt Disney's comics from 1943 features Donald Duck, another imposter rabbit who likes to steal all of the Easter eggs! Let's hope that after 70 years he's finally decided to give them back.
And there you have it.

Every holiday deserves to have a superhero save it from the perils of destruction by some iconic holiday-villain and Easter is no exception! Don't forget that comic books often have a ton of hidden Easter Eggs within them, so this holiday let the Easter Egg hunt begin!
Happy Easter!